Naogaon Sadar Upazila (naogaon district) area 275.73 sq km, located in between 24°43' and 24°55' north latitudes and in between 88°47' and 89°01' east longitudes. It is bounded by badalgachhi and mahadebpur upazilas on the north, raninagar and manda upazilas on the south, adamdighi and akkelpur upazilas on the east, Mahadebpur and Manda upazilas on the west.
Population Total 354570; male 183618, female 170952; Muslim 324842, Hindu 28785, Buddhist 231, Christian 24 and others 688. Indigenous community such as santal belongs to this upazila.
Water bodies Main rivers: little jamuna, Tulsi Ganga; Dighali Beel and Gatia Beel are notable. Administration Naogaon Thana was formed in 1810 and it was turned into an upazila in 1984.
Upazila
Municipality
Union
Mouza
Village
Population
Density (per sq km)
Literacy rate (%)
Urban
Rural
Urban
Rural

1

12

237

215

124046

230524

1286

59.3

42.0
Municipality

Area (sq km)

Ward

Mahalla

Population

Density
(per sq km)

Literacy rate (%)

37.03

9

62

124046

3350

59.27
Union
Name of union and GO code
Area (acre)
Population
Literacy rate (%)
Male
Female

Kirtipur 73

4348

8758

8216

49.53

Chandipur 43

3682

12644

12219

41.48

Tilakpur 94

5725

15394

14593

44.09

Dubalhati 51

7351

9287

8653

34.98

Baktiarpur 13

4362

8348

8039

49.28

Barshail 21

3665

9126

8609

46.75

Balihar 14

5815

8726

8311

38.68

Boalia 29

1723

8397

7996

51.26

Sekherpur 87

8446

8552

8276

35.22

Sailgachhi 36

3136

6385

6044

39.90

Hapania 58

4619

11908

11134

38.97

Hashaighari 65

5918

10687

10222

34.65
Source Bangladesh Population Census 2001, Bangladesh Bureau of Statistics.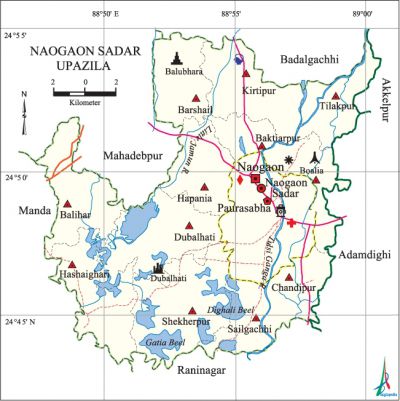 Archaeological heritage and relics Dubalhati Rajbari, Balihar Rajbari, Sailgachhi Rajbari, Kashimpur Zamindarbari, Kumaigari three domed Mosque and Balubhara Temple.
Historical events Notable historical events of Naogaon include indigo resistance movement (1859-60), a movement led by peasant leader Astan Mollah against the zamindars protesting enhancement of rent in 1883. During the war of liberation in 1971, the headquarters of Wing 7 of EPR was at Naogaon. On April 22, the Pakistan army captured 125 young boys from Sultanpur, Par Naogaon, Dhopapara, Ukil Para and Hat Naogaon killed them and threw their dead bodies into the river from the Lord Lytton Bridge. On 23 April 1971, the Pakistan army killed 17 people of village Mohanpur, and on 25 April, they raided at Fatehpur Garebari and killed 13 persons there.
Marks of the War of Liberation Mass grave 5 (Boalia, Par Naogaon, Bihari Colony, Malshan, Kanthaltali), liberation sculpture adjacent to Naogaon bridge.
Religious institutions Mosque 312, temple 92, church 2. Noted religious institutions: Naogaon Ganja Society Mosque, Matherghat Temple, Padari Shaheb Church.
Literacy rate and educational institutions Average literacy 48.2%; male 53.4%, female 42.5%.
Educational institutions college 8, primary school 153, kindergarten 11, madrasa 8. Noted educational institutions: Naogaon Government College (1962), Naogaon Government BMC Mahila College (1972), Balihar College (1994), Dubalhati Raja Haranath High School (1864), Nagar Kusumba Multilateral High School (1882), Naogaon High School (1884), Bhimpur Multilateral High School (1901), Naogaon PM Girls' High School (1909), Chak Athitha High School (1914), Chakla High School (1914), Kirtipur Multilateral High School' (1921), Naogaon Central Girls' High School (1926), Paharpur GM High School (1936), Ilshabari High School (1963), Fatehpur High School (1968), Naogaon Zila School (1917), Janakallayan Model High School (1980), Islamia Madrasa (1921), Namazgar Gausul Azam Kamil Madrasa (1951), Naogaon Islamia Fazil Madrasa (1962).
Newspapers and periodicals Daily: Joybangla, Ishtehar, Alokbarta; weekly:' Bangabani, Barendra Batra, Naba Barta, Banglar Kantha, Desher Bani, Banka Chand, Nabayug, Ei Shomoy; fortnightly: Surya Mukhi; monthly: Nabadiganta. Besides, every year the district administration publishes an annual magazine on the occasion of the birth anniversary of rabindranath tagore on 25 Baishakh.
Cultural organisations Library 26, club 2, cinema hall 3, theatre stage 3, theatre group 5, music group 7, stadium 1, playground 82, women's organisation 2.
Main sources of income Agriculture 48.18%, non-agricultural labourer 3.52%, commerce 17.15%, transport and communication 7.41%, service 9.33%, construction 1.91%, religious service 0.14%, rent and remittance 0.57% and others 11.79%.
Ownership of agricultural land Landowner 53.25%, landless 46.75%.
Main crops Paddy, wheat, potato, onion, garlic, pulse, mustard, vegetables.
Extinct or nearly extinct crops Opium, aus paddy, sesame, linseed, kaun.
Main fruits Mango, jackfruit, litchi, papaya.
Fisheries, dairies and poultries This upazila has a number of fisheries, dairies and poultries.
Extinct or nearly extinct traditional transport Palanquin, bullock cart, horse carriage.'
Noted manufactories Rice mill, cold storage, welding factory.
Cottage industries Goldsmith, weaving, blacksmith, potteries, wood work, embroidery.
Hats, bazars and fairs Hats and bazars are 22, fairs 8, most noted of which are Kirtipur Hat, Paharpur Hat, Shibpur Hat, Tentulia Hat, Battali Hat, Balihar Rath Mela, Shibpur Lakshmi Puja Mela, Kashimpur Mela.
Main exports Paddy, wheat, potato, mustard oil.
Access to electricity All the wards and unions of the upazila are under rural electrification net-work. However 32.26% of the dwelling households have access to electricity.
Sources of drinking water Tube-well 92.27%, tap 2.30%, pond 0.10% and others 5.33%.
Sanitation 30.68% (rural 14.59% and urban 63.93%) of dwelling households of the upazila use sanitary latrines and 33.95% (rural 37.92% and urban 25.76%) of dwelling households use non-sanitary latrines; 35.37% of households do not have latrine facilities.
Health centres Hospital 1, maternity and child welfare centre 1, union health and family planning centre 12, rural health centre 1, clinic 32.
NGO activities Operationally important NGOs are asa, brac, proshika, caritas.
[Md. Moklesur Rahman]
References Bangladesh Population Census 2001, Bangladesh Bureau of Statistics; Cultural survey report of Naogaon Sadar Upazila 2007.