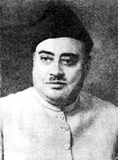 Nazimuddin, Khwaja (1894-1964) politician, Prime Minister of undivided Bengal and Governor General and Prime Minister of Pakistan. Son of Khwaja Nizamuddin and Nawabzadi Bilkis Banu, his paternal grand father was Khwaja Fakhruddin and maternal grand father was Nawab Khwaja ahsanullah.
Khwaja Nazimuddin received education from a house tutor in his adolescence and then at Aligarh College and Danstable Grammar School in London. He completed MA from Trinity Hall in Cambridge and Bar at Law from Middle Temple.
As chairman of the Dhaka Municipality during the years 1922 to 1929 Khwaja Nazimuddin took initiative to introduce compulsory primary education in the municipal area. At that time he was a member of the Executive Council of Dhaka University.
He was elected a member of Bengal Legislative Assembly from Barisal (Muslim) constituency in 1923, 1926 and 1929 and was the Education Minister of undivided Bengal from 1929 to June 1934. He took active part in passing the Compulsory Primary Education Bill in 1930. From 1934 to 1936 he was a member of the Executive Council of the Government of Bengal. He took initiative for the enactment of 'Bangiya Rin Salishi Board' Bill in 1935 and 'Bangiya Palli Unnayan' Bill in 1936.
In the election of 1937 Khwaja Nazimuddin, a muslim league candidate, was defeated by ak fazlul huq, the krishak praja party leader, in the Patuakhali constituency. But later on he won from the North Calcutta constituency vacated by huseyn shaheed suhrawardy. He assisted mohammed ali jinnah in reorganising the Muslim League and became known as a high ranking party leader. In 1937 he was appointed Home Minister in Huq's coalition ministry. On 1 December 1941 he resigned from the cabinet because of dissension between Huq and Jinnah. During the Shyama-Huq coalition (1942 to 1943) he acted as the Leader of the Opposition. On 24 April 1943 Muslim League formed the ministry with Nazimuddin as the Prime Minister on the fall of Shyama-Haque coalition on 28 March 1943. He also held the Ministry of Home Affairs. The Cabinet was dissolved on 28 March 1945. He was a member of the Indian delegation to the Food Conference held in the United State in 1945 and represented India at the United Nations meeting held in Geneva in 1946. He was a member of the all India Muslim League Working Committee from 1937 to 1947.
Khwaja Nazimuddin was appointed Chief Minister of East Bengal after the creation of Pakistan on 14 August 1947. On the death of Jinnah on 11 September 1948, he became the Governor General of Pakistan. With a conservative outlook he could hardly keep pace with the progressive leaders. His mother tongue was Urdu and Bangla was least known to him. In 1948 he signed an agreement with the leaders of 'Rashtrabhasa Sangram Parishad' with a commitment to continue his efforts to make Bangla the other state language of Pakistan together with Urdu. But due to pressure from the leaders of West Pakistan he failed to implement it.
When liaquat ali khan was assassinated on 16 October 1951, Khwaja Nazimuddin took over the additional charge of the Prime Minister on 17 October. On the appointment of Golam Mohammad, Finance Secretary of the central government, as the Governor General, Nazimuddin took over the full responsibility of the Prime Minister on 24 October 1951. The following month he was elected a member of Pakistan Constituent Assembly and on 16 November he was selected as the President of Muslim League.
In 1952 he publicly declared that Urdu alone shall be the state language of Pakistan. This aroused vehement criticism and he became highly unpopular in East Bengal. On 17 April 1953 President Golam Mohammad dismissed Khwaja Nazimuddin and invited Mohammad Ali of Bogra to form the ministry. In June 1953 Nazimuddin resigned from the post of President of Muslim League and kept himself aloof from active politics. In 1963, however, he returned to politics and became the President of Pakistan Council Muslim League.
Khwaja Nazimuddin was an enthusiastic sportsman and sports organiser. He was the President of Mohammedan Sporting Club in Calcutta from 1935 to 1946 and President of Indian Hockey Federation from 1938 to 1940.
During his stay in England as a student he earned reputation as a good tennis and football player. He was President of Salimullah Muslim Orphanage. Under his auspices Star of India, the first English newspaper from Calcutta under Muslim ownership was published in 1932. He founded the City Muslim Traders Council in Calcutta.
The titles of CIE and KCIE were conferred on him in 1926 and 1934 respectively and he gave up these titles in 1946 on political considerations. In 1958 he was awarded the title of Nishan-i-Pakistan. He was extremely polite and profoundly religious. He was married to Shah Banu, daughter of Khwaja Ashraf in 1924. He died on 22 October 1964 and lies buried beside the graves of Fazlul Huq and Suhrawardi. Their mausoleum is known as the 'Teen Netar Mazar' (Mausoleum of Three Leaders). [Mohammad Alamgir]