Nazrul Institute a research and publication organisation set up by the Government of Bangladesh in February 1985 as per the Nazrul Institute Ordinance of 12 June 1984. Some of the functions and objectives of the organisation as mentioned in the ordinance are: 1) to conduct study and research on the writings of the poet; 2) to compile, preserve, edit and publish poems and songs of the poet; 3) to organise discussion meetings, lectures, seminars, conferences, etc, on the poet's life and writings; 4) to set up a library containing books on the poet's life, literature, music, records of his songs, tapes, films, etc; 5) to prepare musical notations and to make gramophone records, tape records, films, etc, with a view to presenting and projecting Nazrul songs correctly; 6) to impart training in singing and reciting Nazrul songs; and 7) to give awards to scholars for outstanding research on Nazrul Islam.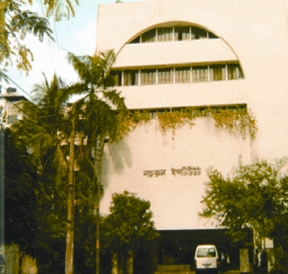 The Nazrul Institute is run by an executive director who has a trustee board to advise him. The first executive director of the Institute was Muhammad Mahfuzullah and the first chairman of the trustee board was mohammad nasiruddin, editor of the saogat.
The Nazrul Institute has been active in the field of research. Its publications include compilations of discussions, research papers, commemorative volumes, Bangla and English journals, new editions of the poet's original works and English translations of his works. In 1994, the Institute published an album containing 110 photographs of the poet.
The Institute has published the musical scores of Nazrul songs in 17 volumes. In 1985 a committee of experts was formed under the title 'Standardisation Committee on Nazrul's Musical Notation' to ascertain the correct words and tunes of Nazrul songs. leila arjumand banu initially chaired the committee. The Institute has recently published another noteworthy book on the poet: a compilation of his lyrics based on old records. The Institute is also making cassettes of Nazrul songs by contemporary artistes and under the supervision of experts such as Sudhin Das and Sohrab Hossain. Many rare mementos of Nazrul Islam's life and literary works have been collected, including rare photographs of the poet, manuscripts of his poems, old gramophone records, etc.
The centenary of the poet's birthday was observed in 1999 with the Nazrul Institute arranging lectures, seminars, and cultural functions and bringing out special publications on the occasion. [Wakil Ahmed]
See also nazrul academy.