Niamatpur Upazila (naogaon district) area 449.10 sq km, located in between 24°41' and 24°59' north latitudes and in between 88°23' and 88°40' east longitudes. It is bounded by porsha upazila on the north, tanore and nachole upazilas on the south, manda and mahadebpur upazilas on the east, gomastapur and Nachole upazilas on the west.
Population Total 226614; male 115681, female 110933; Muslim 176957, Hindu 36069, Buddhist 2035, Christian 52 and others 11501. 'Indigenous communities such as santal, munda and oraon 'belong to this upazila.
Water bodies Main river: Shiva.
Administration Niamatpur Thana was formed in 1918 and it was turned into an upazila in 1983.
Upazila
Municipality
Union
Mouza
Village
Population
Density (per sq km)
Literacy rate (%)
Urban
Rural
Urban
Rural

-

4

201

197

10407

121901

466

58.6

38.7
Upazila Town

Area (sq km)

Mouza

Population

Density
(per sq km)

Literacy rate (%)

5.15

2

10407

2021

58.6
Union
Name of union and GO code
Area (acre)
Population
Literacy rate (%)
Male
Female




Kasba 38

15183

15695

15000

39.96

Nachole 57

18250

24148

23476

45.91

Nizampur 76

18489

12855

12532

41.98

Fatehpur 19

18176

14708

13894

29.81
Source Bangladesh Population Census 2001, Bangladesh Bureau of Statistics.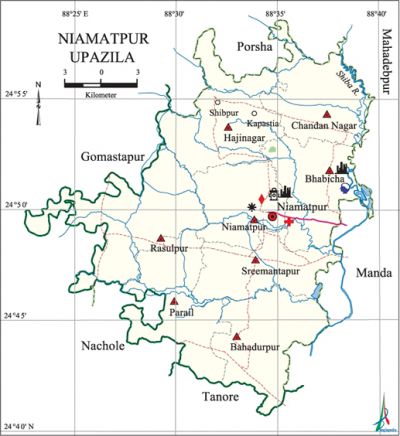 Archaeological heritage and relics Mosque (Mughal period) at Dharmapur village.
History of the War of Liberation In April 1971, the Pak army launched surprise attack on villages Bhabicha and Niamatpur and killed a number of innocent people; they also conducted heavy plundering and set many houses of these villages on fire. During the war of liberation 11 freedom fighters including Dewan Azizar Rahman and MNA Salek Chowdhury launched an attack on the Niamatpur Police Station in which 6 razakars surrendered to the freedom fighters with their arms and ammunitions.
Religious institutions Mosque 375, temple 26, church 4.
Literacy rate and educational institutions Average literacy 41.1%; male 45.5%, female 36.4%. Educational institutions: college 5, secondary school 40, primary school 118, kindergarten 1, NGO school 8, madrasa 47. Noted educational institutions: Balator Siddique Hossain Degree College (1970), Niamatpur Degree College (1980), Bamoin High School (1947), Niamatpur High School (1948), Salbari High School (1958), Kapastia High School (1961), Amoil AS High School (1970), Budhuria Danga Para Fazil Madrasa (1940).
Newspapers and periodicals Protibad (defunct).
Cultural organisations Library 2, club 29, playground 90.
Main sources of income Agriculture 86.28%, non-agricultural labourer 2.42%, industry 0.23%, commerce 5.09%, transport and communication 0.50%, service 2.16%, construction 0.13%, religious service 0.07%, rent and remittance 0.08% and others 3.04%.
Main crops Paddy, wheat, potato, vegetables.
Extinct or nearly extinct crops Kaun, arahar, sesame, linseed, gram, masuri.
Main fruits Mango, banana, jackfruit, litchi, guava, blackberry, papaya, watermelon.
Fisheries, dairies and poultries Fishery 8, dairy 18, poultry 15.
Communication facilities Pucca road 105 km, semi-pucca road 18.17 km, mud road 500 km; culvert 516, bridge 65.
Extinct or nearly extinct traditional transport Palanquin, horse carriage, bullock cart.
Noted manufactories Ice factory, rice mill, welding factory, biscuit factory, printing press.
Cottage industries Goldsmith, blacksmith, potteries, wood work, embroidery, bamboo work.
Hats, bazars and fairs Hats and bazars are 19, fairs 1, most noted of which are Niamatpur Hat, Kharibari Hat, Battali Hat, Gabtali Hat, Shangsole Hat and Premgosai Mela.
Main exports Fine quality rice and paddy.
Access to electricity All the unions of the upazila are under rural electrification net-work. However 20.39% of the dwelling households have access to electricity.
Sources of drinking water Tube-well 95.23%, tap 0.88%, pond 0.45% and others 3.44%.
Sanitation 12.53% (rural 16.65% and urban 52.66%) of dwelling households of the upazila use sanitary latrines and 18.12% (rural 18.10% and urban 19.43%) of dwelling households use non-sanitary latrines; 69.35% of households do not have latrine facilities.
Health centres Upazila health complex 1, health and family planning clinic 7, community clinic 29.'
NGO activities Operationally important NGOs are brac, asa, caritas, thengamara mahila sabuj sangha. [Md. Montajur Rahman]
References Bangladesh Population Census 2001, Bangladesh Bureau of Statistics; Cultural survey report of Niamatpur Upazila 2007.