Tanore Upazila (rajshahi district) area 295.39 sq km, located in between 24°29' and 24°43' north latitudes and in between 88°24' and 88°38' east longitudes. It is bounded by nachole and niamatpur upazilas on the north, paba and godagari upazilas on the south, mohanpur and manda upazilas on the east, Nachole, nawabganj sadar and Godagari upazilas on the west.
Population Total 173495; male 87848, female 85647; Muslim 146307, Hindu 14705, Buddhist 7314, Christian 176 and others 4993. Indigenous community such as santal belongs to this upazila.
Water bodies Main river: Shiba.
Administration Tanore Thana was formed in 1869 and it was turned into an upazila in 1983.
Upazila
Municipality
Union
Mouza
Village
Population
Density (per sq km)
Literacy rate (%)
Urban
Rural
Urban
Rural

1

6

211

184

31945

141550

587

53.4

44.3
Municipality

Area (sq km)

Ward

Mahalla

Population

Density
(per sq km)

Literacy rate (%)

24.91

9

26

28936

1162

49.13
Upazila Town

Area (sq km)

Mouza

Population

Density (per sq km)

Literacy rate (%)

3.06

1

3009

983

53.47
Union
Name of union and GO code
Area (acre)
Population
Literacy rate (%)
Male
Female

Kalma 27

12786

14338

14769

41.78

Kamargaon 40

9432

12719

12390

46.17

Talanda 81

10580

5283

5279

47.94

Pachandar 54

14615

15169

15192

43.68

Badhair 13

15167

15074

14320

44.70

Saranjai 67

10414

10073

9953

45.97

Chanduria
Source Bangladesh Population Census 2001, Bangladesh Bureau of Statistics.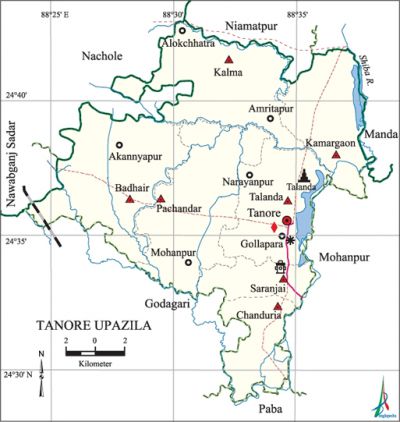 Archaeological heritage and relics Three domed Bhagna Jami Mosque at village Sidhair (1223 AH), ancient Mosque at village Mundumala, Talanda Shiva Mandir (1860), Durga Mandir and Buddhist Vihara at village Biharail.
History of the War of Liberation In 1971 a direct encounter was held between the freedom fighters and the Pak army at the upazila sadar in which two freedom fighters were killed. Although the freedom fighters were successful at the initial stage ultimately they were forced to retreat.
Religious institutions Mosque 478, temple 25, church 20, sacred place 1. Noted religious institutions: Gollapara Jami Mosque, Kamargaon Jami Mosque, Dhalia and Bhagna Jami Mosque, Pir Tomb at village Sidhair, Pagla Shah Dargah at Madaripur Hat, Kamargaon Shiva Mandir, Shiva Mandir at Shivatala, Mandir and Math at Tanore, Mundumala Mandir and Church at Mahali Para.
Literacy rate and educational institutions Average literacy 45.4%; male 50.1%, female 40.6%. Educational institutions: college 18, secondary school 62, primary school 122, NGO school 57, madrasa 13. Noted educational institutions: Mundumala College (1971), Talanda Lalita Mohan Degree College (1971), Talanda Ananda Mohan High School (1882), Kamargaon High School (1920), Hatishail High School (1957), Mundumala High School (1959), Talanda High School (1982), Mundumala Kamil Madrasa (1953).
Newspapers and periodicals Periodical: Bhorer Alo, Dheu.
Cultural organisations Library 10, club 30, cinema hall 2, theatre stage 1, women society 70, playground 4.
Main sources of income Agriculture 78.35%, non-agricultural labourer 2.53%, commerce 7.66%, transport and communication 1.58%, service 3.22%, construction 0.37%, religious service 0.14%, rent and remittance 0.11% and others 6.04%.
Ownership of agricultural land Landowner 51.37%, landless 66.27%; agricultural landowner: urban 48.80% and rural 51.95%.'
Main crops Paddy, wheat, jute, betel leaf, potato, mustard, masur, kalai, vegetables.
Extinct or nearly extinct crops Barley, sesame, linseed, arahar, kaun, sweet potato, dadkhani (paddy).
Main fruits Mango, jackfruit, palm, papaya, banana, litchi, watermelon.
Fisheries, dairies and poultries Fishery 124, dairy 40, poultry 35.
Communication facilities Pucca road 250 km, semi-pucca road 102 km, mud road 1132 km; railway 1 km; waterway 2.67' nautical miles.
Extinct or nearly extinct traditional transport Palanquin, horse carriage, bullock cart.
Noted manufactories Rice mill, ice factory, cement factory, welding factory.
Cottage industries Blacksmith, potteries, weaving, bamboo work.
Hats, bazars and fairs Hats and bazars are 15, fairs 5, most noted of which are Mundumala Hat, Kamargaon Hat, Talanda Hat, Kalma Hat, Kaliganj Hat, Gollapara Hat, Flower Mela at Mundumala, Billi Mela, Chaitra Sankranti Mela at Kamargaon, Muharram Mela at Madirpur, Kalipujar Mela and Ayra Durga Pujar Mela.
Main exports Paddy, jute, potato, wheat, vegetables.
Access to electricity All the wards and unions of the upazila are under rural electrification net-work. However 22.26% of the dwelling households have access to electricity.
Sources of drinking water Tube-well 96.02%, tap 1.40%, pond 0.39% and others 2.18%.
Sanitation 13.01% (rural 10.44% and urban 24.44%) of dwelling households of the upazila use sanitary latrines and 29.30% (rural 28.96% and urban 30.79%) of dwelling households use non-sanitary latrines; 57.69% of households do not have latrine facilities.
Health centres Upazila health centre 1, family planning centre 9, clinic 1.
Natural disasters About 90% of crops of Tonore were damaged due to excessive drought and heavy rain fall in 1980. Besides, the flood of 1995 caused heavy damages to settlements and other properties of the upazila.
NGO activities Operationally important NGOs are brac, asa, thengamara mahila sabuj sangha. [Asadullah Mamun Hasan]
References Bangladesh Population Census 2001, Bangladesh Bureau of Statistics; Cultural survey report of Tanore Upazila 2007.