Pakulla Mosque situated in village Palpara (Pakulla) under delduar Upazila of tangail district. It stands by the side of the Dhaka-Tangail road, north of mirzapur, and to the west of Pakulla Bazar.
The rectangular mosque with three domes measures externally 14.8m x 5.8m. Its walls are 1.25m in thickness. The interior of the mosque is divided into three unequal bays by two lateral cusped arches, which spring up from piers embedded in the east and west walls. This type of lateral cusped arches were inspired by imperial Mughal architecture, for example by Aurangzeb's Moti Masjid (c 1662 AD, Delhi), and again in Bengal by the tomb of Khwaja Anwar Shahid (c 1698 AD, Burdwan) and the mosque of Haji Khwaja Shahbaj (c 1679 AD, Dhaka). All the bays are covered with domes on octagonal drums and the central one is bigger than the flanking ones.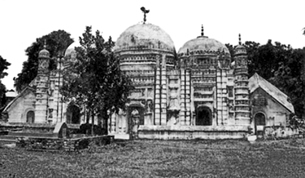 On both sides of the rectangular mosque there are two do-chala hut type of structures in brick and plaster. The purpose of these rooms are not clear; perhaps these were used as classrooms or as a residence of the Imam of the mosque.
Both rooms had doorways from within and each could be entered from the eastern side. The facade of this rectangular three-domed mosque has three arched entrances, each set within a rectangular frame. There are four octagonal towers on the exterior angles rising high above the horizontal parapets these are topped over with kiosks and cupolas which terminate in kalasa finials. The corner towers and the flanking turrets have kalasa bases.
The western wall in the inside is recessed with three arched mihrabs. The arch of the central mihrab is of the multi-cusped variety, but those of the side ones are of the plain four-centred type. The central mihrab is bigger than the side ones and is traditionally projected on the outside. It has flanking ornamental double columns and a single column is attached on both sides of the two subsidiary mihrabs. There is a three-stepped mimbar to the north of the central mihrab.
The bulbous domes are crowned with lotus and kalasa finials. The parapets of the mosque and the drums below the domes have a frieze of merlons. The walls are embellished with panellings. The spandrels of all the doorways and the mihrab arches are elegantly decorated with stucco ornamentation of merlons, rosettes, rope motifs, leaves, geometric designs and other floral decorations.
The mosque is not dated by inscription. But on the basis of stylistic similarities with some dated medieval buildings, such as the tomb of Khwaja Anwar Shahid (c 1698 AD), Dargah of Manik Pir (1697 AD) and kartalab khan's mosque (1704 AD), the Pakulla Mosque may conveniently be dated to late 17th or early 18th century. The mosque is now in a dilapidated condition and cracks have developed on walls and domes. [Ayesha Begum]