Palash Upazila (narsingdi district) area' 94.43 sq km, located in between 23°53' and 24°03' north latitudes and in between 90°34' and 90°43' east longitudes. It is bounded by shibpur and kapasia upazilas on the north, rupganj and narsingdi sadar upazilas on the south, Shibpur and Narsingdi Sadar upazilas on the east, kaliganj (gazipur), Kapasia and Rupganj upazilas on the west.
Population Total 189120; male 98752, female 90368; Muslim 166680, Hindu 22235, Buddhist 24 and others 181.
Water bodies Main river: shitalakshya.
Administration Palash Thana, now an upazila, was formed in 1977.
Upazila
Municipality
Union
Mouza
Village
Population
Density (per sq km)
Literacy rate (%)
Urban
Rural
Urban
Rural

1 (Ghorashal)

4

55

78

100443

88677

2003

63.7

55.0
Municipality

Area (sq km)

Ward

Mahalla

Population

Density (per sq km)

Literacy rate (%)

19.21

9

20

58319

3036

61.98
Upazila Town

Area (sq km)

Mouza

Population

Density (per sq km)

Literacy rate (%)

19.82

11

42124

2125

66.15
Union
Name of union and GO code
Area (acre)
Population
Literacy rate (%)
Male
Female

Gazaria 47

3240

12120




11558




56.37




Char Sindur 15




5038




20402




19100




69.36




Jinardi 79




5230




14168

13867

57.35

Danga 31

3981

20246

19340

49.99
Source Bangladesh Population Census 2001, Bangladesh Bureau of Statistics.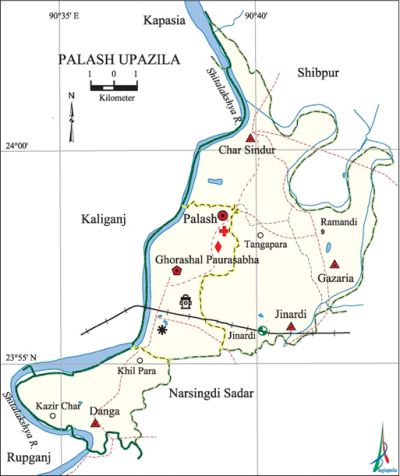 Archaeological heritage and relics Parulia Mosque (1716), Mia Bari Mosque at Ghorashal, tomb of Dewan Sharif, Danga Bholabo Ancient Kali Bari and Gogeswar Sadhu Ashrama (1092), Kathunath Temple at Danga, Kanai Lal Temple at Barab.
Religious institutions Mosque 407, temple 27, tomb 2.
Literacy rate and educational institutions Average literacy 59.7%; male 63.2%, female 55.9%. Noted educational institutions: Charsindur High School (1919), Parulia High School (1933), Ghorashal High School (1945), Danga High School, Gayeshpur PL High School, Palash Thana High School.
Cultural organisations Library 1, club 59, cinema hall 2, playground 31.
Main sources of income Agriculture 28.28%, non-agricultural labourer 2.86%, industry 5.14%, commerce 16.87%, transport and communication 2.14%, service 26.26%, construction 5.80%, and others 12.65%.
Ownership of agricultural land Landowner 53.36%, landless 46.64%; agricultural landowner: urban 47.12% and rural 60.64%.
Main crops Paddy, jute, wheat, sugarcane, onion, garlic, vegetables.
Extinct or nearly extinct crops Linseed, sesame, kaun, sweet potato, arahar.
Main fruits Mango, jackfruit, pineapple, litchi, banana, papaya.
Fisheries, dairies and poultries Fishery 15, dairy 55, poultry 87, nursery 7, cattle breeding centre 2.
Communication facilities Pucca road 202.18 km, semi-pucca road 8.259 km, mud road 110.83 km; railway 15 km; waterway 25 nautical miles.
Extinct or nearly extinct traditional transport Palanquin, horse carriage, bullock cart.
Noted manufactories Sugar mill, jute mill, paper mill, fertiliser factory, power station.
Cottage industries Blacksmith, potteries, weaving, bamboo work, cane work.
Hats, bazars and fairs Hats and bazars are 16, fairs 7, most noted of which are Ghorashal Bazar, Danga Hat, Charsindur Hat,' Jinardi Mela, Ghorashal Mela and Charsindur Mela.
Main exports Sugar, jute hessian, paper, banana, pineapple, onion, garlic, vegetables.
Access to electricity All the wards and unions of the upazila are under rural electrification net-work. However 71.21% of the dwelling households have access to electricity.
Sources of drinking water Tube-well 83.72%, tap 10.37%, pond 0.23% and others 5.68%.
Sanitation 54% (rural 37.46% and urban 68.17%) of dwelling households of the upazila use sanitary latrines and 29.66% of dwelling households use non-sanitary latrines; 16.33% of households do not have latrine facilities.
Health centres Upazila hospital 7, health complex 1, satellite clinic and family welfare centre 4, maternity 1, charitable dispensary 1, community clinic 28.
NGO activities Operationally important NGOs are brac, asa, Popy. [Md. Iftekhar Uddin Bhuiyan]
References Bangladesh Population Census 2001, Bangladesh Bureau of Statistics; Cultural survey report of Palash Upazila 2007.