Gazipur District (dhaka division) area 1741.53 sq km, located in between 23°53' and 24°21' north latitudes and in between 90°09' and 92°39' east longitudes. It is bounded by mymensingh and kishoreganj districts on the north, dhaka, narayanganj and narsingdi districts on the south, Narsingdi district on the east, Dhaka and tangail districts on the west.
Population Total 2031891; male 1067722, female 964169; Muslim 1872943, Hindu 137678, Buddhist 20124, Christian 235 and others 911. Indigenous communities such as rajbangshi (Koach), garo, santal, Mandi, Bhangor and Nunia belong to this upazila.
Water bodies River 17, canal 84, dighi 12, beel 413, lake 3 (artificial), jalmahal 14; main rivers: old brahmaputra, shitalakshya, turag, bangshi, balu, banar.
Administration Gazipur District was formed in 1984.'
District
Area (sq km)
Upazila
Municipality
Union
Mouza
Village
Population
Density (per sq km)
Literacy rate (%)
Urban
Rural

1741.53

5

4

45

768

1162

929770

1102121

1231

56.4
Others Information of District

Name of upazila

Area
(sq km)

Municipality

Union

Mouza

Village

Population

Density
(per sq km)

Literacy rate (%)

Kapasia

356.98

-

11

166

230

321454

900

56.4

Kaliakair

314.14

1

9

181

287

267003

850

48.4

Kaliganj

158.79

1

8

151

198

239527

1508

54.9

Gazipur Sadar

446.38

2

8

183

261

866540

1941

62.6

Sreepur

465.24

-

9

81

186

337367

725

47.7
Source Bangladesh Population Census 2001,Bangladesh Bureau of Statistics.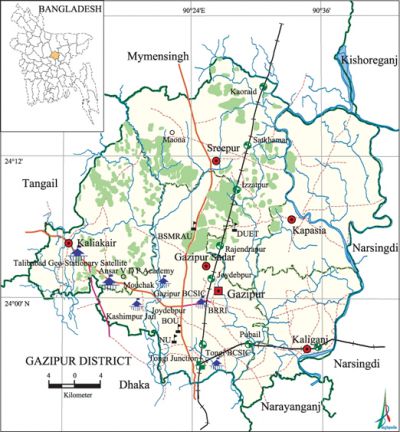 Archaeological heritage and relics Dholsamudra (the capital of the Pala kings), Toke Fort (sixth century), Karnapur Fort and twin pond (1045), Dighi and Mazar at Chaura, old bridge at Tongi (built by Mir Jumla), Bhawal Rajbari, tomb of isa khan at Bakhtarpur, ruins of capitals of King Shishu Pal at Sreepur and of Chandala kings at Chinashkhania, Ekdala Fort at Kapasia (c. 600 AD), Dardaria Fort (1200 AD), Neelkuthi at Raniganj and Barmi.
History of the War of Liberation During the war of liberation the Pak army conducted mass killing at different places of the upazila including Tongi BCSIC industrial area on 27 March, Joydebpur on 7 April, Achirpur on 17 April, Baria, Ichharkandi and Tongi Shahid Smriti High School compound on 14 May, 17 June at the Sreepur College compound and on 1 December at Khalapara National Jute Mill premises, Satkhamair; the Pak army set the Kapasia Bazar on fire. Three persons were killed in a resistance movement at Tongi on 4 March 1971. On 19 March 1971, the Pak army shot four persons dead at Joydebpur and Chandana Chowrasta. An encounter between the freedom fighters and the Pak army was held on 18 November near Sombazar Canal of Kaliganj upazila in which a number of Pak soldiers were killed; the freedom fighters also took control over the WAPDA Power House military camp, Police Station and Arikhola Railway Station Camp. Seven Pak soldiers and two members of the allied forces were killed in an encounter on 14 December at Pubail and Nalchhata. On 9 October, the freedom fighters raided the Pak army base at Kaliakair and killed 34 razakars and 12 Pak soldiers. A battle was fought between the freedom fighters and the Pak army on 28 October at Kachighata in which about 52 Pak soldiers were killed. On 30 October, the freedom fighters killed seven Pak soldiers at Fulbaria area. On 6 December, the freedom fighters destroyed three vehicles carrying Pak soldiers and killed 27 of them. Another encounter was held between the freedom fighters and the Pak army near the Latifpur Bridge of Kaliakoir; afterwards, the Pak army sacked the village Sreefaldi. Two freedom fighters were killed in an encounter with the Pak army near the Bangshi Bridge on 13 December.
Marks of the War of Liberation Mass killing site and mass grave: eastern side of the Joydebpur Rajbari, Sathkamair, Tongi Shaheed Smriti School compound and at Gachha; Memorial monument: 'Jagrata Chaurangi' at Joydebpur Chowrasta and at the premises of the Joydebpur Rajbari; Grave of Shaheed Sajjad at Targaon.
Literacy rate and educational institutions Average literacy 56.4%; male 60.5%, female 51.9%. Educational institutions: university 5, college 45, technical college 180, secondary school 276, primary school 733, community school 52, NGO operated school 11, madrasa 181. Noted educational institutions: Islamic University of Technology (1979), Dhaka University of Engineering and Technology (1980), National University (1992), Bangabandhu Sheikh Mujibur Rahman Agricultural University (1993), Bangladesh Open University (1993), Kapasia Degree College (1965), Sreepur University College (1968). Bhawal Badare Alam Government College, Kaliganj R.R.N Pilot Government High School (1889), Rani Bilasmoni Government Boys' High School (1905), Taraganj H.N High School (1919), Saint Nicholas High School (1920), Kaoraid Kali Narayan High School (1929), Bringoraj Talibabad Multilateral High School (1928).
Main sources of income Agriculture 57.46%, non-agricultural labourer 2.65%, commerce 10.85%, transport and communication 2.79%, service 14.41%, construction 1.1%' and others 10.74%.
Newspapers and periodicals Daily 4, half-weekly 2, weekly 11, others 28; daily: Ganamukh, Mukta Sambad, Ajker Janata; weekly: Gazipur Barta, Gazipur Sambad, Sakaler Kantha, Bhawal, Anirban.
Folk culture Various folk festivals such as Nabanna, pitha (cake) festival, Jamai Shasthi, kite flying, folk dance (performed by the indigenous community Rajbangshi), Kirtan (performed by the Hindu community), are performed by the people of the district. Besides, various folk songs are sung (praying for rain), on the occasions harvesting, driving boat, marriage ceremony and on other folk festivals. During the winter season, drama festival is also held in the district.
Tourist spots Lakhpur Dakbangalow (Mughal period), Zamaidar Bari of Ramanath Karmakar, Nagri St Nicholas Church, St Anthony Church at Panjora, Kripamoye Temple,' Bhawal National Park, Khatibbari Shooting Complex, Nandan Park, Ansar Academy, Niler Para Khamar Bari, Anantadhara Tourist and Amusement Centre, Pushpadham Amusement and Shooting Centre, Bhawal Rajbari, Kashimpur Zamindar Bari, Nuhash Film Palli (village), Tongi Mir Jumla Bridge, memorials' 'Jagrata Chourangi' (the first sculpture commemorating the War of Liberation at the turn of the Chandana Chowrasta). [Md Farid Uddin Ahmed]
See also The upazilas under this district.
References Bangladesh Population Census 2001, Bangladesh Bureau of Statistics; Cultural survey report of Gazipur District 2007; Cultural survey report of Upazilas of Gazipur District 2007.