Panchbibi Upazila (joypurhat district) area 278.53 sq km, located in between 25°08' and 25°17' north latitudes and in between 88°56' and 89°13' east longitudes. It is bounded by hakimpur and ghoraghat upazilas and west bengal state of India on the north, joypurhat sadar upazila on the south, gobindaganj and kalai upazilas on the east, Joypurhat Sadar upazila and West Bengal state of India on the west.
Population Total 215806; male 110588, female 105218; Muslim 183355, Hindu 23925, Buddhist 3451, Christian 81 and others 4994. Indigenous communities such as santal, munda and oraon belong to this upazila.
Water bodies Main rivers: little jamuna, Tulsi Ganga, Harabati.
Administration Panchbibi Thana, now an upazila, was formed in 1868.
Upazila
Municipality
Union
Mouza
Village
Population
Density (per sq km)
Literacy rate (%)
Urban
Rural
Urban
Rural

1

8

222

244

20574

195232

775

66.5

49.9
Municipality

Area (sq km)

Ward

Mahalla

Population

Density (per sq km)

Literacy rate (%)

9.62

9

14

20574

2139

66.5
Union
Name of union and GO code
Area (acre)
Population
Literacy rate (%)
Male
Female

Aolai 10

10890

13533

13207

40.49

Atapur 21

9433

11834

11567

49.90

Aymarasulpur 31

6670

13554

12907

55.51

Kusumba 73

11317

13514

12716

44.05

Dharanji 63

7103

13974

13140

46.84

Bagjana 42

6240

10958

10106

62.10

Balighata 52

7646

11054

10249

54.47

Mohamadpur 84

9532

11579

11340

49.30
Source Bangladesh Population Census 2001, Bangladesh Bureau of Statistics.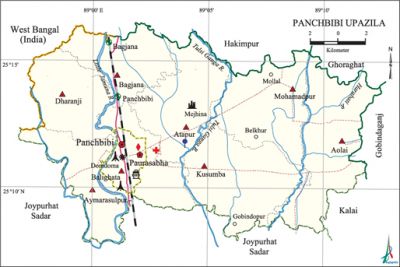 Archaeological heritage and relics Remnants of the Rajbari at Atapur union, Tomb of Hazrat Abu Jafar Mohammad Nasiruddin Balkhi.
Historical events British goods boycott movement in 1930 and tebhaga movement 'in 1946 were held in Panchbibi upazila under Abdul Kader Chowdhury. The members of the Anushilan Samiti, under Abdul Kader Chowdhury and Pran Krishna Chakraborti looted the postal mail bags of the mail train at the Hilli Station on 27 October 1934. In 1942 the Congress and the Communist Party activists of this upazila, responding to the call of Mahatma Gandhi, joined in the Quit India Movement. A total hartal was observed at Panchbibi on 24 February 1952 in protest of police firing and killing of students on 21 February 1952. On 11 December 1967 education conference was held at Mahipur organized by maulana abdul hamid khan bhasani. In 1971 the All Party Student Fronts conducted a training centre at the Panchbibi Lal Bihari High School. Besides, about 50 to 60 members of the EPR, coming from the Indian Border area, used to give arms training to the students and youths of the upazila. On 20 April the Pak army launched an attack on the Panchbibi bazar and killed a number of people; they also set many houses on fire. 24 Pak soldiers were killed in a battle with the freedom fighters at Aymarasulpur union of the upazila. In the first week of May the freedom fighters launched a surprise attack on the Pak army patrol team and killed 9 Pak soldiers at village Hajipur.'
Marks of the War of Liberation Mass grave 3 (Gopalpur, Damdama, Balighata).
Religious institutions Mosque 298, temple 8, church 1, tomb 3, sacred place 1. Noted religious institutions: Patharghata Bazar Mosque, Pakuria Mandir, Baran Mandir, Chhatinali Mandir.
Literacy rate and educational institutions Average literacy 51.5%; male 56.6%, female 46.3%. Educational institutions: college 6, technical school 6, secondary school 49, primary school 96, madrasa 46. Noted educational institutions: Panchbibi Degree College (1994), Mahipur Haji Mohosin Government College (1976), Government LLB High School (1924), Uchai Jerka SC High School (1925), Panchbibi Lal Bihari Government High School (1940), Piara Chhatinali High School (1962), Katowalibag High School (1964), Panchbibi Nasir Mandal Government Girls' High School (1964), Bagjana High School (1966), Mahipur Maulana Bhasani High School (1980), Salaipur High School (1988), Panchbibi Mahabbatpur Aminia Kamil Madrasa (1948), Balighata Alim Madrasa (1976).
Newspapers and periodicals Weekly: Bangladesh Patrika, Balighata, Panchmatha, Vorer Alo; monthly: 'Ajker Mahua; yearly: Probaho.
Cultural organisations Library 18, club 17, press club 1, cinema hall 5, theatre stage 1, theatre group 1, Bishwa Sahitya Kendra.
Amusement centres Patharghata (meeting place of the Muslim, Hindu and the Christian on the bank of the Tulsi Ganga), residence of Lokhma Chowdhury' (Karia).
Main sources of income Agriculture 72.34%, non-agricultural labourer 2.32%, industry 0.88%, commerce 10.64%, transport and communication 3.23%, service 3.87%, construction 1.01%, religious service 0.15%, rent and remittance 0.09% and others 5.47%.
Ownership of agricultural land Landowner 57.29%, landless 42.71%; agricultural landowner: urban 42.74% and rural 58.68%.
Main crops Paddy, jute, wheat, potato, sugarcane, mustard, vegetables.
Extinct or nearly extinct crops Cotton.
Main fruits Mango, jackfruit, banana, blackberry, pineapple, guava, litchi.
Fisheries, dairies and poultries Fishery 1, dairy 22, poultry 50, hatchery 3.
Communication facilities Pucca road 94 km, semi-pucca road 35 km, mud road 269 km; railway 12 km; waterway 7 nautical miles.
Extinct or nearly extinct traditional transport Palanquin, horse carriage, bullock cart.
Noted manufactories Flower mill, ice factory.
Cottage industries Goldsmith, blacksmith, potteries, weaving, cane work, bamboo work, wood work.
Hats, bazars and fairs Hats and bazars are 21, fairs 11, most noted of which are Panchbibi Hat, Malpara Hat, Shirtree Hat, Dharunjee Hat, Bagjana Hat, Barkandi Hat, Chhatinali Hat, Baruni Snan Mela, Panchbibi Mela, Mahipur Mela, Bagjana Mela and Mahish Mardan Mela.
Main exports Jute, Leather.
Access to electricity All the wards and unions of the upazila are under rural electrification net-work. However 20.24% of the dwelling households have access to electricity.
Sources of drinking water Tube-well 94.68%, tap 0.26%, pond 0.26% and others 4.80%.
Sanitation 12.61% (rural 10.98% and urban 29.74%) of dwelling households of the upazila use sanitary latrines and 27.88% (rural 27.39% and urban 32.99%) of dwelling households use non-sanitary latrines; 59.51% of households do not have latrine facilities.
Health centres Hospital 1, union health centre 8, charitable dispensary 1.
Natural disasters The flood of 1995 caused loss of life; it also caused heavy damages to settlements and crops of the upazila.
NGO activities Operationally important NGOs are brac, asa, thengamara mahila sabuj sangha, proshika, Swanirvar Bangladesh, Social development Service. [Shahnaz Parveen]
References Bangladesh Population Census 2001, Bangladesh Bureau of Statistics; Cultural survey report of Panchbibi Upazila 2007.