Joypurhat District (rajshahi division) area 965.44 sq km, located in between 24°51' and 25°17' north latitudes and in between 88°17' and 88°55' east longitudes. It is bounded by dinajpur district on the north, naogaon and bogra districts on the south, Bogra and gaibandha districts on the east, Naogaon district and west bengal state of India on the west.
Population Total 846696; male 434616, female 412080; Muslim 758324, Hindu 76033, Buddhist 4715, Christian 183 and others 7441. Indigenous communities such as santal, munda, oraon, Koch rajbangshi belong to this upazila.
Water bodies Main rivers: little jamuna, Tulsi Ganga, Harabati.
Administration During the period from 1971 to 1984 Joypurhat was a Sub-division under Bogra district; it was turned into a district in 1984. Of the five upazilas of the district panchbibi is the largest (278.53 sq km, it occupies 28.85% of the total area of the district) and akkelpur is the smallest upazila (139.47 sq km).
District
Area (sq km)
Upazila
Municipality
Union
Mouza
Village
Population
Density (per sq km)
Literacy rate (%)
Urban
Rural

965.44

5

3

32

719

896

121305

725391

877

49.6
Others Information of District

Name of Upazila

Area
(sq km)

Municipality

Union

Mouza

Village

Population

Density
(per sq km)

Literacy rate
(%)

Akkelpur

139.47

1

5

116

145

128952

925

54.3

Kalai

166.30

-

5

109

160

129329

778

40.4

Khetlal

142.60

-

5

88

155

115918

813

45.1

Joypurhat Sadar

238.54

1

9

184

192

256691

1076

52.3

Panchbibi

278.53

1

8

222

244

215806

775

51.5
Source Bangladesh Population Census 2001, Bangladesh Bureau of Statistics.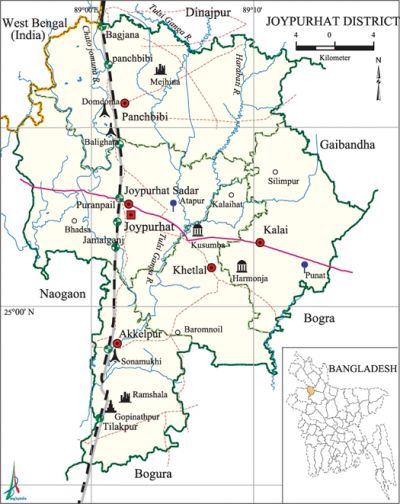 History of the War of Liberation During the war of liberation Joypurhat was under Sector 7. On 23 March the flag of the independent Bangladesh was hoisted at Joypurhat sadar. On 20 April, the Pak army raided the Panchbibi Bazar and killed many people; they also set the Bazar on fire. A battle was fought between the freedom fighters and the Pak army in Ayesa Rasulpur union of Panchbibi upazila in which 24 Pak soldiers were killed. The Pak army brutally killed about 371 people at village Barai-Kadirpur under Bambu union of Joypurhat upazila. On 5 October, the Pak army brutally killed about 300 innocent people at village Pagla Dewan of Joypurhat upazila while they were performing the Jumma prayer. Joypurhat was liberated on 14 December.
Marks of the War of Liberation Mass grave 6; Mass killing site 1; Memorial monument 2.
Literacy rate and educational institutions Average literacy 49.6%; male 55%, female 44%. Educational institutions: college 22, secondary school 126, primary school 344, community school 5, kindergarten 2, technical college 7, technical school 1, technical institutions 2, madrasa 106. Noted educational institutions: Joypurhat Government College (1946), Mohipur Haji Mohsin Government College (1969), Joypurhat Government Women's College (1972), Joypurhat Girls' Cadet College (2006), Kalai Mayen Uddin High School (1913), Sonamukhi Bilateral High School (1916), Khanjanpur High School (1901), Haripur High School (1917), Khanjanpur Mission Girl's High School (1919), Uchai Jerka Adivasi High School (1925), Teghar High School (1940), Ramdeo Bajla Government High School (1946), Joypurhat Government Girls' High School (1977), Karai Nurul Huda Aliya Madrasa (1926), Nangapirhat SA Bilateral Fazil Madrasa (1928), Baniapara Madrasa (1936).
Main sources of income Agriculture 69.51%, non-agricultural labourer 2.09%, industry 1.18%, commerce 11.68%, transport and communication 3.97%, service 5.14%, construction 1.15%, religious service 0.15%, rent and remittance 0.22% and others 4.91%.
Newspapers and periodicals Daily: Nabanna; half-Weekly: Uttar Simanta (1996-99); weekly: Simanta (1982-89), Joypurhat Barta (1987-88), Bangadhoni (1985-88), Balighata, Panchmatha; fortnightly: Diganta (1981-84); monthly: Mahua; defunct: Aloran (1949-52), Sonarbangla (1972-75), Shebak (1978-82).
Folkculture Folk music such as Bhawaia, Palligeeti, Marfati, Dehatottva, Jarigan, Morshia, wedding songs etc are prevalent; besides, 'Jatrapala' are also performed in the district.
Tourist spots Shishu Uddan (children's part), Khanjanpur Christian Mission (Joypurhat Sadar), Achhranga Beel (Khetlal upazila), Patharghata (Panchbibi upazila). [Md Azizul Haq]
See also The upazilas under this district.
References Bangladesh Population Census 2001, Bangladesh Bureau of Statistics; Cultural survey report of Joypurhat District 2007; Cultural survey report of Upazilas of Joypurhat District 2007.