Parshuram Upazila (feni district) area 97.58 sq km, located in between 23°10' and 23°17' north latitudes and in between 91°23' and 91°31' east longitudes. It is bounded by tripura state of India on the north, east and west, phulgazi upazila on the south.
Population Total' 94378; male 46927, female 47451; Muslim 89869, Hindu 4499 and others 10.
Water bodies Main rivers: Silonia, Kahua, muhuri.
Administration Parshuram Thana was formed on 7 May 1879 and it was turned into an upazila in 1983.
Upazila
Municipality
Union
Mouza
Village
Population
Density (per sq km)
Literacy rate (%)
Urban
Rural
Urban
Rural

1

3

66

76

41375

682444

967

58.03

54.29
Municipality

Area (sq km)

Ward

Mahalla

Population

Density
(per sq km)

Literacy rate (%)

22.13

-

-

26134

1181

55.76
Upazila Town

Area (sq km)

Mouza

Population

Density (per sq km)

Literacy rate (%)

9.74

5

15223

1563

60.3
Union
Name of union and GO code
Area (acre)
Population
Literacy rate (%)
Male
Female

Chithalia 23

5984

12417

12723

56.93

Baksh Mohammad 40

6758

10278

10514

51.75

Mirzanagar 47

5840

11009

11303

54.18
Source Bangladesh Population Census 2001, Bangladesh Bureau of Statistics.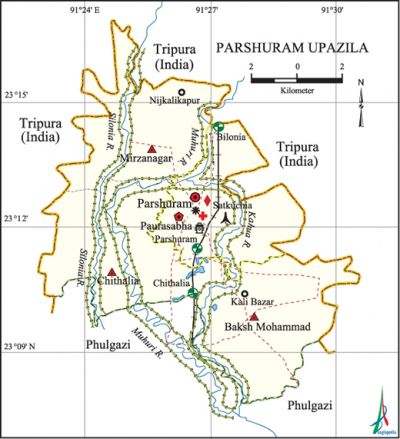 Archaeological heritage and relics Dighi of Shamser Gazi at village Satkuchia.
Historical events During the World War II, a runway was built in this upazila forlanding of aircrafts of the allied forces. On 7 November 1971 a battle was fought between the freedom fighters and the Pak army at the Bilonia Border Outpost in which many Pak soldiers were killed and so were three freedom fighters. A number of Pak soldiers were killed in an encounter with the freedom fighters on the same day while attempting to restore their Chithalia base. In this encounter the freedom fighters captured a bulk of arms and ammunitions of the Pak army.
Religious institutions Mosque 224, temple 5, tomb 5.
Literacy rate and educational institutions Average literacy 55.11%; male 57.83%, female 52.52%. Educational institutions: college 5, secondary school 32, primary school 125, madrasa 20. Noted educational institutions: Parshuram Government College (1972), Khandal Multilateral High School and College (1934), Subar Bazar Madrasa (1934).
Newspapers and periodicals Monthly: Sampriti, Jharapata (irregular); quaterly: Dhansiri.
Cultural organisations Library 5, club 15, cinema hall 1.
Important installations Bilonia Railway Station, Customs House, Bilonia Look Out Tower.
Main sources of income Agriculture 48.32%, non-agricultural labourer 2.64%, industry 0.65%, commerce 11.81%, transport and communication 3.25%, service 14.56%, construction 1.16%, religious service 0.29%, rent and remittance 7.92% and others 9.40%.
Ownership of agricultural land Landowner 64.79%, landless 35.21%; agricultural landowner: urban 53% and rural 65.69%.
Main crops Paddy, sugarcane, spring harvest.
Main fruits Mango, jackfruit, coconut, blackberry, pineapple.
Fisheries, dairies and poultries Fishery 10, poultry 8, hatchery 2.
Communication facilities Pucca road 76.45 km, semi-pucca road 17.77 km, mud road 334.77 km; railway 10 km.
Extinct or nearly extinct traditional transport Palanquin, horse carriage.
Cottage industries Goldsmith, potteries, wood work, bamboo work.
Hats, bazars and fairs Hats and bazars are 11, fairs 2, most noted of which are Parshuram Hat, Suba Bazar, Battali Bazar and Saldhar Bazar.
Main exports Paddy.
Access to electricity All the unions of the upazila are under rural electrification net-work. However 41.25% (urban 53.45% and rural 40.32%) of the dwelling households have access to electricity.
Sources of drinking water Tube-well 92.10%, pond 2.43%, tap 0.61% and others 4.86%.
Sanitation 62.32% (rural 61.04% and urban 78.40%) of dwelling households of the upazila use sanitary latrines and 29.89% (rural 31.14% and urban 13.53%) of dwelling households use non-sanitary latrines; 7.79% (rural 7.77% and urban 4.07%) of households do not have latrine facilities.
Health centres Upazila health complex 1, satellite clinic 3, family planning centre 5, community clinic 14.
Natural disasters The floods of 1988 and 1998 caused heavy damages to settlements, crops and other properties of the upazila.'
NGO activities Operationally important NGOs are brac, asa. [Mohammad Yakub]
References Bangladesh Population Census 2001, Bangladesh Bureau of Statistics; Cultural survey report of Parshuram Upazila 2007.