Phulgazi Upazila (feni district) area 99.03 sq km, located in between 23°02' and 24°10' north latitudes and in between 91°23' and 91°31' east longitudes. It is bounded by parshuram upazila on the north, feni sadar and chhagalnaiya upazilas on the south, tripura state of India on the east and west.
Population Total 110291; male 54216, female 56075; Muslim 101230, Hindu 9050 and others 11.
Water bodies Main rivers: muhuri, Silonia, Kahoa.
Administration Phulgazi Thana was formed in 1975 and it was turned into an upazila on 27 March 2002.
Upazila
Municipality
Union
Mouza
Village
Population
Density (per sq km)
Literacy rate (%)
Urban
Rural
Urban
Rural

-

6

81

79

-

110291

1113.71

-

55.47
Union
Name of union and GO code
Area (acre)
Population
Literacy rate (%)
Male
Female

Anandapur 27

3051

6605

6617

53.77

Amjadhat 13

5101

9677

10580

52.56

G.M.Hat 74

3078

6413

6482

56.73

Darbarpur 54

2469

7495

7765

59.78

Phulgazi 67

6951

14346

14345

55.87

Munshirhat 81

3821

9680

10286

54.16
Source  Bangladesh Population Census 2001, Bangladesh Bureau of Statistics.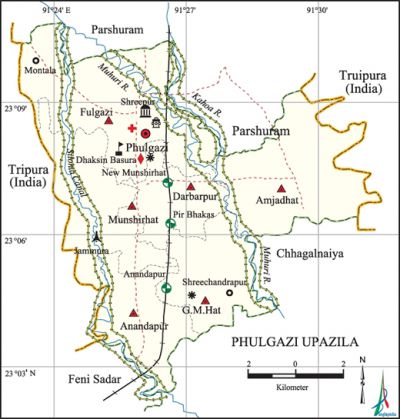 Archaeological heritage and relics Shreepur Jami Mosque, Purna Roy Chowdhury Mandir, Gain Bari Mandir, Durga Mandir.
History of the War of Liberation Phulgazi upazila was under Sector 2 during the war of liberation. On 10 June, the freedom fighters shot 50 Pak soldiers dead while they were crossing the Bandhua Bridge. The Pak army conducted mass killing and plundering in the upazila. Phulgazi upazila was liberated on 6 December.
Marks of the War of Liberation Mass grave 1, mass killing site 5.
Religious institutions Mosque 286, temple 7.
Literacy rate and educational institutions Average literacy 62.33%; male 61.69%, female 62.98%. Noted educational institutions: Phulgazi Government College (1972), Khaleda Zia Mohila College (1995), Munshirhat Ali Azam High School (1906), G.M.Hat High School (1926), Phulgazi Pilot High School (1929), Phulgazi Girls' High School (1972), Ajmeri Begum Girls' High School (1979), Dakshin Basura Government Primary School (1904), Phulgazi Alia Madrasa.
Cultural organisations Library 6, club 37, cinema hall 1, playground 8.
Main sources of income Agriculture 55.47%, non-agricultural labourer 2.92%, industry 2.21%, commerce 12.74%, transport and communication 3.01%, service 11.39%, construction 1.67%, religious service 0.22%, rent and remittance 2.55% and others 7.82%.
Ownership of agricultural land Landowner 64.79%, landless 35.21%; agricultural landowner: urban 53% and rural 65.69%.
Main crops 'Paddy, wheat, jute, potato, sugarcane, chilli, vegetables.
Main fruits Mango, jackfruit, banana, litchi, papaya.
Fisheries, dairies and poultries This upazila has a number of fisheries, dairies and poultries.
Communication facilities Pucca road 97 km, mud road 512 km; railway 15 km.
Extinct or nearly extinct traditional transport Palanquin, horse carriage, bullock cart.
Cottage industries Goldsmith, blacksmith, weaving, potteries, wood work, tailoring, bamboo work.
Hats, bazars and fairs Hats and bazars are 14, fairs 2, most noted of which are GM Hat, Darbarpur Kalibazar, Munshirhat, Munshirhat' Natun Bazar, Phulgazi Bazar, Anandapur Bazar.
Access to electricity All the unions of the upazila are under rural electrification net-work. However 41.25% (urban 53.45% and rural 40.32) of the dwelling households have access to electricity.
Sources of drinking water Tube-well 92.10%, tap 0.61%, pond 2.43% and others 4.86%.
Sanitation 62.32% (rural 61.04% and urban 78.40%) of dwelling households of the upazila use sanitary latrines and 29.89% (rural 31.14% and urban 13.53%) of dwelling households use non-sanitary latrines; 7.79% (rural 7.77% and urban 4.07%) of households do not have latrine facilities.
Health centres Upazila health centre 1, union satellite clinic 3, family planning centre 4, community clinic 9, rural health centre 3, union health and family welfare centre 5, community clinic 9.
Natural disasters The flood of 1998 caused heavy damages to settlements, livestock, crops and other properties of the upazila.
NGO activities Operationally important NGOs are brac, asa. [Dildar Hussain]
References Bangladesh Population Census 2001, Bangladesh Bureau of Statistics; Cultural survey report of Phulgazi Upazila 2007.