Phultala Upazila (khulna district) area 87.41 sq km, located in between 22°54' and 23°01' north latitudes and in between 89°23' and 89°29' east longitudes. It is bounded by abhaynagar upazila on the north and west, dumuria upazila and khan jahan ali thana on the south, dighalia and Abhaynagar upazilas on the east.
Population Total 177570; male 92817, female 84753; Muslim 158772, Hindu 18212, Buddhist 489, Christian 14 and others 83.
Water bodies Main rivers: chitra, bhairab; beel dhakatia is notable.
Administration Phultala upazila was formed in 1983.
Upazila
Municipality
Union
Mouza
Village
Population
Density (per sq km)
Literacy rate (%)
Urban
Rural
Urban
Rural

4

24

38

31208

146362

2031

62.44

59.92
Upazila Town

Area (sq km)

Mouza

Population

Density (per sq km)

Literacy rate (%)

13.99

4

31208

2231

62.44
Union
Name of union and GO code
Area (acre)
Population
Literacy rate (%)
Male
Female

Atra Gilatala

4312

36983

32438

69.57

Jamira 57

4972

8936

8739

49.09

Damodar 38

5278

17535

16070

61.13

Phultala 76

3793

13080

12581

59.88
Source Bangladesh Population Census 2001, Bangladesh Bureau of Statistics.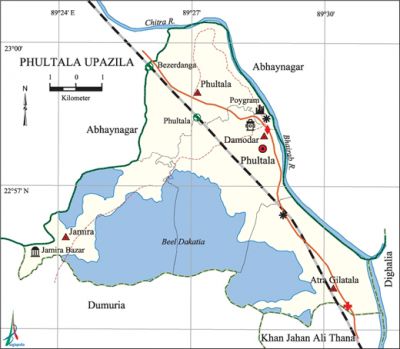 Archaeological heritage and relics Khan Jahan Ali Mosque, Tomb and dighi of Buro Fakir.
Historical events Asad and Rafiq of Phultala upazila were killed in the mass upsurge of 1969. On 27 March 1971 the police forces of Phultala thana in collaboration with the general people tried to resist the entry of Pak army in Phultala in which a number of people including Officer in Charge of the thana were killed. On 12 December, a convoy of freedom fighters was completely destroyed and about 400 freedom fighters were killed by the Pak army at a place near the Badamtala Eye Hospital. On 13 December, when this upazila was liberated, the Indian Air Forces mistakenly bombarded on the victory procession at the Phultala Bazar in which about 20 persons including a few freedom fighters were killed.
Marks of the War of Liberation Mass grave 1 (Charabari Ghat).
Religious institutions Mosque 86, temple 34, tomb 3. Noted religious institutions: Phultala Ahmadia Jami Mosque, Mosque-e-Tabein (Jamira Bazar), Maulvibazar Mosque, Mollabari Mosque, tomb of Misri Dewan, old Mandir of Kala Chand Bigraha, Radhagovinda Mandir.
Literacy rate and educational institutions Average literacy 60.42%; male 64.80%, female 54.92%. Educational institutions: college 4, secondary school 20, primary school 66, community school 1, kindergarten 9, madrasa 9. Noted educational institutions: Phultala MM College (1980), Phultala Mohila College (1990), Khan Jahan Ali Model College (1994), Phultala MCSP College (2001), Phultala Re-Union High School (1898), Poygram Kashba Secondary High School (1903), Phultala Ahmadia Madrasa (1890), Jamira Bazar Piprail Siddiqia Fazil Madrasa (1920).
Cultural organisations Library 2, club 19, theatre group 5, theatre stage 2, women's organisation 3, cinema hall 2, museum 1, park 1.
Amusement centres Dakshindihi Rabindra Complex, Banabilash Zoo and Park.
Main sources of income Agriculture 19.10%, non-agricultural labourer 6.77%, industry 13.40%, commerce 20.95%, transport and communication 6.47%, service 22.64%, construction 1.91%, religious service 0.13%, rent and remittance 0.51% and others 8.12%.
Ownership of agricultural land Landowner 46.35%, landless 53.65%.
Main crops Paddy, jute, potato, tobacco, sugarcane, pulse, turmeric, mustard, betel leaf, vegetables.
Extinct or nearly extinct crops Local variety of Baran paddy.
Main fruits Mango, jackfruit, coconut, betel nut, safeda, plum.
Fisheries, dairies and poultries Fishery 7270 (including shrimp gher), dairy 21, nursery 1000.
Communication facilities Pucca road 59.5 km, semi-pucca road 61 km, mud road 122 km; railway 11.2 km; waterway 13.27 nautical miles. Railway station 4.
Extinct or nearly extinct traditional transport Palanquin, bullock cart.
Noted manufactories Jute mill 3, salt mill 2, steel mill 1, brick field 7.
Cottage industries Goldsmith, blacksmith, weaving, potteries, wood work, bamboo work, cane work.
Hats, bazars and fairs Hats and bazars are 13, fairs 5, most noted of which are Nagarer Hat, Chatiani Hat, Phultala Hat, Jamira Bazar, Bezerdanga Bazar, Eastern Bazar, Shiromoni Bazar, Bezerdanga Mela, Kartik Puja Mela, Durga Puja Mela, Baishakhi Mela.
Main exports Jute hessian, betel leaf, betel nut, coconut, shrimp.
Access to electricity All the unions of the upazila are under rural electrification net-work. However 12.70% of the dwelling households have access to electricity.
Sources of drinking water Tube-well 96.57%, tap 1.71%, pond 0.55% and others 1.17%.
Sanitation 65.30% of dwelling households of the upazila use sanitary latrines and 29.92% of dwelling households use non-sanitary latrines; 4.78% of households do not have latrine facilities.
Health centres Hospital, clinic, upazila health complex, family welfare centre, satellite clinic, eye hospital, veterinary hospital.
NGO activities Operationally important NGOs are brac, asa, proshika, Protyaya. [Firoj Ansari]
References Bangladesh Population Census 2001, Bangladesh Bureau of Statistics; Cultural survey report of Phultala Upazila 2007.