Pirgachha Upazila (rangpur district) area 265.32 sq km, located in between 25°33' and 25°45' north latitudes and in between 89°18' and 89°32' east longitudes. It is bounded by kaunia and rajarhat upazilas on the north, sundarganj upazila on the south, ulipur and Sundarganj upazilas on the east, rangpur sadar and mithapukur upazilas on the west.
Population Total 295050; male 148650, female 146400; Muslim 268716, Hindu 25826, Buddhist 18 and others 490.
Water bodies Main rivers: tista, Ghaghat; Chaluniyer and Horodanga Beels are notable.
Administration At the time of the establishment of' Rangpur district Pirgachha was included in the Mohiganj Thana. Later on in 1913 Nawabganj Thana was formed after abolishing Mohiganj Thana and Pirgachha Thana was formed, as a new thana, comprising parts of the abolished Mohiganj Thana. Pirgachha' thana was turned into an upazila on 1 February 1984.
Upazila
Municipality
Union
Mouza
Village
Population
Density (per sq km)
Literacy rate (%)
Urban
Rural
Urban
Rural

-

9

170

170

23931

271119

1112

46.94

38.45
Upazila Town

Area (sq km)

Mouza

Population

Density (per sq km)

Literacy rate (%)

14.29

5

23931

1675

46.94
Union
Name of union and GO code
Area (acre)
Population
Literacy rate (%)
Male
Female

Annadanagar 09

6658

15127

15135

42.06

Itakumari 28

5546

13426

12829

40.38

Kalyani 47

5061

12391

11608

41.68

Kandi 57

6227

13671

13742

36.56

Kaikuri 38

7330

16226

16321

37.29

Chhaola 19

9330

17888

18202

37.62

Tambulpur 85

9115

19425

19586

37.07

Parul 66

8044

18841

17969

35.86

Pirgachha 76

7999

21655

21008

43.87
Source  Bangladesh Population Census 2001, Bangladesh Bureau of Statistics.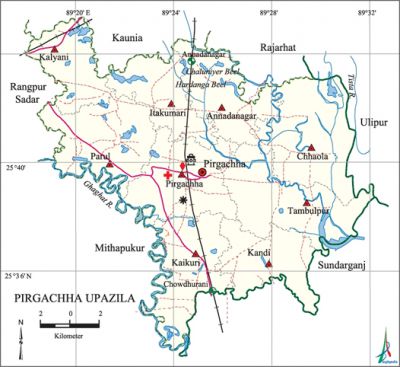 Archaeological heritage and relics Manthana Zamidar Bari, Zamindar Bari and Shiva Mandir at Itakumari, Secret Fort at Chandipur, Tri-vigraha Mandir at Manthana, Bhabtarini Ma Kali Mandir, Shiva Mandir at Pirgachha, Chhota Taraf Durga Mandir at Pirgachha.
Historical events Once Pirgachha (Manthana) constituted a zamindari estate of Fatehpur Pargana under the kingdom of Kuchbihar. Ananta Ram, a Koch official, surrendered to the Mughals when the latter invaded this region sometime between 1704 and 1714 and received this zamindari which lasted until 1950. fakir-sannyasi resistance were held in this region during the period from 1760 to 1800. On 13 April 1971 the Pak army brutally killed 11 members of the Bangali EPR at Nandiganj. The local people buried them on the Rangpur Kurigram road side. An encounter was held between the freedom fighters and Pak army on 2 December at Monurchhara under Parul union in which one freedom fighter was killed and two Pak soldiers were wounded.
Marks of the War of Liberation Mass killing site 1 (besides the Rangpur Kurigram road).
Religious institutions Mosque 452, temple 13, church 1, tomb 7, sacred place 5. Noted religious institutions: Karbala Eidgah Maidan, Pirgachha Ahle Hadith Mosque, Satdargah Mosque, Shiva Mandir at Itakumari, Tri Bigraha Mandir at Manthana, Bhabtarini Ma Kali Mandir, Shiva Mandir at Pirgachha, Chandi and Radha Mandir, Choto Taraf Durga Mandir at Pirgachha.
Literacy rate and educational institutions Average literacy 39.15%; male 44.48%, female 33.79%. Educational institutions: college 9, distant learning centre 1, HSC program centre 1 (open university), secondary school 51, primary school 277, vocational school 3, madrasa 38. Noted educational institutions: Pirgachha College (1970), Pirgachha JN High School (1928), Annadanagar Multilateral High School (1950), Itakumari Bilateral High School (1921), Pabitro Jhar Government Primary School (1932), Annadanagar Government Primary School (1942), Nachumamud Government Primary School (1972), Pabitro Jhar Karamatia Fazil Madrasa (1950).
Cultural organisations Library 1, club 29, theatre group 1, women organisation 3, cinema hall 3, playground 23.
Main sources of income Agriculture 70.06%, non-agricultural labourer 3.72%, industry 0.33%, commerce 9.85%, transport and communication 3.35%, service 3.79%, construction 0.8%, religious service 0.2%, rent and remittance 0.23% and others 7.67%.
Ownership of agricultural land Landowner 51.99%, landless 48.01%; agricultural landowner: urban 44.63% and rural 52.59%.'
Main crops Paddy, wheat, potato, sugarcane, mustard, nut, jute, betel leaf, vegetables.
Extinct or nearly extinct crops Kaun, linseed, maize, arahar.
Main fruits Banana, jackfruit, mango, pineapple, litchi, guava, papaya, betel nut.
Fisheries, dairies and poultries Fishery 39.
Communication facilities Pucca road 87.42 km, mud road 446 km; railway 21 km. Rail Station 3 (Annadasangkar, Pirgachha, Chowdhurani).
Extinct or nearly extinct traditional transport Palanquin, bullock cart, buffalo cart.
Noted manufactories Chira and muri mill 3, cotton mill 2, cold storage 5, brick field 3.
Cottage industries Blacksmith, potteries, bamboo work.
Hats, bazars and fairs Hats and bazars are 21, fairs 7, most noted of which are Pirgachha Hat, Paotana Hat, Annadanagar Hat, Sat Dargah Hat, Kaliganj Hat, Bara Dargah Hat, Parul Hat, Nek-Mamud Hat, Tambulpur Hat, Kaikuri Hat, Kandi Hat, Nayar Hat, Nabdiganj Hat, Deoti Hat, Sayedpur Hat, Itakumari Hat, Thanbar Mela, Pagla Kura Mela, Chandipur Mela, Baruni Mela at Kandi, Bura Ghazir Mela, Chaitra Samkranti Mela and Mahram Mela.
Main exports Jute, betel leaf, betel nut, banana, potato, nut, mustard, sugarcane, vegetables.
Access to electricity All the unions of the upazila are under rural electrification net-work. However 12.72% (urban 11.28% and rural 30.7%) of the dwelling households have access to electricity.
Sources of drinking water Tube-well 93.44%, tap 0.09%, pond 0.15% and others 6.32%. The presence of arsenic has been detected in the water of 70 shallow tube wells out of 798. The level of arsenic is 25% in the tube well water of Annadanagar, Chhaola, Itakumari, Kandi, Tambulpur and Pirgachha unions.
Sanitation 9.41% (rural 8.53% and urban 20.09%) of dwelling households of the upazila use sanitary latrines and 37.75% (rural 37.61% and urban 39.46%) of dwelling households use non-sanitary latrines; 52.84% of households do not have latrine facilities.
Health centres Upazila health complex 1, satellite clinic 4, family planning centre 9, charitable clinic 4.
Natural disasters The devastating earthquake of 1897 and the repeated floods in the region changed the course of the rivers, including the Tista of the region.
NGO activities Operationally important NGOs are brac, asa, RDRS, thengamara mahila sabuj sangha. [Ahmad Hussain Chand]
References Bangladesh Population Census 2001, Bangladesh Bureau of Statistics; Cultural survey report of Pirgachha Upazila 2007.