Pirojpur Sadar Upazila (pirojpur district) area 164.64 sq km, located in between 22°29' and 22°41' north latitudes and in between 89°53' and 90°02' east longitudes. It is bounded by nazirpur and nesarabad upazilas on the north, zianagar and bhandaria upazilas on the south, Nesarabad, kawkhali (Pirojpur) and Bhandaria upazilas on the east, morrelganj and kachua (bagerhat) upazilas on the west.
Population Total 155194; male 78847, female 76347; Muslim 126850, Hindu 28295, Buddhist 23, Christian 16 and others 10.
Water bodies Main rivers: Baleshwari, Kaliganga, katcha; Jujkhola Canal is notable.
Administration Pirojpur Thana was formed in 1790 and it was turned into an upazila in 1983.
Upazila
Municipality
Union
Mouza
Village
Population
Density (per sq km)
Literacy rate (%)
Urban
Rural
Urban
Rural

1

7

65

112

57393

103018

942

76.3

66.82
Municipality

Area (sq km)

Ward

Mahalla

Population

Density (per sq km)

Literacy rate (%)

29.46

9

30

52176

1771

76.7
Upazila Town

Area (sq km)

Mouza

Population

Density (per sq km)

Literacy rate (%)

5.89

1

5217

886

65.07
Union
Name of union and GO code
Area (acre)
Population
Literacy rate (%)
Male
Female

Kadamtala 25

5789

6931

6810

65.36

Kalakhali 34

4059

5245

5353

69.55

Tona 94

4631

6825

6732

66.55

Durgapur 17

4662

6850

6934

63.54

Shankarpasha 69

6223

10994

10732

64.11

Sariktala 77

5837

6196

6143

69.42

Sikdar Mallik 86

6225

8669

8604

69.25
Source Bangladesh Population Census 2001, Bangladesh Bureau of Statistics.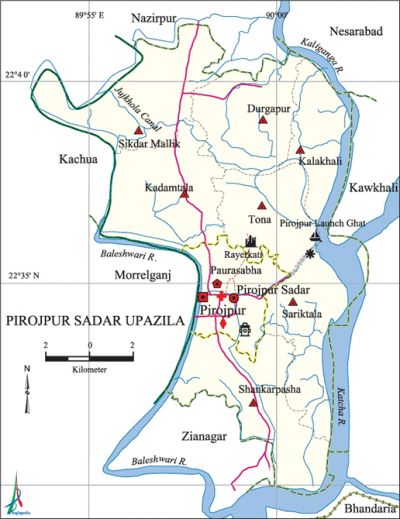 Archaeological heritage and relics Rayerkati Zamindarbari, Kali Mandir.
History of the War of Liberation In 1971 the Pak army raped and brutally killed a woman named Bhagirathi for alleged supply of Pak military information to the freedom fighters. She was tied with a motor cycle to be dragged until death, and her dead body was thrown into the Baleshwari river.
Marks of the War of Liberation Memorial monument 1 (Baleshwari Kheyaghat).
Religious institutions Mosque 351, temple 145, tomb 1, sacred place 1. Noted religious institutions: 'Pirojpur Jami Mosque, Pirojpur Kalibari, Ramakrishna Math and Mission.
Literacy rate and educational institutions Average literacy 71.56%; male 69.68%, female 66.40%. Noted educational institutions: Pirojpur Shaheed Suhrawardy Government College, Pirojpur Government Boys' School (1909), Parerhat Rajlakshmi Secondary School (1915), Pirojpur Government High School (1909), Kadamtala Goerge Secondary School (1912), Pirojpur Town Secondary School (1917), Khanakuniari PE Fazil Madrasa (1920).
Cultural organisations Library 9, club 35, theatre stage 1, theatre group 1, women organisation 7, cinema hall 3.
Main sources of income Agriculture 49.88%, non-agricultural labourer 5.89%, industry 1.54%, commerce 19.05%, transport and communication 3.03%, service 1.87%, construction 0.34%, religious service 9.55%, rent and remittance 0.44% and others 8.40%.
Ownership of agricultural land Landowner 55.87%, landless 44.13%.
Main crops Paddy, wheat, sugarcane, pulse, betel leaf, pumpkin, vegetables.
Extinct or nearly extinct crops Aus paddy, sweet potato.
Main fruits Banana, papaya, coconut, water-melon, betel nut, hog-plum.
Fisheries, dairies and poultries This upazila has a number of fisheries, dairies and poultries.
Communication facilities Pucca road 50 km, semi-pucca road 40 km, mud road 700 km; waterway 73 nautical miles.
Extinct or nearly extinct traditional transport Palanquin, horse carriage.
Noted manufactories Rice mill, flour mill, ice factory, saw mill, printing press, bakery, welding factory.
Cottage industries Blacksmith, weaving, bamboo work, bidi factory.
Hats, bazars and fairs Pirojpur Bazar, Kadamtala Bazar and Ghoser Hat are notable.
Main exports Banana, coconut, betel leaf, betel nut.
Access to electricity All the wards and unions of the upazila are under rural electrification net-work. However 18.6% of the dwelling households have access to electricity.'
Sources of drinking water Tube-well 82.75%, pond 14.13%, tap 0.29% and others 2.83%.
Sanitation 41.57% of dwelling households of the upazila use sanitary latrines and 52.68% of dwelling households use non-sanitary latrines; 5.75% of households do not have latrine facilities.
Health centres Hospital 2, clinic 4, family planning centre 11.
NGO activities Operationally important NGOs are brac, asa, CARE, proshika. [Shapna Roy]
References Bangladesh Population Census 2001, Bangladesh Bureau of Statistics; Cultural survey report of Pirojpur Sadar Upazila 2007.