Rabb, Syed Abdur (1903-1969) a pioneer Muslim NGO leader, social reformer and journalist was born in the village of Gerda, Faridpur district. He committed himself to social development, Muslim regeneration and Hindu-Muslim harmony from his very early life. In the 1930s and early forties of the 20th century, Rabb was noted for his nationwide social work organisation called Khadem-ul-Ensan Samiti (Organisation for Serving the Humanity) and two of its organs- Muazzin and servant of humanity.
The Khadem-ul-Ensan Samiti established by Syed Abdur Rabb in Faridpur town in 1928 may well be compared to current social service and social development oriented non government organisations. Muhammad Yusuf Ali, a local zamindar, was made its president. But as secretary of the Samiti, Rabb was the real spirit and actor of the organisation. According to its constitution, the objectives of the Khadem-ul-Ensan Samiti included promotion of social service, spread of education, establishment of good social relations, removal of social and religious superstitions, and strengthening Hindu-Muslim harmony.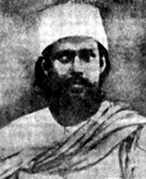 The branches of the samiti were established in several Bengal districts. For better co-ordination and contact, the office of the Samiti was shifted to Kolkata in 1932 and it was then renamed as Central Khadem-ul Ensan Samiti.
To create public opinion in favour of the ideology and activities of the Central Khadem-ul-Ensan Samiti, Abdur Rabb first established a Bangla quarterly called Muazzin (1335 BS) and an English quarterly called Servant of Humanity (1935). In recognition of Syed Abdur Rabb's contributions to social work, the Government of Bengal awarded him His Majesty the King-Emperor Medal to be worn in commemoration of their Majesties' Coronation (dated 12 May 1937). Abdur Rabb used to visit all the centres that were established in different districts of Bengal under the banner of his Khadem-ul-Ensan Samiti and organised the local people for realising the objectives of the Samiti. Rabb's mission for establishing Hindu-Muslim harmony and for strengthening social cohesion based on humanity and truth collapsed when the terrible Calcutta communal carnage erupted from 16 August 1946. He was physically injured, his office at College street burnt down. Being deprived of all properties and being utterly disappointed by the communal stands of all major political parties, Syed Abdur Rabb retired from active life and came back to his village home after the partition of 1947. To his ideological miseries were added financial distresses when he lost almost all of his landed property which got submerged through river bank erosions in 1954. He died on 21 December 1969. [Shahinul Kabir]