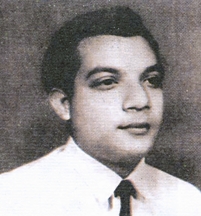 Rabbee, Mohammad Fazle (1932-1971) physician, martyr intellectual. He was born on 22 September 1932 at village Chhatiani in Hemayetpur upazila of Pabna district. His father was Afsaruddin Ahmad and mother Sufia Khatoon. He passed Matriculation from Pabna Zilla School in 1948 and ISc from Dhaka College in 1950. He obtained MBBS degree from Dhaka Medical College in 1955 and secured Dhaka University Gold Medal for topping the merit list. He got MRCP degree in Cardiology in 1960 from Edinburgh Royal College of Physicians and Surgeons, and MRCP degree in Internal Medicine from London in 1962.
Fazle Rabbee joined Dhaka Medical College as Assistant Surgeon in 1956. He was promoted to the post of Registrar (Medicine) in 1959, Associate Professor in 1963 and Professor in the Department of Cardiology and Medicine in 1968. Besides he worked in various hospitals in England including Hammersmith Hospital. Simultaneously, he carried on research on medicine. A number of his research articles were published in British medical journal.
Fazle Rabbee had active role in the language movement. He was arrested in 1970 while delivering a speech demanding introduction of mass oriented treatment in the auditorium of Bangabandhu Sheikh Mujib Medical University (erstwhile IPGMR). During the war of liberation he gave medical treatment to the injured freedom fighters and oppressed women, and gave them financial support. He helped the refugees to cross the border for India. On 15 December 1971, a group of Pak army with the help of the al-badr abducted him from his residence at Siddheswari. His dead body was recovered on 18 December from the mass grave at Rayer Bazar.
The Postal Department of the Government of Bangladesh issued commemorative postal stamp in his name on the Martyred Intellectual Day on 14 December 1991. A student hostel of Dhaka Medical College was named after him as Doctor Fazle Rabbee Hall. [Bayzid Khurshid Reaz]