Rahman, Khan Ataur (1928-1997) actor, singer, music composer and film director was born on 11 December 1928 in Ramkantapur village of singair thana of manikganj district. He passed matriculation from Dhaka Collegiate School in 1943 and I Sc from dhaka college in 1945. Then he took admission in the dhaka medical college but did not continue studies there and went for B Sc studies in the university of dhaka. From childhood he was a bit Bohemian. Before the completion of his studies in the university he went to Bombay in 1949. From there he moved to Karachi in 1950 and took a job in Radio Pakistan. He left the job of Radio in 1951 and got involved in theatres. Next year he left for England, where, in 1953, he took admission in the department of Drama of the City Literary Institute. The same year he was elected President of the Pakistan Students Federation in London.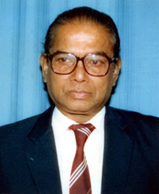 In 1954, Ataur Rahman was awarded UNESCO Fellowship for a study tour in the Netherlands. On his return to England he joined a college as an instructor. Simultaneously, he worked in different theatre companies for about two years. He returned from London to Dhaka in 1956. That year he acted in the film Jago Hua Sabera made by AJ Kardar. He played the main role in the film and Tripti Mitra, a noted Indian actress acted in the lead female role. Khan Ataur Rahman
Khan Ataur Rahman was a reputed singer. He also earned reputation as a composer of music. He composed more than 500 songs, many of which became highly entertaining. He introduced some new trends in lyrics and the style of composition of songs.
The first film made by Ataur Rahman was Anek Diner Chena (1963). Other feature films made by him included Raja Sanyasi, Sirajuddaula, Soye Nadia Jage Pani, Sat Bhai Champa, Arun Barun Kiranmala, Abar Tora Manush Haw, Sujan Shakhi, Din Jay Katha Thake, Arshinagar, Parash Pathar, and Ekhono Anek Rat. He also made some short and documentary films such as the Danpite Chhele, Duti Pata Ekti Kudi, Ganga Amar Ganga, Bangla Kabi Jasimuddin, Cha Baganer Rojnamcha, and Ganer Pakhi Abbas Uddin. Ataur Rahman worked as film director and also acted in some films made by others.
Khan Ataur Rahman received nine awards in recognition of his contribution to film industry. These included Pakistan Film Festival Award, Nigar Award, international film festival awards at Moscow and Tashkent, and the National Film Award of Bangladesh. Khan Ataur Rahman died on 1 January 1997. [Ayub Hossain]