Rahman, Mukhlesur (1924-1993) art historian. He was born on 1 February, 1924 in village Mugbelai of kamarkhanda upazila in sirajganj district. His father, Maulavi Mizanur Rahman, was a police officer.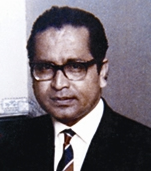 Mukhlesur Rahman started his education in Vaidya Dogachi Primary School in Kamarkhanda upazila and Middle English School of Burdwan and passed the Entrance Examination in 1938 from Bengal Nagpur High School of Kharagpur.
He then went to Ripon College (present Surendranath College) of Calcutta, from where he passed his IA in 1940. He passed his BA Honours in History from the Scottish Church College in 1943 and got his MA in Islamic History and Culture from the Calcutta University in 1945. He got his PhD in 1965 from the School of Oriental and African Studies of London University. The title of his thesis was 'The Origin, Development and Iconography of Mahadevi Durga in Indian Hindu Religion'. Mukhlesur Rahman
He served in the Civil Supply Department for about five years before joining the rajshahi college as a Lecturer in Islamic History and Culture in 1950. He joined the university of rajshahi in 1958 and was appointed the Honourary Curator of the varendra research museum on 16 April 1959. When the museum came under the administrative control of Rajshahi University in 1964 he continued as a part time curator till August 1969. In 1974 he was appointed the Director of the Museum and was made the Professor of Art History in the same organisation in 1982. He continued in the service of the museum till 31 January 1986.
He was an able organiser and a successful teacher. Under his able guidance the museum got a new life and he published and edited its Journal, Journal of the Varendra Research Museum. He earned reputation as a researcher in various branches of art history and he has to his credit more than 50 research articles on history, literature and museology published in journals of home and abroad. 'Matrika'and 'Prthvimata o anyanya pravandha'are two of his books published in Bangla. But his best work is the Sculpture in the Varendra Research Museum: A Descriptive Catalogue, published four years after his death in 1998. Mukhlesur Rahman died on 18 December 1993. [Md Muktadir Arif Mozammel]