Rampura Thana (Dhaka metropolitan) area 2.80 sq km, located in between 23°44' and 23°46' north latitudes and in between 90°24' and 90°26' east longitudes. It is bounded by gulshan and badda thanas on the north, khilgaon and motijheel thanas on the south, Khilgaon thana on the east, ramna and tejgaon industrial area thanas on the west.
Population Total 138923; male 77385, female 61538; Muslim 134868, Hindu 3743, Buddhist 170, Christian 114 and others 28.
Administration Rampura thana was formed on 2 August in 2009.
Thana
Ward and Union
Mahalla and Mouza
Population
Density (per sq km)
Literacy rate (%)
Urban
Rural
Urban
Rural
2
17
138923
-
49615
74.45
-
Ward and Union
Ward and Union
Area (sq km)
Population
Literacy rate (%)
Male
Female
Ward No 22
2.12
47451
38912
76.52
Ward No 23
0.68
29934
22626
72.38
Source Bangladesh Population Census 2001, Bangladesh Bureau of Statistics.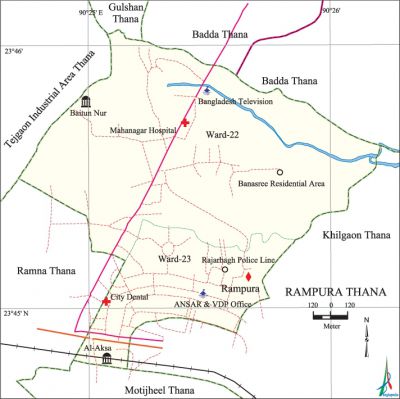 Religious institutions Mosque 35, temple 2. Noted religious institutions: Al-aksa Mosque, Central Banasree Jami Mosque, Mahanagar Baitun-Nur Jami Mosque, East Olan Jami Mosque.
Literacy rate and educational institutions Average literacy 74.50%; Male 78.83%, female 68.93%. Noted educational institutions: Taltala City College, City Dental College, Rampura Ekramunnesa High School and College, Malibagh Chowdhury Para Govt. High School, Shahid Faruq Iqbal Girls High School, Proshika School, Chowdhury Para Madrasa, Jamia Karimia Madrasa, Jamia Sharia Malibagh Madrasa, Rampura Jatiya Mohila Madrasa.
Cultural organisations Library 1, club 1, community centre 3.
Important installations Bangladesh Television Bhaban, Razarbhag Police Line, Ansar and VDP Office.
Main sources of income Agriculture 0.65%, non-agriculture labourer 1.61%, industry 30.58%, commerce 26.11%, transport and communication 8.63%, construction 3.61%, religious service' 0.15%, service 29.27%, rent and remittance 4.59% and others 11.8%.
Ownership of agricultural land Landowner 69.10%, landless 30.90%.
Main crops Vegetables.
Extinct and nearly extinct crops Paddy, jute.
Main fruits Mango, black berry, jackfruit,' papaya.
Communication facilities Total roads: 23.86 km.
Extinct or nearly extinct traditional transport Bullock cart.
Noted manufactories Jemi Garments, Thai Plastic Industries.
Cottage industries Goldsmith, blacksmith, bamboo work, cane work.
Bazars and shopping centre Al-Amin Super Market, Rampura Super Market, Rampura Vegetable Market and Bamboo Arat of Meradia.
Main exports Plastic goods.
Access to electricity All the wards of this thana are under electrification net-work. However 97.47% of the dwelling households have access to electricity.
Sources of drinking water Tube-well 12.85%, tap 86.54%, pond 0.07% and others 0.54%.
Sanitation 92.18% of dwelling households of the thana use sanitary latrines and 7.39% of dwelling households use non-sanitary latrines; 0.43% of households do not have latrine facilities.
Health centres Hospital 1, clinic 7. Noted health centres: Rampura Dental Clinic, Speed Bangladesh Clinic, Desh Diagnostic Centre.
NGO activities Operationally important NGO's are asa, Jatiya Mohila Sangstha, Nari Maitree. [Shamima Akhter]
References Bangladesh Population Census 2001, Bangladesh Bureau of Statistics.