Raninagar Upazila (naogaon district) area 258.33 sq km, located in between 24°38' and 24°47' north latitudes and in between 88°51' and 89°10' east longitudes. It is bounded by naogaon sadar and adamdighi upazilas on the north, atrai upazila on the south, nandigram and singra upazilas on the east and manda upazila on the west.
Population Total 181196; male 92989, female 88207; Muslim 160866, Hindu 20075, Buddhist 51 and others 204. Indigenous communities such as oraon and santal belong to this upazila.
Water bodies Main rivers: little jamuna, atrai, nagar; Kaugari Beel is notable.
Administration Raninagar Thana was formed in 1916 and it was turned into an upazila in 1983.
Upazila
Municipality
Union
Mouza
Village
Population
Density (per sq km)
Literacy rate (%)
Urban
Rural
Urban
Rural

-

8

151

234

10675

133178

588

59.3

38.7
Upazila Town

Area (sq km)

Mouza

Population

Density (per sq km)

Literacy rate (%)

8.39

4

10675

1272

59.31
Union
Name of union and GO code
Area (acre)
Population
Literacy rate (%)
Male
Female

Ekdala 21

11011

14120

13256

45.85

Kaligram 42

9785

13006

12116

53.62

Kashimpur 52

2479

9127

8847

41.38

Gona 31

6165

10031

9443

46.28

Parail 73

12232

13742

12975

53.94

Bargachha 10

11422

11628

10819

47.66

Mirat 63

6837

9630

9467

44.04

Raninagar 84

3901

11705

11284

45.05
Source Bangladesh Population Census 2001, Bangladesh Bureau of Statistics.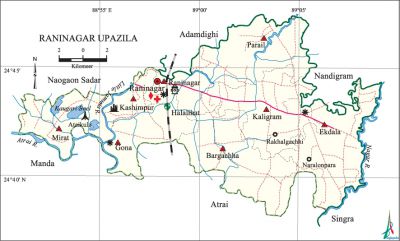 Archaeological heritage and relics Kashimpur Zamindar Bari, 'Old Mandir at village' Karana, Khanpukur Dighi, Panchpir Dargah.
History of the War of Liberation On 24 April 1971, the Pak army raided at village Ataikula and killed 78 innocent people of the village. The freedom fighters launched an attack on the Pak army at Kaligram and killed a number of Pak soldiers and razakars. The Pak army launched a surprise attack at village Kashimpur and killed 55 innocent villagers. On 2 December the freedom fighters under Commander Gajamat Khali launched an attack on the Pak army at Raninagar upazila town in which 3 freedom fighters were killed and many were wounded.
Marks of the War of Liberation Mass grave 2 (Kashimpur, Ataikula).
Religious institutions Mosque 290, temple 18. Noted religious institutions: Raninagar Mosque, Parail Mosque, Kashimpur Jami Mosque, Mandir at Village Karana.
Literacy rate and educational institutions Average literacy 47.7%; male 53.6%, female 41.4%. Educational institutions: college 3, secondary school 32, primary school 95, madrasa 21. Noted educational institutions: Sher-E-Bangla College (1972), Raninagar Mohila College (1995), Ratual RN High School (1913), Kamta SN High School (1913), Raninagar Pilot High School (1937), Palsa Krishnapur High School (1968), Ghoshgram Kafilia High School (1945).
Cultural organisations Library 3, club 14, cinema hall 1, women's organisation 3, theatre group 3, playground 19.
Main sources of income Agriculture 75.89%, non-agricultural labourer 1.98%, industry 0.53%, commerce 10.38%, transport and communication 2.19%, service 2.95%, construction 0.47%, religious service 0.18%, rent and remittance 0.57% and others 4.86%.
Ownership of agricultural land Landowner 60.39%, landless 39.61%.
Main crops Paddy, wheat, potato, mustard, onion, garlic.
Extinct or nearly extinct crops Sesame, linseed, kaun, arahar.
Main fruits Mango, banana, jackfruit, papaya.
Fisheries, dairies and poultries Dairy 16, poultry 57, hatchery 11, nursery 18.
Communication facilities Pucca road 99 km, semi-pucca road 15.58 km, mud road 260 km; railway 7 km.
Extinct or nearly extinct traditional transport Palanquin, horse carriage.
Noted manufactories Rice mill, flour mill, ice factory, biscuit factory.
Cottage industries Blacksmith, potteries, weaving, nakshi kantha, cane work, mat work.
Hats, bazars and fairs Hats and bazars are 36, fairs 2, most noted of which are Trimohoni Hat, Betgari Hat, Kuijal Hat, Lohachura Hat, Ratual Hat, Abadpukur Hat, Kharpukur Hat, Katrasingh Hat, Krishnapur Hat, Parail Hat and Chumuhani Hat.
Main exports Paddy, wheat, potato, mat.
Access to electricity All the unions of the upazila are under rural electrification net-work. However 27.01% of the dwelling households have access to electricity.
Sources of drinking water Tube-well 93.91%, tap 0.30%, pond 0.20% and others 5.59%.
Sanitation 17.89% (rural 17.29% and urban 34.42%) of dwelling households of the upazila use sanitary latrines and 50.76% (rural 51.37% and urban 33.77%) of dwelling households use non-sanitary latrines; 31.36% of households do not have latrine facilities.
Health centres Upazila health centre 1, union health and family planning centre 7, union family welfare centre 3, community clinic 22.
NGO activities Operationally important NGOs are brac, ASA, CARE, Ujjiban. [Md. Mukhlesur Rahman]
References Bangladesh Population Census 2001, Bangladesh Bureau of Statistics; Cultural survey report of Raninagar Upazila 2007.