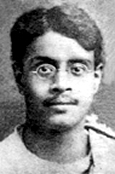 Roy, Sukumar (1887-1923) children's writer, was born in Kolkata on 30 October 1887. His family was originally from Masua in mymensingh. His father, upendra kishore roychowdhury, who also wrote for children, was a musician and mechanic and his son was the Oscar-winning filmmaker satyajit ray. After passing the Entrance examination from the City School, Sukumar Ray took his BSc (1911) in chemistry from Presidency College. He then went to England on the Guruprasanna Ghosh Scholarship to study photography and printing technology. Sukumar studied at the Manchester School of Technology, where he proved the effectiveness of photo printing in halftone invented by his father.
At the East and West Society, Sukumar Roy read an essay called 'Spirit of Rabindranath', which was later published in The Quest magazine. This earned him the opportunity to speak at various meetings in England. He was selected fellow of the Royal Photographic Society; he was the second Indian to earn this distinction. Back home in 1913, he took over his father's enterprise called U Roy and Sons.
Sukumar Roy was a versatile genius. He used to compose rhymes at an early age. Along with photography he learnt painting. While at college, he used to write comedies and act in them. He also acted in a play called Goday Galad with rabindranath tagore and abanindranath tagore at santiniketan.
He composed some songs during the swadeshi movement and also sang the songs himself. After his father's death, he took over the Sandesh, a magazine published by his father. While in England, he sent stories, poems and paintings to be published in the magazine.
While studying at Presidency College, he set up an organisation called 'Nonsense Club' and published the magazine Sade-Batrish-Bhaja as its mouthpiece. On his return from England, he started the 'Monday Club' where he used to arrange discussions along with refreshments, which earned the club another name, Monda (Bangla for sweetmeat) Club.
Sukumar Roy was principally noted for his writings for young children. He mixed comic elements and subtle satire in all his works-poems, plays, stories or paintings. His satire is marked by his social consciousness. His prominent writings include Abol-Tabol (Nonsensical Mnemonics, 1923), Ha-Ya-Ba-Ra-La (Topsy-Turvy, 1928), Pagla Dashu (1940), Bahurupi (The Jester, 1944), Khaikhai (I Want More, 1950), Abak Jalpan (Strange Drink), Shabdakalpadrum (The Tree of Words) and Jhalapala (Irritation). He also wrote some serious essays in Bangla and English. He wrote a collection of belles-lettres called Hesoramer Dairi, written in the form of a diary. [Dulal Bhowmik]