Roychowdhury, Deviprasad (1899-1975 AD) artist. Born in Rangpur on 14 October 1899, he had his early education at home. He started learning painting at the feet of Italian painter Boiess. Later he abandoned European technique and style and became a disciple of the master artist abanindranath tagore.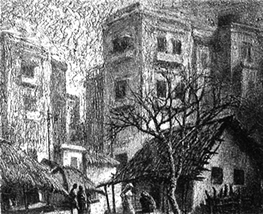 After completing the study of art Deviprasad worked as a teacher in the Oriental Art Society of Calcutta. He worked there for long twenty-eight years as its Principal. After his retirement, he became a member of Lalit Kala Academy, Government of India. Later he rendered his service to the Academy as its President for seven years.
Besides paintings, Devi Prasad regularly practised the art of sculpture. He learnt sculpture from artist Hironmoy Chowdhury. He later visited Italy and learnt and absorbed the style and technique of western sculpture. During this period he freed himself from the influence of the Bengal School and infused realism in his works.
Though in the early days of his career, Deviprasad worked as a painter, later he devoted himself as a sculptor. His meticulous and spontaneous endeavor in this direction earned him fame as a sculptor. His monumental as well as life-size compositions deserve admiration of art connoisseurs and viewers alike. Deviprasad may be ranked among the eminent artists of the twentieth century who absorbed oriental and occidental style of art. Same of his noteworthy works are: 'Ma' 'Sharad Pratima', 'Jiban-Sandhya' 'Surer Nesha' 'Gadi' where blending of western mode of perspective, composition and oriental style of drawing made his works rhythmic and uncanny and at the same time sublime and exquisite.
Artist Deviprasad created numerous sculptures. He was the first modern artist of Bengal who worked on bronze. His monumental and life-size sculptures exemplify qualities of movement, inherent energy and pensive mood. His sculptures entitled 'Triumph of Labour' housed at Delhi, 'Shahid Smriti' placed in front of Bihar Secretariat and 'Temple Entry Proclamation' at Tribandram, 'Gandhiji's Dandi Obhijan' at Calcutta and portrait of 'Sir Ashutosh' etc are some of his famous works. Two of his other famous portraits are of Bishop Lieubiter and Annie Besant. Besides the arena of art world, Deviprasad's literary pursuits made him all the more famous. Among his students Gopal Sen and Paritosh Ghosh earned international repute as artists. Deviprasad Roychowdhury died on 14 October 1975. [Najma Khan Majlis]