Sengupta, Jatindra Mohan (1885-1933) lawyer, politician. He was born on 22 February 1885 at village Barma in Chandanaish upazila of Chittagong district. His father jatra mohan sengupta was a lawyer and a member of the Bengal Legislative Assembly. Jatindra Mohan passed Entrance examination in 1902 from Hare School of Kolkata. Then he took admission in Presidency College, Kolkata. In 1904 Jatindra Mohan went to England to study law and took admission in Downing College of Cambridge University. He obtained graduation in 1908 and in the following year got degree in law. While in England he was involved in games and social activities and was elected as president of Debating Society of Indian Majlish and of East and West Society. Jatindra Mohan completed Bar-at-law in 1909. During his stay in England Jatindra Mohan came in contact with Grey family and married Neli Grey of this family on 1 August 1909.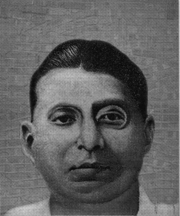 After his return from England Jatindra Mohan started legal practice in Chittagong district court. After one year he joined the Calcutta High Court bar. At that time he worked as Professor in Ripon Law College, Kolkata for sometime. Gradually his reputation as a lawyer was increasing in Kolkata High Court. In 1911 he joined the Congress politics and attended the party conference in Faridpur as the representative from Chittagong. During this time the anti-British movement took a serious turn in the country consequent upon the ruthless killing of the people by the British army at Jalianwalabagh in Punjab. Soon the non-cooperation movement began.
The movement got momentum in Chittagong also. Jatindra Mohan came to Chittagong and had a decision to postpone his legal profession for three months to work for strengthening the anti-British movement in Chittagong. But he became so much involved with the movement that he had to remain outside his profession for two years.
The Non-Cooperation Movement took a serious turn in 1921. Jatindra Mohan organised the strike of the workers of Burma Oil Company (Chittagong) and of Assam Bengal Railway, and was soon arrested by the government. His wife neli sengupta joined the movement and suffered imprisonment. Jatindra Mohan took a loan of forty thousand taka for the maintenance of the family members of the striking labourers. He was then adorned with the title of 'Deshapriya'. The people of Chittagong called him the 'King without a crown'.
Jatindra Mohan went to Yangoon in 1930 for participating in the programme of protest launched against separating Burma from India. He was again arrested while delivering speech in a public gathering. Jatindra Mohan became a member of the working committee of National Congress in 1922. Subsequently he joined the Swaraj Party floated by Deshbandhu chitta rajan das. He was elected a member of the Bengal Legislative Assembly in 1923 from Chittagong. After the death of Chittaranjan Das (1925) Jatindra Mohan Sengupta was elected the president of the Swaraj Party. The same year he was elected the president of Bengal Provincial Congress and the Mayor of Calcutta Corporation. He was the Mayor of Calcutta Corporation for five consecutive terms.
Jatindra Mohan was the undisputed leader of the people of whole of Bengal irrespective of caste and creed. He was associated with the newspaper Forward sponsored by Deshbandhu Chittaranjan Das. He himself published a daily newspaper titled Advance.
In 1932 Jatindra Mohan went to London with his wife. On his return journey, no sooner the ship anchored in Bombay port than the British police arrested him on 20 January. He was kept confined in Kolkata for some time for his alleged seditious activities against the British government. He was transferred to Ranchi jail on 5 June 1933. His detention in the prison for one and a half years seriously affected his health condition. He died on 23 July 1933.
Jatindra Mohan Sengupta was a political leader of high stature and as a man he was noble and generous. Apart from his political contribution and social service he contributed a lot for the development of education and sports. As a lawyer he was an orator par excellence. A very few lawyers in the whole of India excelled him especially in criminal cases. He had great interest in games and sports. The people of Kolkata designated him as Sports Loving Mayor.
Jatindra Mohan had immense contribution to the educational institutions established by his father in his native village in Chittagong. After the death of his father Jatra Mohan Sengupta, Jatindra Mohan elevated the Barma Trahi-Menaka Middle English School into a high English school.
The Chattagram Parishad, founded in 1953 in Kolkata, observes the birth and death anniversary of Jatindra Mohan Sengupta and Neli Sengupta every year in a befitting manner. Deshapriya Park has been established in south Kolkata along with the statues of these two personalities placed inside the park. Statue of Jatra Mohan Sengupta, Jatindra Mohan Sengupta and of Neli Sengupta have been installed in front of their house at village Barma in Chittagong. [Ahmad Momtaz]