Shahbagh Thana (Dhaka metropolitan) area 3.49 sq km, located in between 23°43' and 23°44' north latitudes and in between 90°23' and 90°24' east longitudes. It is bounded by ramna thana on the north, chawkbazar model and bangshal thanas on the south, paltan thana on the east, kalabagan, new market and lalbagh thanas on the west.
Population Total 74113; male 48527, female 25586; Muslim 68628, Hindu 4972, Buddhist 275, Christian 207 and others 31.
Administration Shahbagh Thana was formed on 7 August 2006 comprising parts of Ramna thana.
Thana
Ward
Mahalla and Mouza
Population
Density (per sq km)
Literacy rate (%)
Urban
Rural
Urban
Rural
2 (part)
13
74113
-
21236
79.39
-
Ward
Ward
Area (sq km)
Population
Literacy rate (%)
Male
Female
Ward no. 56 (part)
2.54
25569
12473
74.06
Ward no. 57 (part)
0.95
22958
13113
84.71
Source Bangladesh Population Census 2001,Bangladesh Bureau of Statistics.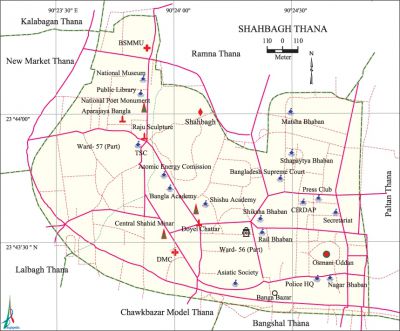 Archaeological heritage and relics Haji Shahbaj Khan Mosque (1679), Mosque of Musa Khan (17th century), Burdwan House (Bangla Academy), South House of Jagannath Hall, SM Hall, Bibi Mariam Canon (17 century), Dhaka Gate, Guruduara Nanak Shahi (8th century), Buro Shiva Mandir, Nimtali Deuri (Asiatic Society of Bangladesh, 1765-66), High Court Building, Curzon Hall (1904).
Historical events On 21 February 1952, during the language movement, police shot a number of students dead in the Dhaka University and Dhaka Medical College Hospital areas. The students of Dhaka University played main role during the mass upsurge of 1969. bangabandhu sheikh mujibur rahman was awarded the title of 'Bangabandhu' at the Ramna Race Course (present Suhrawardy Uydan) in a public reception. The flag of Bangladesh was hoisted for the first time on 2 March 1971 at the Bat-tala of Dhaka University. On seventh March 1971, Bangabandhu Sheikh Mujibur Rahman delivered his historic seventhMarch Address at the Ramna Race Course. On 25 March 1971 the Pak army brutally killed a number of teachers in the residential area of Dhaka University. Between 25 and 27 March the Pak army killed about more than five hundred students and staff of the University. They also destroyed many religious establishments of the thana. On 16 December 1971, the Pak army surrendered to the Combined Forces and thereby Bangladesh was liberated.
Marks of the War of Liberation Mass grave 3 (Jagannath Hall, Ramna Kali Mandir, Rokeya Hall), sculpture 8, memorial monument 4, mural 1.
Religious institutions Mosque 17, temple 2, Puja Mandap 1, Guruduara 1, math 1, tomb 6, Idgah 1. Noted religious institutions: Golap Shah Mazar and Mosque, Dhaka University Central Jami Mosque, Bangladesh University of Engineering and Technology (BUET) Central Jami Mosque,' Paribagh Jami Mosque, Kataban Mosque, National Idgah, High Court Mazar, Mazar of Pir Yameni (R), Ramna Kali Mandir, Jagannath Hall Puja Mandap, Guruduara Nanak Shahi.
Literacy rate and educational institutions Average literacy 79.39%; male 83.78%, female 70.97%. Educational institutions: university 2, medical college 2, college 4, training institute 1, secondary school 5, primary school 6. Noted educational institutions: university of dhaka (1921), Dhaka Medical College (1946), BUET (1960), Bangabandhu Sheikh Mujib Medical University (previously PG Hospital), 1965), University Laboratory School and College (1964), Mahanagar Law College, Central Law College, New Rajdhani Teachers' Training Institute, Engineering University Higher Secondary School (1976), Udayan Higher Secondary School (1955), Segunbagicha High School (1963), Nilkhet High School (1995), Nilkhet Government Primary School (1968), Segunbagicha Government Primary School, Paribagh Anwara Government Girls' Primary School.
Newspapers and periodicals Dainik Amader Samay, Uttaradhikar, Dainik Shakti, Amader Samay, Aparad Kanthah, Dhaka University Studies, Dhaka University Sahitya Patrika, Journal of the Asiatic Society of Bangladesh.
Cultural organisations Club 6, library 6, playground 9, swimming pool 1, museum 3, drama stage 1, auditorium 10, cultural group 1, memorial museum and collections 2, most noted of which are Dhaka University Club, Muktijoddha Sangsad Club, Dhaka University Musical Academy.
Tourist spots or important installations Curzon Hall (1904), Dhaka University (1921), asiatic society of bangladesh (1952), Bangla Academy (1955), CIRDAP Bhaban (1920), Suhrawardy Uddan, Osmani Auditorium and Uddan, Old High Court Building, National Museum (1913), Muktijoddha (Liberation War) Museum, Tombs of three national leaders, Dhaka Gate, BCS Administration Academy, Panthakunja Park, Biswa Sahitya Kendra, Bangladesh Telegraph and Telephone Board, Bangladesh Roads and Highway Department, Railway Bhaban, Bangladesh Atomic Energy Commission, Shishu Park, Shishu Academy, Ministry of Foreign Affairs, National Housing Authority, Sthapaytya (architecture) Bhaban, Liberation War Museum, Language Martyr Abul Barkat Memorial Museum and Collections, Bangladesh Secretariat, kazi' nazrul islam Complex and Tomb, British Council, Shiksha Bhaban, Directorate of Food, Jatiyo Press Club, Bangladesh Police Headquarters, Dhaka City Corporation.
Main sources of income Agriculture 0.77%, non-agricultural labourer 0.48%, industry 1.57%, commerce 20.33%, transport and communication 3.11%, construction 0.86%, service 59.52%, religious service 0.14%, rent and remittance 1.97% and others 11.25%.
Ownership of agricultural land Landowner 62.07%, landless 37.93%.'
Main fruits Mango, jackfruit, coconut, banana, litchi, black berry, guava.
Communication facilities Total roads: 45.36 sq km.
Extinct or nearly extinct traditional transport Bullock cart, horse carriage.
Noted Manufactories Printing press, metal industry, garments industry, automobile workshop, welding factory.
Noted cottage industries Handicrafts, stone work, wood work.
Noted hats, bazars, shopping centers and fairs Pir Yameni Market, Aziz Super Market, Banga Bazar, Shahbagh Biponi Bitan, Golden Plaza, Fulbaria Super Market, Boishakhi Mela, International Book Fair, Amar Ekushey Book Fair (Bangla Academy), Charukala Shilpa (Arts) Mela.
Main exports Ready made garments, metal products, etc.
Access to electricity All the wards of the thana are under electrification network. However 97.37% of the dwelling households have access to electricity.
Sources of drinking water Tube-well 4.87%, tap 90.63%, pond 0.22% and others 4.28%.
Sanitation 90.64% of dwelling households of the thana use sanitary latrines and 7.73% of dwelling households use non-sanitary latrines; 1.63% of households do not have latrine facilities.
Health centres Hospital' 5, most noted of which are Dhaka Medical College and Hospital, Bangabandhu Sheikh Mujib Medical University and Hospital (PG Hospital), Tuberculosis Control and Training Institute, Secretariat Clinic. [Lilyma Ahmed]
References Bangladesh Population Census 2001, Bangladesh Bureau of Statistics.