Kalabagan Thana (Dhaka metropolitan) area 1.26 sq km, located in between 23°44' and 23°45' north latitudes and in between 90°22' and 90°23' east longitudes. It is bounded by sher-e-bangla nagar and tejgaon thanas on the north, new market thana on the south, ramna thana on the east and dhanmondi thana on the west.
Population Total 106671; male 60895, female 45776; Muslim 102084, Hindu 3862, Buddhist 549, Christian 139 and others 37.
Administration Kalabagan Thana was formed in 2008 with ten mahallas of ward number 50 and 51 (part) of Dhanmondi thana.
Thana
Ward
Mohalla
Population
Density (per sq km)
Literacy rate (%)
Urban
Rural
Urban
Rural

1+1 (part)

10

106671

-

84660

76.88

-
Ward
Name number of Ward
Area (sq km)
Population
Literacy rate (%)
Male
Female

Ward No. 50

0.65

38898

28295

74.22

Ward No. 51 (part)

0.61

21997

17481

79.54
Source Bangladesh Population Census 2001,Bangladesh Bureau of Statistics.
Religious institutions Mosque 19, church 1, tomb 1. Noted religious institutions:' Dhanmondi Jami Mosque (1958), Lake View Jami Mosque, Baitus Salah Jami Mosque, Baitul Noor Jami Mosque, Panthapath Jami Mosque, Immanuel Baptist Church and Kalabagan Krirachakra Mandap (temporary).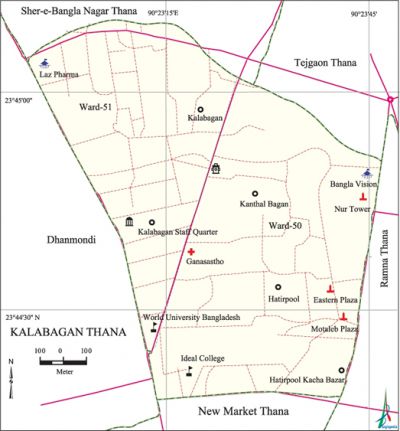 Literacy rate and educational institutions Average literacy 76.88%; male 82.11%, female 73.39%. Educational institutions: university 4, medical college 3, college 7, secondary school 5, primary school 2, madrasa 2. Noted educational institutions: Dhaka International University (1995), World University of Bangladesh (1998), Victoria University (2003), Atish Dipankar University of Science and Technology (2004), Northern International Medical College (2005), University Women's Federation College (1965), Ideal College (1969), Meherunnisa Girls' College (1995), Western Institute of Business and Technology (2001), Dhaka Public College (2004), Viquarunnesa Noon School-2, Lake Circus Girls' High School (1960), Dhanmondi High School (1960), Meherunnisa Girls' School (1964), YWCA Higher Secondary Girls' School (1976), Khan Hasan Ideal Government Primary School (1966), Children Home Pre-Cadet and High School(1982).
Newspapers and periodicals Daily Ganakantha, Weekly Thikana, Weekly Darpan.
Cultural organisations Sports organisation 3, park and playground 2, community centre 3, music school 1. Noted sports organisations are Kathalbagan Krirachakra, Dormitory Club Krirachakra, Uditi Club (1963).
Noted installations Bangladesh Agricultural Development Corporation, office of Bangla Vision Television, BRB Cable Industries Ltd, BEJPA Complex and Office of the World Health Organisation.
Main sources of income Agriculture 0.79%, Non-agricultural labourer 1.23%, industry 2.09%, commerce 28.28%, transport and communication 3.80%, service 43.20%, construction 3.40%,' religious service 0.07%, rent and remittance 5.01% and others 12.13%.
Ownership of agricultural land Landowner 68.65%, landless 31.35%.
Extinct or nearly extinct crops Paddy, jute, sugarcane, pulses.
Main fruits Mango, jackfruit, guava.
Communication facilities Total road 19.44 km.
Extinct or nearly extinct traditional transport Palanquin, horse carriage. '
Noted manufactories Garments industries, oil mill, spiced grinding mill, saw mill, printing press, welding factory.
Cottage industries Bamboo and cane works, handicrafts, embroidery.'
Shopping centres, bazars and fairs Eastern Plaza, Concord Orchid Shopping Centre, Orchard Point, National Plaza, Sundarban Plaza, Noor Tower, Shell Centre, Kathalbagan Bazar, Capital Market, Swapno Super Store, Panthapath Furniture Market and Baishakhi Fair and Book Fair at Kalabagan Park.
Main exports Ready made garments, handicrafts, leather products and furniture.
Access to electricity All the wards of the thana are under electrification net-work. However 98.62% of the dwelling households have access to electricity.
Sources of drinking water Tube-well 4.37%, pond 0.06%, tap 94.97% and others 0.60%.
Sanitation 96.36% of dwelling households of the upazila use sanitary latrines and 2.84% of dwelling households use non-sanitary latrines; 0.80% of households do not have latrine facilities.
Health centres Hospital and clinic 161, diagnostic and consultation centre 8, diabetic hospital 1, eye hospital 1, Hamdard Laboratory 1, family health centre 2, most noted of which are Central Hospital, Lab Aid Specialized Hospital, Gastro Lever Hospital and Research Centre, Green Life Medical College and Hospital, Harun Eye Foundation and Hospital, Gonoshasthaya' Nagar Hospital.
NGO activities Operationally important NGOs are World Health Organisation, ADHUNIK, Bangladesh Institute of Research and Development (BIRD), Juba Jiban Unnayan Samity, Eso Jati Gori, Bangladesh Dynamic Society. [Lilima Ahmed]
References Bangladesh Population Census 2001, Bangladesh Bureau of Statistics; Field report of Kalabagan Thana 2010.