Shil, Ramesh (1877-1967) a kaviyal - a bard, was born in the village of Gomadandi in chittagong. A class of bards, called kaviyals, who improvised songs in poetic contests evolved in Calcutta and its outskirts in the eighteenth and the nineteenth centuries. Ramesh Shil, mukundadas of Barisal, Bijoy Sarker of Jessore and Sheikh Gumani of Murshidabad followed those pioneers in the nineteenth and the twentieth centuries. They were all born poets and could improvise verse and hurl strophes and antistrophes at each other in contests.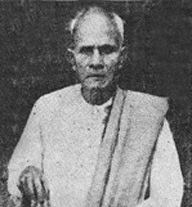 Ramesh's fame soon transcended his region and became a national celebrity. He became particularly famous by defeating Sheikh Gumani in a song contest arranged by the Nikhil Banga Pragatishil Lekhak O Shilpi Sammelan (All Bengal Progressive Writers and Artistes' Convention) in Calcutta in 1945.
Although the subject matter of such poetic contests were traditionally taken from the Puranas, Ramesh Shil also made songs on contemporary events, and social, political and economic problems. He composed songs on events such as the Non-cooperation and the Khilafat movements, the revolutionary raiding of the Chittagong armoury, self-sacrifice of surya sen, famine, partition, refugee problems, language movement, social injustice, corruption, exploitation etc that he had himself witnessed. He tried to arouse people with his songs and attempted to stir them against these social and political ills.
Before him, kavigan was seen only as a means of entertainment, but Ramesh Shil made it an instrument with which to transform society. In 1954, he was arrested for his political activism. In 1962, the government discontinued the monthly stipend he had been granted by it earlier. He played a great role in replacing the traditional frivolity and vulgarity of kavigan with serious themes and means of expression.
Another of his claim to fame is the composition of Maizbhandari songs, and the way he made them popular through performing them. He wrote many songs praising the Maizbhandari order and its proponent Syed Ahmadullah (1826-1906) of Chittagong. He composed about 350 such songs. Over time, these songs had been published in nine volumes titled Ashekmala, Shantibhandar, Muktir Darbar, Nure Duniya, Jibansathi, Satyadarpan, Bhandare Maula, Manab Bandhu and Eshke Sirajia.
Syed Gholamur Rahman (1865-1937), the incumbent pir of Maizbhandari, was his contemporary. Ramesh Shil was inducted into this order. Inspired by it, he wrote these songs. He was denounced for this and was even ostracised by his own community. After his death he was buried, instead of being cremated. Ramesh Shil was patriotic, secular and a man of liberal bent. He believed that 'All religions, be they hinduism, islam, christianity or buddhism, have the same set of principles'. He invited people to 'forsake the worship of clay, and start worshipping man'.
The songs of Ramesh Shil have been published on gramophone records. His songs chalre man tvarai jai, bilamber ar samay nai/ gausul azam maizbhandari skul khulechhe ('Let's move quickly, no time to lose, and Gausul Azam Maizbhandari has opened a school') became instant hits. His son Jajneshwar Shil followed in his father's footsteps. He also has had able disciples like Phani Barua, Rai Gopal Das etc. The bangla academy has published all his works recently. The bulbul lalitakala academy honoured him as the 'greatest bard' (1962). [Wakil Ahmed]