Shivalaya Upazila (manikganj district) area 199.07 sq km, located in between 23°44' and 23°55' north latitudes and in between 89°42' and 89°56' east longitudes. It is bounded by daulatpur (Manikganj) and ghior upazilas on the north, harirampur and goalanda upazilas on the south, Ghior and Harirampur upazilas on the east, bera and Goalanda upazilas on the west.
Population Total 154239; male 79710, female 74529; Muslim 132577, Hindu 21542, Buddhist 103, Christian 13 and others 4.
Water bodies Main rivers: padma, jamuna, ichamati.
Administration Shivalaya Thana was formed in 1919 and it was turned into an upazila in 1983.
Upazila
Municipality
Union
Mouza
Village
Population
Density (per sq km)
Literacy rate (%)
Urban
Rural
Urban
Rural

-




7




202




253




4175




150064




775




50.96




40.67
Upazila Town

Area (sq km)




Mouza




Population




Density (per sq km)




Literacy rate (%)




2.83




5




4175




1475




50.96
Union
Name of union and GO code
Area (acre)
Population
Literacy rate (%)
Male
Female

Arua 11




5000




6723




6489




33.88




Uthali 83




5854




10729




10298




43.05




Ulail 71




4877




11247




10965




41.44




Teota 59




12505




15716




15011




35.24




Mohadebpur 23




5421




10776




10378




40.11




Shivalaya 47




4697




13460




10784




49.52




Shimulia 35




6700




11059




10604




41.55
Source Bangladesh Population Census 2001, Bangladesh Bureau of Statistics.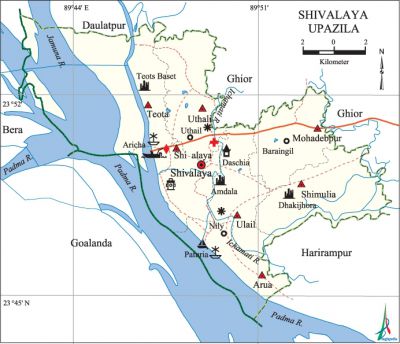 Archaeological heritage and relics Ekdala Fort (Amdala), Katasgarh Fort, Dhakijora Fort, Daschira Buddhist Vihara and Stupa, Navaratna Math (Teota), Teota Zamindar Bari, Machain Mosque, tomb of Shah Rustam (Machain), Tepra Kali Mandir, Sreebari (Tepra), Neelkuthi at Teota.
History of the War of Liberation During the war of liberation in 1971 the Pak army attacked the camp of the freedom fighters located at Nayabari in November; the battle that followed continued for four hours resulting in the retreat of the Pak army.
Religious institutions Mosque 166, temple 90, church 1, tomb 5, sacred place 1. Noted religious institutions: Machain Mosque, Upazila Parisad Mosque, Sivalaya Central Mosque, Teota Mosque, Intazganj Jami Mosque, Rupsa Mosque, Anulia Mosque, Boalipara Mosque, Jafarganj Mosque, Tepra Kali Mandir, Daschira Buddhist Vihara, Navaratna Math, tomb of Shah Rustam.
Literacy rate and educational institutions Average literacy 40.95%; male 46.95%, female 34.53%. Noted educational institutions: Mohadebpur Degree College (1972), Shivalaya Government High School (1961), Uthali Pilot High School (1973), Teota Academy (1891), Barangail Gopal Krishna High School (1924), Nali Bagaria Krishnachandra High School (1915).
Cultural organisations Library 1, club 34, theatre group 5, theatre stage 1, cinema hall 1.
Main sources of income Agriculture 60.92%, non-agricultural labourer 3.14%, industry 3.14%, commerce 15.14%, transport and communication 3.82%, service 8.18%, construction 1.06%, religious service 0.18%, rent and remittance 0.46% and others 6.11%.
Ownership of agricultural land Landowner 53.10%, landless 46.90%; agricultural landowner: urban 44.05% and rural 53.36%.
Main crops Paddy, wheat, jute, potato, pulse, ground nut, sugarcane, oil seed, onion, garlic, chilli, vegetables.
Extinct or nearly extinct crops Linseed, china, barley, pea, gram, sesame, kaun, sweet potato.
Main fruits Mango, jackfruit, guava, coconut, palm, date.
Fisheries, dairies and poultries Fishery 410, dairy 190, poultry 272, hatchery 6.
Communication facilities Pucca road 70 km, semi-pucca road 13 km, mud road 279 km; waterway 13.50 nautical miles. Aricha Ferry Ghat is located in this upazila.
Extinct or nearly extinct traditional transport Palanquin, horse carriage, bullock cart.
Noted manufactories Electric pole factory 1, candle and agarbati factory, welding factory.
Cottage industries Goldsmith, blacksmith, weaving, potteries, brass and brass metal work, conch work, silk work, bidi factory, bamboo work, tailoring, wood work.
Hats, bazars and fairs Hats and bazars are 19, fairs 4, most noted of which are Barangail Hat, Mohadebpur Hat, Uthali Hat, Jafarganj Hat, Teota Hat, Shivalaya Bazar, Rajganj Bazar, Tepra Bazar, Nali Bazar, Rath Mela and Baruni Mela.
Main exports Electric pole, bidi, paddy, onion, chilli, pulse, palm, oil seed, vegetables, cattle, poultry, fish, bamboo, cane, date molasses, milk.
Access to electricity All the unions of the upazila are under rural electrification net-work. However 24.67% of the dwelling households have access to electricity.
Sources of drinking water Tube-well 94.78%, tap 0.87%, pond 0.64% and others 3.71%.
Sanitation 38.36% (rural 37.63% and urban 64.18%) of dwelling households of the upazila use sanitary latrines and 56.58% (rural 57.24% and urban 33.59%) of dwelling households use non-sanitary latrines; 5.06% of households do not have latrine facilities.
Health centres Upazila health complex 1, satellite clinic 3, family planning centre 5, community clinic 7, eye hospital 1.
NGO activities Operationally important NGOs are brac, proshika, asa. [MA Ramzan]
References Bangladesh Population Census 2001, Bangladesh Bureau of Statistics; Cultural survey report of Shivalaya Upazila 2007.