Singh, Ananta (1903-1979) a revolutionary, politician and one of the leading participants in the revolutionary raiding of the Chittagong Armoury. Singh was born in Chittagong on 1 December 1903 where his ancestors had taken up residence after coming from Agra in India. His father's name was Golap Singh.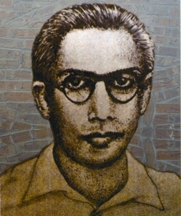 Ananta Singh did not study in educational institutions for an extended period of time. But he was in school when he became acquainted with Master'da surya sen, who impressed him with his courage, organisational ability, valour, wit, intellect and devotion toward work. Ananta Singh soon became one of the closest associates of Surya Sen. He eventually left his studies and joined Sen's revolutionary group. His skills in sports and physical exercises in boyhood helped him in his revolutionary activities.
He motivated his schoolmates to join the non-cooperation movement of Congress in 1921, although he himself never subscribed to its ideals. When the non-cooperation movement was called off, he devoted all his time to revolutionary activities. He used to make bombs and cartridges for the people working for the revolution. His technique of making bombs was published but was attributed to an Englishman. It soon spread all over India.
He once led an operation to loot the money of the Assam-Bengal Railway Company to finance revolutionary activities. In the incident, he fought with the police and fled into the hilly areas. Later, he was arrested when he reached Kolkata via Sandwip. He was set free but was arrested again for his activities in 1924 and was convicted to four years' imprisonment. After being released from jail, he changed his strategy. He set up a gymnasium and started indoctrinating young people in revolutionary activities. His organisational acumen and cute planning came of great assistance in the raiding of the Chittagong Armoury.
Many events centring on Ananta Singh took place after the looting of the armoury. When he and his group lost control of Chittagong in the incident, in which they had driven the English rulers out, they took shelter in French territory of Chandannagar. But on hearing the news of the trial and torture on his other mates in the mission, he surrendered before the police commissioner in Kolkata. He was sent to jail, but he next planned to blow it up with a dynamite blast. However, he was caught while planting a dynamite on the jail wall. The incident compelled the British government to start talks with the revolutionists. Some experts believe that none of the accused in the Chittagong incident was hanged because of these talks. Ten of them, including Ananta Singh, were deported to the Andaman Islands. When he was sent to Andaman Cellular Jail in 1932, he started a hunger strike inside the prison. At Rabindranath's intervention and also because of Gandhi and others, he was taken to a jail in mainland India. He was set free one year before independence in 1946.
His political philosophy changed while he was in jail. He read Marxist literature and philosophy there and became converted to socialism. On leaving jail, he joined the Communist party. However, he kept himself away from active politics at the time. For a while he did business in films and motor vehicles. Possibly he lost his fortune in business. He took to his old skill of bank looting and was consequently jailed for eight years (1969-1977) He suffered a cardiac attack in jail and died on 25 January 1979.
Ananta Singh wrote several books describing his experience as a revolutionary. Among his notable works are Chattagram Yubabidroha (Youth revolution in Chittagong), Agnigarbha Chattagram (Chittagong, the place of fire), Master'da (on Surya Sen), Svapna O Sadhana (Dream and Realisation), Ami Sei Meye (I'm that girl), Keu Bale Dakat Keu Bale Biplabi (Some call me robber, some revolutionary) etc. [Dulal Bhowmik]