Tejgaon Industrial Area Thana
Tejgaon Industrial Area Thana (Dhaka metropolitan) area 4.38 sq km, located in between 23°45' and 23°46' north latitudes and in between 90°23' and 90°25' east longitudes. It is bounded by gulshan thana on the north, ramna and tejgoan thanas on the south, Gulshan, rampura and Ramna thanas on the east, Tejgaon and cantonment thanas on the west.
Population Total 174593; male 101877, female 72716, Muslim 168604, Hindu 4940, Buddhist 928, Christian 95 and others 26.
Administration Tejgaon Industrial Area Thana was formed on 7 August in 2006.
Thana
Ward
Mahalla
Population
Density (per sq km)
Literacy rate (%)
Urban
Rural
Urban
Rural
3
11
174593
-
14641
69.56
-
Ward
Ward No
Area (acre)
Population
Literacy rate  (%)
Male
Female
Ward No 20 (part)
1.32
24270
20352
68.37
Ward No  37
2.81
68377
45280
62.74
Ward No 38 (part)
0.25
9230
7084
77.58
Source  Bangladesh Population Census 2001, Bangladesh Bureau of Statistics.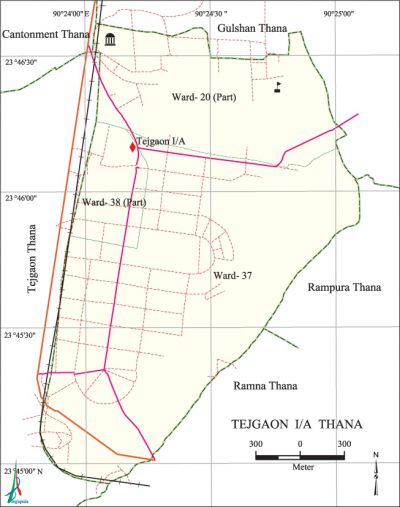 Religious institution Rahim Metal Jami Mosque is notable.
Literacy rate and educational institutions Average literacy 69.56%; Male 75.8%, female 61.06%. Noted educational institutions: Ahsanullah University of Science and Technology, Dhaka Poly Technique Institute, Rajdhani Poly Technique and Textile College, Bangladesh Textile Engineering College, BG Press High School, Nakhal Para Hossain Ali High School.
Important installations Mohakhali Bus Terminal, Bangladesh Film Development Corporation, Department of Land Record and Surveys, Survey of Bangladesh, Government Printing Press, Bangladesh Oxygen Company (BOC),' 33/1 KB Substation.
Main sources of income Agriculture 0.69%, non-agricultural labourer 1.52%, industry 5.04%, commerce 21.49%, transport and communication 9.53%, service 44.64%, construction 3.35%, religious service' 0.12%, rent and remittance 1.52% and others 11.78%.
Ownership of agricultural land Landowner 59.89%, landless 40.11%.
Main crops Vegetables.
Extinct or nearly extinct crops Paddy, jute.
Main fruits Mango, jackfruit, papaya, guava, plum.
Communication facilities Total roads: 33.93 km.
Extinct or nearly extinct traditional transport Bullock cart, horse carriage.
Noted manufactories BSTI, Institute of Glass and Ceramics, Kohinoor Chemical Company Limited, Lalbagh Chemical Company Limited, ACI Company Limited, Finish Company Limited, Navana Paint, Novelties Company Limited, Incepta Pharmaceuticals Limited, Zeson Pharmaceuticals Limited, Pharmadesh Pharmaceuticals Limited, Orion Pharmaceuticals Limited, Gaco Pharmaceuticals Limited, Central Pharmacy, Essential Drug Company Limited, Houqe Biscuit Company Limited, Mimi Chocolate and Ice-cream Company Limited, Nabisco Company Limited.
Hats, bazars and shopping centres Shapna Shopping Mall (East Nakhal Para Samity Market), Aarong Shopping Mall (Gulshan), Tibet Colony Market, East Nakhal Para Samiti Bazar are notable.
Main exports Medicine, chemical, ceramics, biscuits, chocolate, ice-cream.
Access to electricity All the wards of the thana are under electrification net-work. However 94.60% of the dwelling households have access to electricity.
Sources of drinking water Tube-well 10.97%, tap 79.95%, pond 0.34%, and others 8.74%.
Sanitation 61.00% of dwelling households of the thana use sanitary latrines and 35.21% of dwelling housesholds use non-sanitary latrines; 3.79% of households do not have latrine facilities.
Health centres Thana health complex, metropolitan hospital. [Shamima Akhter]
References Bangladesh Population Census 2001, Bangladesh Bureau of Statistics.