Tejgaon Thana (Dhaka metropolitan) area 2.74 sq km, located in between 23°44' and 23°46' north latitudes and in between 90°23' and 90°23' east longitudes. It is bounded by kafrul, cantonment and tejgaon industrial area thanas on the north, kalabagan and ramna thanas on the south, Tejgaon Industrial Area thana on the east, sher-e-bangla nagar and kafrul thanas on the west.
Population Total 118540; male 67439, female 51101; Muslim 107414, Hindu 6749, Buddhist 3662, Christian 661 and others 54.
Administration Tejgaon Thana was formed in 1953. This thana was reconstituted when Tejgaon Industrial Area thana was formed on 7 August 2006.
Thana
Ward
Mahalla
Population
Density (per sq km)
Literacy rate (%)
Urban
Rural
Urban
Rural
1+2 (part)
7
118540
-
43263
76.51
-
Ward
Name of ward
Area (sq km)
Population
Literacy rate (%)
Male
Female
Ward no. 38 (part)
0.89
34010
25831
77.58
Ward no. 39
1.19
24996
18619
74.58
Ward no. 40 (part)
0.66
8433
6651
77.37
Source  Bangladesh Population Census 2001,Bangladesh Bureau of Statistics.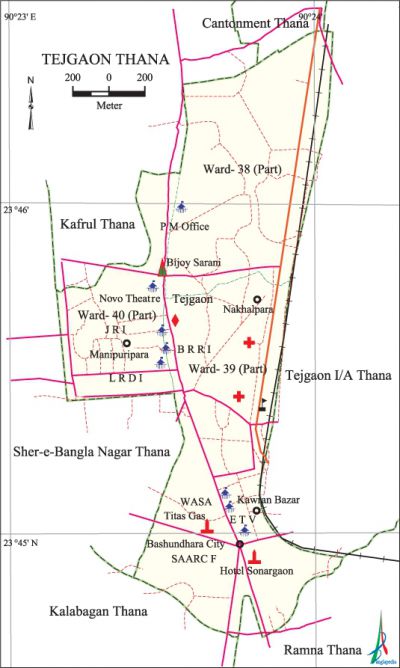 Archaeological heritage and relics Holy Rosary Catholic Church (1677).
Religious institutions Ambar Shah Mosque, Arjatpara Jami Mosque, Sahinbagh Mosque and Holy Rosary Catholic Church (1677) are notable.
Literacy rate and educational institutions Average literacy 76.51%; male 81.72%, female 69.83%. Noted educational institutions: Northern University, Holy Cross College (1950), Government Science College (1954), Tejgaon College (1961), Tejgaon Mohila College (1972), Tejgaon Government High School (1935), Holy Cross School (1953), Tejgaon Government Girls' High School (1955), Tejgaon Government Boys' High School, Civil Aviation School.
Cultural organisations Library 1, club 4, community centre 3, cinema hall 3.
Newspapers and periodicals Daily Prathom Alo, The Daily Star.
Important installations Bangabandhu Sheikh Mujibur Rahman Novo Theatre, Prime Minister's Office, Bangladesh Agricultural Research Council, Bangladesh Rice Research Institute.
Main sources of income Agriculture 0.57%, non-agricultural labourer 0.91%, industry 2.28%, commerce 26.06%, transport and communication 3.90%, service 50.19%, construction 1.64%, religious service 0.08%, rent and remittance 3.27% and others 11.10%.
Ownership of agricultural land Landowner 70.60%, landless 29.40%.
Extinct or nearly extinct crops Paddy, jute, pulse, vegetables.
Main fruits Mango, jackfruit, coconut.
Communication facilities Total roads: 34.71 km.
Extinct or nearly extinct traditional transport Palanquin, bullock cart, horse carriage.
Noted manufactories Ready made garments, oil mill, ice factory, welding factory.
Cottage industries Goldsmith, handicrafts.'
Bazars, fairs and shopping centres' Bashundhara City, Farmview Super Market, Chourangi Super Market, Farmgate DCC Market, Kawran Bazar and Tejturi Bazar are notable.
Noted hotels and restaurants' Pan Pacific Sonargaon Hotel, La Vinci Hotel.
''Main exports ' Ready made garments, handicrafts.
Access to electricity All the wards of the thana are under electrification net-work. However 97.33% of the dwelling households have access to electricity.
Sources of drinking water Tube-well 10.25%, tap 88.46%, pond 0.08% and others 1.21%.
Sanitation 94.89% of dwelling households of the thana use sanitary latrines and 3.80% of dwelling households use non-sanitary latrines; 1.31% of households do not have latrine facilities.
Health centres Al Raji Hospital. [Syed Shabbir Ahmed]
References' Bangladesh Population Census 2001, Bangladesh Bureau of Statistics.