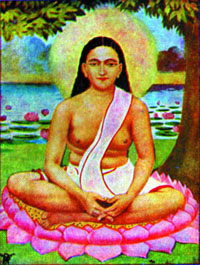 Thakur, Harichand (1811-1877) a Hindu votary and founder of the matua sect, was born in Orakandi of kashiani upazila in gopalganj (Greater faridpur) on 11 March 1811. His father, Yashomanta Thakur, was a Maithili Brahmin and a devout Vaishnava.
Harichand received little formal education. After completing his initial schooling in a pathshala, he attended school for only a few months. He then started spending his time with shepherds and cowboys and roamed with them from one place to another. He started changing from this time. He was loved by all of his friends for his physical beauty, naivete, love for music and philanthropic attitude. He could also sing bhajan (devotional songs). Harichand's doctrine is based on three basic principles-truth, love, and sanctity. The doctrine treats all people as equal; people are not seen according to castes or sects. Himself a Brahmin, he professed mixed with lower-caste people and treated them with the same dignity as he did other castes. This is why most of his followers believe Harichand to be an avatar (incarnation) of vishnu, and are from the lower strata of society.
They used to affirm: Rama hari krisna hari hari gorachand. Sarba hari mile ei purna harichand (Rama is lord, Krishna is lord, lord is Chaitanyadev. But all of them make our Harichand, who is our lord.) Harichand did not believe in asceticism; he was more of a family man and it is from within the family that he preached the word of God. He believed that Grhete thakiya yar hay bhaboday. Sei ye param sadhu janio nishchay (the best ascetic is he who can express his devotion to God remaining a family man). He mobilised all the neglected sects and castes and inspired them to remain true to the openness of Hinduism.
Harichand left 12 instructions for the matuas, known as Dvadash Ajva (Twelve Commands): 1. always speak the truth, 2. respect your parents like gods, 3. treat woman as your mother, 4. love the world, 5. remain liberal to all the religions, 6. never discriminate on racial counts, 7. try to establish Harimandir (temple of the Lord), 8. sit in prayer everyday, 9. Sacrifice your self for God, 10. do not practice asceticism in a garb, 11. hold the six cardinal passions in check, and 12. utter the name of your Lord while working with your hand. Harichand died in Odakandi 1877. [Monoranjan Ghosh]