Thakurgaon District (rangpur division) area 1809.52 sq km, located in between 25°40' and 26°12' north latitudes and in between 88°05' and 88°39' east longitudes. It is bounded by panchagarh district on the north, Panchagarh and dinajpur districts on the east, west bengal state of India on the south and west.
Population Total 1214376; male 627200, female 587176; Muslim 924254, Hindu 278703, Buddhist 7156, Christian 131 and others 4132. Indigenous communities such as santal, oraon, munda, Mushar and rajbangshi belong to this upazila.
Water bodies Main rivers: tangon, nagar, Kulik, Tirnai, Pathari; Katchna Beel is notable.
Administration Thakurgaon Sub-division was established in 1860 under the district of Dinajpur and was turned into a district in 1984. Of the five upazilas of the district thakurgaon sadar was the largest (683.45 sq km) and haripur is the smallest (201.06 sq km).
District
Area (sq km)
Upazila
Municipality
Union
Mouza
Village
Population
Density (per sq km)
Literacy rate (%)
Urban
Rural

1809.52

5

2

51

643

641

117823

1096553

671

41.8
Others Information of District

Name of Upazila

Area
(sq km)

Municipality

Union

Mouza

Village

Population

Density
(per sq km)

Literacy rate
(%)

Thakurgaon Sadar

683.45

1

19

194

197

504428

738

47.4

Pirganj

353.30

1

10

168

168

215754

611

41.3

Baliadangi

284.12

-

8

78

78

169771

598

39.2

Ranisankail

287.59

-

8

124

126

196134

682

35.1

Haripur

201.06

-

6

75

72

128289

638

34.1
Source  Bangladesh Population Census 2001,Bangladesh Bureau of Statistics.
History of the War of Liberation On 17 April 1971, the Pak army brutally killed a number of Bangalis on the road side of the Bhatarmari Farm of Pirganj upazila. During the war of liberation the Pak army brutally killed 18 persons at village Belcha Zhikra of Baliadangi upazila. On 28 April, the Pak army shot two freedom fighters dead at village Chhota Palashbari and Bara Palashbari; besides, they also shot 9 innocent persons dead on the bank of the river Tirnai adjacent to the Kushaldangi Hat. On the same day, the Pak army killed 7 persons at Kaliganj. In 1971, direct encounters were held between the freedom fighters and the Pak army at Bhulli, Gareya and Salandar of Thakurgaon sadar in which many people were killed and wounded. Besides, the Pak army conducted mass killing and plundering in Haripur upazila; they also set many houses of the upazila on fire.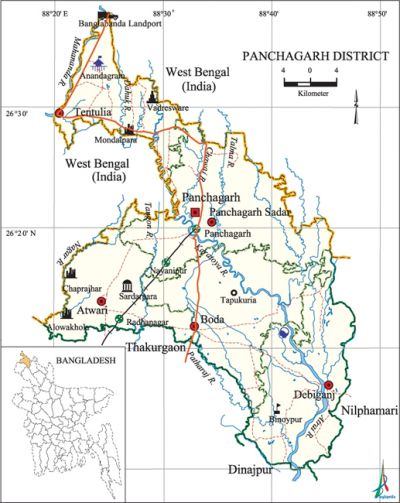 Marks of the War of Liberation Mass grave 6; mass killing site 4.
Literacy rate and educational institutions Average literacy 41.8%; male 48.4%, female 34.8%. Educational institutions: technical college 11, teacher's centre 1, B.ED college 1, vocational training institute 1, vocational textile institute 1, youth training centre 2, college 67, secondary school 358, primary school 865, community school 10, madrasa 77. Noted educational institutions: Thakurgaon Zila School (1904), Thakurgaon Government Boys' High School (1904), Pirganj Pilot High School (1907), Ranisankail Pilot High School (1914), Ranisankail Government Model Primary School (1917), Charta High School (1928), Lahiri high School (1932), Pirganj Government Model Primary School (1933), Haripur Bilateral High School (1936), Haripur Government Primary School (1953), Thakurgaon Government College (1957), Pirganj Degree College (1964), Ranisankail Degree College (1972).
Main sources of income Agriculture 76.74%, non-agricultural labourer 2.84%, industry 0.36%, commerce 9.05%, transport and communication 2.34%, service 3.91%, construction 0.76%, religious service 0.11%, rent and remittance 0.17% and others 3.72%.
Newspapers and periodicals Defunct daily: Thakurgaon Darpan, Sangrami Bangla, Gram Bangla, Bangladesh, Janarab, Uttar Hath, A Somoy, Swargam, Cinchan, Batikrama, Spandan, Chharpatra, Dipalaka, Bir Bangali, Raktakta Prantar, Durbadal, Rokter Rang Neel, Rokta Jhora Din; defunct literary periodicals: Aso Cheye Dekhi Prithibi, Usashi, Chalachitra; periodicals: Aangikar, oikantik, Samakal, Mukul, Abe Hayat, Rabindra Smaranika, Barshik Siri.
Folk culture Notable folk songs of the district include Jari, Sari, Bhawaya, Kabigan, Satta Pirer Palagan, etc. The other folk culture include Charak Puja, Ras Jatra, proverbs, riddle, rhymes, etc.
Tourist spots' Jagadal Zamindar Bari, residence of Raja Tonkanath (Ranisankail upazila), Saguni and Thumnia Sal forest (Pirganj upazila). [Abu Md. Iqbal Rumi Shah]
See also The upazilas under this district.
References' Bangladesh Population Census 2001, Bangladesh Bureau of Statistics; Cultural survey report of Thakurgaon District 2007.