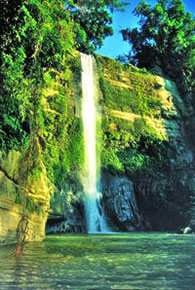 Waterfall a sudden, steep or perpendicular descent of water onto the bed of a river, occurring where the flow of the river is broken by a nearly horizontal bed of hard rock overlying easily eroded soft rock; or by the sharp edge of a plateau; or by the abrupt end of a hanging valley, high on the slopes of a u-shaped valley; or by a fault-line scarp; or by the edge of a coastal cliff.
Most of the hill ranges in Chittagong, chittagong hill tracts (CHT) and Sylhet have scarps in the west, with cliffs and waterfalls. On the eastern side of the Dolajeri range in CHT, there are several high waterfalls: two of the highest have falls of 60m and 40m. The Chimbuk range rises south of the sangu river and continues into Myanmar. One of its main peaks is Lulaing (702m).On a branch of the Lulaingkhal, near Lulaing peak, there is a waterfall of 107m drop. Near Uparampara further south, there is another high waterfall, with a drop of 45.75m. These southern ranges have a good number of waterfalls of up to 21m drop. There is a unique miniature waterfall, about 305 m upstream from the mouth of the Silchhari stream comprising rocks of the Bhuban Formation.
The vertical fall drops about 15.25m. Here, the slope of the stream steepens and erosional features are prominent, indicating the youthful stage of the stream. The Silchhari stream is a tributary of the karnafuli river and is situated about 8 km away from Kaptai along the Kaptai-Chandraghona road.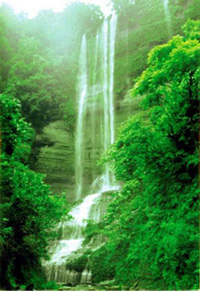 In the Chittagong region there are several waterfalls in the Sitakunda hill range. Here, two of the highest falls are called Shahasradhara. One of them is located at Labanakhya Chhara section and the other one is at the ecopark in the Microwave Road section. They are characterised by alternations of sandstones and shales of Bokabil Formation. Shahasradhara in the Labanakhya Chhara section has a height of about 30m. It is also a place of pilgrimage for the Hindus. A few spectacular waterfalls are also found at Mirsharai in the Sitakunda hill range and the Dakhin Nhila structure in the Teknaf range. In Baralekha upazila in Sylhet, a place about 3 km from Dakhinbagh Railway Station has the famous waterfall of Madhabkunda, which attracts a large number of tourists.
Geologically, this waterfall is in the Patharia Structure and is composed of the rocks of the Bhuban Formation. Bangladesh Parjatan Corporation has established picnic spots, restaurants and parking facilities near the Madhabkunda and Shahasradhara waterfall areas. Lovely waterfalls also occur in the Harargaj Structure. [Sifatul Quader Chowdhury]