Airports when the Second World War broke out, the British authorities felt the need for constructing Royal Indian Air Force (RIAF) bases in Dhaka and other militarily important places in Eastern Bengal. The construction of Tejgaon Airport at a place named Dainodda started in 1941, and the erection of a landing strip at Kurmitola (Balurghat) started at about the same time. The British Air force used the airstrip for safe up-keeping of their aircrafts. The airstrip at Tejgaon and Kurmitola had facilities for landing of military fighter planes.
The first RIAF light fighter jet (airframe covered with fabrics) landed on the under-construction runway of Tejgaon at the beginning of 1943; and after development of airport facilities, it became the first civilian airport. Apart from the British Air Force, the Ispahani Group and its partners used the airport for operation of an airliner named Orient Airways, established by them in 1946. From 1947, both domestic and international flights started operations from Tejgaon Airport, and within a few years the government started construction of a full-fledged international airport at Kurmitola in and around the British built airstrip.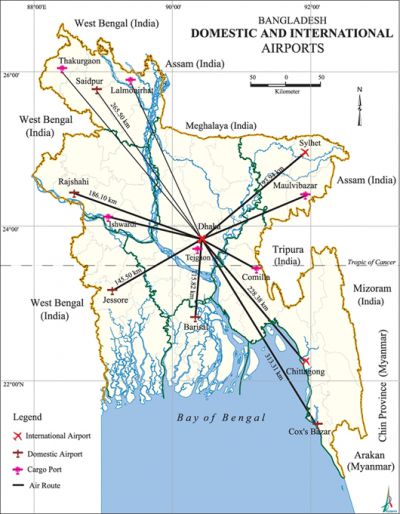 The Orient Airways operated two types of planes from Tejgaon airport. These were a DC-3 (Dakota) and a DHC-6 (Twin Otter). Very soon after the partition of India in 1947, the Pakistan International Airlines was established as the national flag carrier to fly within the country and abroad. Consequently, the Pakistan government took over both military and civil aviation and made them public sector ventures. The Orient Airways had to be closed down.
The government established the Eastern Pakistan Flying Club in 1948 to train local youths in piloting planes. In 1956, a branch of the Flying Wing of the Plant Protection Department was also established in East Pakistan. Tejgaon Airport gradually became busy with flights of planes of these agencies as well as of the PIA, which had acquired piston engine aircrafts like Dakota and Convair, and converted super constellations to turbo propeller type aircrafts like Viscount and Fokker. Later, jet aircrafts like Boeing, Comet and DC-8 were added to the fleet. The airport also served foreign airlines including the British Overseas Airways Corporation and Pan American Airways. PIA started its Boeing jet services in 1960. The Civil Aviation Authority and Airport Development Authority took measures to upgrade Tejgaon airport for accommodating traffic in accordance with international standards. The domestic airports in operation in East Pakistan during the Pakistani period were those at Jessore, Chittagong, Thakurgaon, Ishwardi and Comilla. After independence, the number of airports in Bangladesh increased with building same new ones, also a number of old ones were closed.
All there are 8 airports in Bangladesh: three are international and five are domestic. The list includes Hazrat Shahjalal International Airport, Dhaka; Shah Amanat International Airport, Chittagong; Osmani International Airport, Sylhet; Barisal Airport; Cox's Bazaar Airport; Jessore Airport; Shah Mokhdum Airport, Rajshahi; and Saidpur Airport.
In addition, three airports are equipped to handle domestic flights. One of these is a special purpose airport located at Tejgaon, Dhaka and is being used for training of pilots. The other two, one at Bogura and the other at Shamshernagar of Sylhet (STOL) has not been approved for flight operations. Also, there are three more airports in Bangladesh, which do not offer any services. These airports are at Ishurdi (Pabna), Comilla (STOL) and Thakurgaon. A new airport, The Khan Jahan Ali Airport (Bagerhat) is under construction, which is expected to get authorization for a fully operational airport in the near future.
biman bangladesh airlines limited, the national airliner of Bangladesh was established on 4 January 1972. It started its operations with Fokker F-27 (Friendship) and ATP planes. Later, it procured wide-body turbo jets and some other types of aircrafts for international flights. In the year 2000, it had five DC-10s, three F-28s, three Airbuses, and two ATPs of its own, and one DC-10 and one Airbus on lease. As of 2020, Biman had a fleet of 18 aircrafts, including four 777-300ER Boeings, two 787-800ER Boeings, six 737-800 Boeings, two 787-92 Boeings, and four Dash8-Q400 aircrafts. At present, 5 registered scheduled airlines including 4 private ones operate in Bangladesh. The private airlines are US-Bangla Airlines, Regent Airways, Air Astra, and Novoair. Besides, there are 4 cargo airlines, 8 helicopter services, 2 non-schedule aeroplane services, 3 flying training schools, and 2 maintenance training organizations.
As the Tejgaon Airport proved to be too small to cater to the requirements of the increasing traffic volume, the Dhaka International Airport was constructed at Kurmitola during the 1970s. The new airport was opened for operations in 1981, when the Tejgaon Airport was handed over to Bangladesh Air Force. At present, the Kurmitola airport (previously known as Zia International Airport and now called Hazrat Shahjalal International Airport) has relatively spacious terminal buildings, hangers, technical areas, freight village (warehouse), and other modern amenities and equipment. It connects almost all the major cities of the world with Dhaka. Biman Bangladesh Airlines and three local private airlines also operate domestic and international air services from here. As of 2020, 39 foreign airlines were operating passenger and cargo flights to Dhaka. Besides, Bangladesh has signed bilateral air services agreement with 53 countries of the world. The Civil Aviation Authority of Bangladesh (CAAB) started issuing operating licenses to private airliners from 1996. The Air Wing of the Plant Protection Department and the Flying Clubs function in coordination with CAAB. Operating offices of three private civil airlines have been set up on the premises of local airports. These airlines require permission from the CAAB for operating flights and using airports.
Hazrat Shahjalal International Airport has commercial links with and issues landing rights to many national and transnational airlines including those of Pakistan, India, Japan, UK, USA, Kuwait, KSA, China, Germany, Bhutan, UAE, France, Russia, Netherlands, Singapore, Thailand, Nepal, Maldives, Indonesia, Australia, Tajikistan, Uzbekistan, Malaysia, Scandinavian countries, Ukraine, Iran, Iraq, Republic of Korea, and Switzerland. [Syed Mohd Saleh Uddin]