Biman Bangladesh Airlines Limited
Biman Bangladesh Airlines Limited national flag carrier in the air-line. It was established as a corporate body called Bangladesh Biman Corporation under the Bangladesh Biman Ordinance (Presidential Order No. 126) of 4 January 1972. BBA was converted to public private company in July 2007, though the hundred percent ownership of its still in hand of government.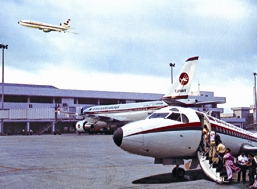 Initially it started with a Second World War vintage Dakota, DC-3, a gift from the air force. Biman's domestic services with the DC-3 commenced within a month after its inception. Soon after commencement, the aircraft crashed on a test flight. Biman then procured two used F-27 aircraft, which were soon flying to chittagong and sylhet. The international flights began on 4 March 1972, with an aircraft chartered from British Caledonian. Biman, today flies to 26 major international destinations and at home, it has a seven destination network. The overseas places connected by Biman include Abu Dhabi, Bahrain, Bangkok, Brussels Calcutta, Delhi, Doha, Dubai, Frankfurt, Hong Kong, Jeddah, Karachi, Kathmandu, Kuala Lumpur, Kuwait, London, Mumbai, Muscat, New York, Paris, Riyadh, Rome, Singapore, Tokyo and Yangon. The domestic airports serviced by Bangladesh Biman are at dhaka, Chittagong, rajshahi, Sylhet, cox's bazar, jessore, and saidpur.
Biman's fleet now consists of four wide-body DC 10-30s, two wide-body Airbus A-310s, a booing 777, two booing 737 and three F-28 executive jets, and two ATPs. Moreover, there has been signed a deal to buy four booing 777, four 787-8, two more booing 737 aircrafts. Meanwhile four wide-body with 463 seats booing 777, two airbus with 177 seats booing 737, four dreamliner booing 787 with 294 seats airbus are to be inducted in the Biman fleet in 2013, 2015 and 2017 respectively.
Most of Biman's destinations are served with either direct or single stop service. Convenient transfer connections from Dhaka to regional destinations like Calcutta, Kathmandu and Yangon are easily available.
Biman has its own ancillary and maintenance facilities including the Biman flight catering centre, Biman engineering hanger, Bangladesh Airline Training Centre, and the Biman Poultry Complex. The airline reservation system, departure control, and other communications systems are fully computerised. Experienced ground handling units service Biman's own aircrafts as well as those of a number of Foreign Airlines at the International Airport at Dhaka. [Syed Mohd Saleh Uddin]