Alikadam Upazila (bandarban district) area 885.78 sq km, located in between 21°21' and 21°50' north latitudes and in between 92°15' and 93°34' east longitudes. It is bounded by lama upazila on the north, arakan (Myanmar) on the south, thanchi upazila on the east, Lama and naikhongchhari upazilas on the west. The upazila area is located in the relatively plain land of the Bandarban hilly region. Thaikyang Tang, Rurang Tang and Sara Tang are the notable hills of this upazila.
Population Total 35264; male 19290, female 15974; Muslim 20737, Hindu 1517, Buddhist 2030, Christian 10917 and others 63.
Water bodies Main river: matamuhuri.
Administration Alikadam Thana was formed in 1976 comprising parts of Lama and Naikhongchhari upazilas and it was turned into an upazila in 1983.
Upazila
Municipality
Union
Mouza
Village
Population
Density (per sq km)
Literacy rate (%)
Urban
Rural
Urban
Rural

-

2

7

156

13173

22091

40

41.8

18.3
Upazila Town

Area
(sq km)

Mouza

Population

Density
(per sq km)

Literacy rate
(%)

23.31

2

13173

565

41.76
Union
Name of union and GO code
Area (acre)
Population
Literacy rate (%)
Male
Female

Alikdam 31

26240

10301

8465

25.88

Chokhyong 63

192640

8320

7377

24.53
Source Bangladesh Population Census 2001, Bangladesh Bureau of Statistics.
Historical events Since 9th century a major portion of Chittagong Hill Tracts including Alikadam were under the Arakani rule. Arakani rule in Alikadam was disrupted' in the 15th and 16th centuries when Sultan Jalaluddin of Bengal and Khoda Baksh dynasty established temporary control over the region. With the conquest of the region by the Mughals in 1756 the Arakanese rule completely came to an end. The last Arakanese ruler Kong Hla Pru was forced to surrender and was compelled to quit the hilly region along with his family members.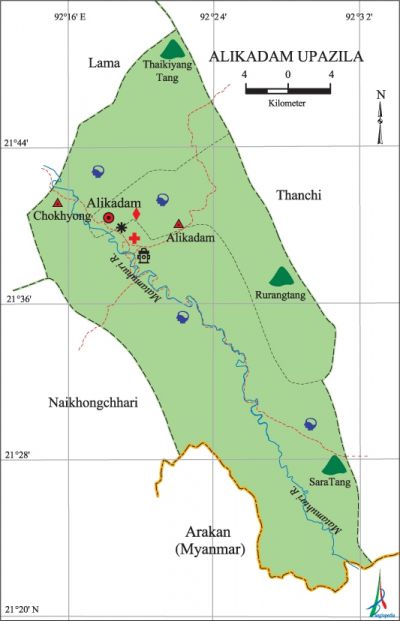 Religious institutions Mosque 38, temple 5, church 3, keyang 17.
Literacy rate and educational institutions Average literacy 27.20%; male 31.70%, female 21.60%. Educational institutions: secondary school 4, primary school 22, community school 4, kindergarten 2 madrasa 2. Noted educational institutions: Alikadam Govt. High School, Alikadam Girls' High School, Alikadam Ideal Govt. Primary School, Sonaichhari Registered Primary School.
Cultural organizations Press club 1, library 1, cinema hall 1, sangit academy 1, auditorium 1, women's organisation 2, playground 1, orphanage 2.
Tourist spots Meraindong Hill.
Main source sources of income Agriculture 59.27%, non-agricultural labourer 9.30%, commerce 12.52%, service 5.29%, construction 0.38%, religious service' 0.27%, rent and remittance 0.03%, transport and communication 0.48% and others 12.46%.
Ownership of agricultural land Landowner 29.03%, landless 70.97%; agricultural landowner: urban' 26.31%, rural 30.60%.
Main crops Paddy, potato, tobacco, ground nut, vegetables.
Extinct or nearly extinct crops Sesame, mustard, indigo.
Main fruits Banana, jackfruit, litchi, papaya.
Manufactories Plywood factory, tobacco factory, saw mill, brickfield.
Cottage industries Potteries, Blacksmith, wood work, bamboo work, cane work.
Hats, bazars and fairs Most noted hats are Alikadam Sadar hat and Tainchhari hat.
''Main exports Banana, bamboo, ginger, garlic, turmeric, vegetable.
Access to electricity All the unions of this upazila are under rural electrification net-work. However 13.24% of the dwelling households only have access to electricity.
Sources of drinking water Tube-well 44.28%, tap 1.62% 'pond 14.55% and others 39.55%.
Sanitation 8.26% of dwelling households (rural 4.44% and urban 14.92%) of the upazila use sanitary latrines and 61.71% of dwelling houses (urban 59.43% and rural 65.67%) use non-sanitary latrines; 30.03% of households do not have sanitation facilities.
Heath centres Upazila health complex 1, family planning centre 1, community clinic 3, veterinary hospital 1.
NGO activities brac, proshika, BNKS. [Atikur Rahman].
References Bangladesh Population Census 2001, Bangladesh Bureau of Statistics; Cultural survey report of Alikadam Upazila 2007.