Atpara Upazila (netrokona district) area 195 sq km, located in between 24°44' and 24°52' north latitudes and in between 90°46' and 90°59' east longitudes. It is bounded by barhatta upazila on the north, kendua and madan upazilas on the south, netrokona sadar upazila on the east, mohanganj upazila on the west.
Population Total 132499; male 67530, female 64969; Muslim 118320, Hindu 14072, Buddhist 31, Christian 14 and others 62.
Water bodies Main rivers: Mogra, Bauri, Ghorautra, Chhila and Tushai; Kamroil beel, Atshi beel' and Ukhro canal are notable.
Administration Atpara Thana was formed in 1926 and it was turned into an upazila on 2 July 1983.
Upazila
Municipality
Union
Mouza
Village
Population
Density (per sq km)
Literacy rate (%)
Urban
Rural
Urban
Rural

-

7

140

175

8615

123884

679

42.1

33.1
Upazila Town

Area (sq km)

Mouza

Population

Density (per sq km)

Literacy rate (%)

9.04

2

8615

953

42.1
Union
Name of union and GO code
Area (acre)
Population
Literacy rate (%)
Male
Female

Teligati 83

6198

10211

10107

31.04

Duaz 23

6186

8303

7797

33.38

Baniajan 11

6159

10214

9516

39.58

Loneshwar 35

8525

9436

9253

38.00

Sarmaisa 47

7950

11304

10948

30.86

Sukhari 59

7269

9509

9299

29.98

Sonai 71

5938

8553

8049

33.63
Source Bangladesh Population Census 2001, Bangladesh Bureau of Statistics.
Archaeological heritage and relics Three domed Saramushia-Haripur Mosque (Mughal period), remnants of Roy Bari (zamindar) of Rameshwarpur.
History of the War of Liberation On 19 August 1971 the freedom fighters attacked the Atpara Thana and killed a number of rajakars and the OC of the Thana; they also captured arms and amunitions of the Thana. On 7 October a battle was fought between the freedom fighters and the Pak army and the rajakars in which three rajakars were killed.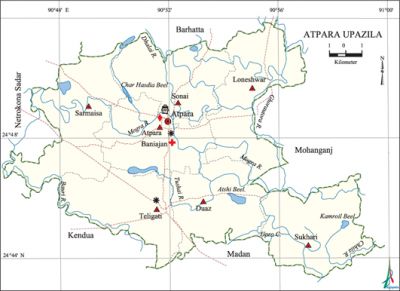 Religious institutions Mosque 218, temple 44, sacred place 1.
Literacy rate and educational institutions Average literacy 33.7%; male 37.4% female 30.3%. Noted educational institutions: Mongolshiddo MS Junior School (1925), Dhormorai Ramdhan High School (1930), Teligati BNHK Academy (1905), Baniajan City High School (1940), Gopalshram Bhairabchandra High School (1930).
Cultural organizations library 1.
Main sources of income Agriculture 76.46%, non-agricultural labourer 2.04%, commerce 8.10%, transport and communication 1.17%, service 3.69%, construction 0.94%, religious service 0.35%, rent and remittance 0.47% and others 6.61%.
Main crops Paddy, linseed, vegetables.
Extinct or nearly extinct crops Jute, tobacco, sweet potato, arahar, khesari, muk and black gram.
Main fruits Mango, jackfruit, banana, litchi, black berry, papaya, betel nut, olive, lotkan, shaddock, coconut.
Fisheries, dairies and poultries Fishery 12, poultry 255, dairy 1.
Communication facilitie Roads: pucca road 50.5 km, semi pucca road 7 km, mud road 288 km; waterways 28 nautical miles.
Extinct or nearly extinct traditional transport palanquin, horse carriage and bullock cart.
Noted manufactories Saw mill, chira mill, oil mill, spices mill, ice cream factory, rice mill.
Cottage industries goldsmith, blacksmith, potteries, weaving, bamboo works, woodworks.
Hats, bazars and fairs Noted hats and bazars and fair are Teligati, Nazirganj, Brojer, Avoypassa, Lalchan, Loneshwar, Konapara, Bousha bazar and Austomi Mela.
Main exports Paddy, banana, betel nut, fish, lotkan, olive, shaddock and leather.
Access to electricity All the unions of this Upazila are under rural electrification net-work; however, 13.61% dwelling households have access to electricity.
Sources of drinking water Tube-well 93.65%, pond 1.86%, tap 0.49% and others 5.45%. Arsenic contamination has been detected in shallow tube-well water of the upazila.
Sanitation 10.02% (urban 17.11% and rural 9.53%) of dwelling households of the upazila use sanitary latrines and 68.74% (urban 70.91% and rural 68.59%) of dwelling households use non-sanitary latrines; 21.25% of households do not have latrine facilities.
Health centres Upazila health complex 1, union health and family planning centre 2, satellite clinic 2, Red Crescent Hospital 1.
NGO activities Operationally important NGOs are asa, brac, proshika, Atta Karma Sangsthan Jubo Kalyan Samiti. [Bivuti Ranjan Ray]
References Bangladesh Population Census 2001, Bangladesh Bureau of Statistics; Cultural survey report of Atpara Upazila 2007.