Atwari Upazila (panchagarh district) area 209.92 sq km, located in between 26°11' and 26°23' north latitudes and in between 88°19' and 88°34' east longitudes. It is bounded by west bengal and boda upazila on the north, panchagarh sadar upazila on the north-east, Boda upazila on the east, thakurgaon sadar and baliadangi upazilas on the south and Indian border on the west.
Population Total 114938; male 59376, female 55562; Muslim 85251, Hindu 28213, Buddhist 1296 and others 178.
Water bodies Main rivers: tangon, Patharia, nagar.
Administration Atwari, established as a thana under Jalpaiguri district of West Bengal in 1903, was included in Dinajpur district after the partition of 1947 and had been a thana under Panchagarh sub-division since 1980. It was turned into an upazila on 7 November 1983.
Upazila
Municipality
Union
Mouza
Village
Population
Density (per sq km)
Literacy rate (%)
Urban
Rural
Urban
Rural

-

6

62

64

9790

105148

548

60.4

49.8
Upazila Town

Area (sq km)

Mouza

Population

Density
(per sq km)

Literacy rate (%)

14.05

3

9790

697

60.4
Union
Name of union and GO code
Area (acre)
Population
Literacy rate (%)
Male
Female

Alowa Khowa 13

9231

12057

11330

49.48

Taria 81

8128

9784

9007

51.20

Dhamor 40

8369

7751

7075

48.40

Balarampur 27

7488

9003

8652

50.87

Mirzapur 54

9228

10320

9645

48.67

Radhanagar 67

9126

10461

9853

55.36
Source Bangladesh Population Census- 2001, Bangladesh Bureau of Statistics.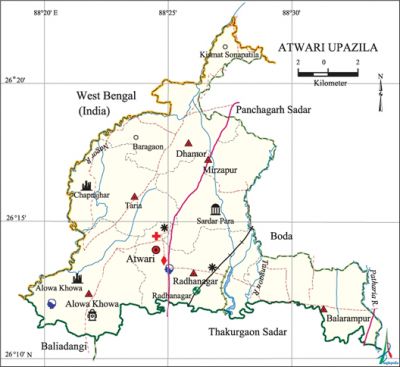 Archaeological heritage and relics Mirzapur Mosque, Chhapra-jhar (Pahar-Bhanga), Three-domed Mosque (Sardarpara), Imam Bara (Mirzapur).
History of the War of Liberation In the last week of April 1971 the Pak army shot 11 persons dead at Fakirganj Hat. On 27 May they shot 7 innocent persons dead including 5 of the same family at village Radhanagar. On 3 June the Pak army killed 5 innocent persons at village Sukhati. Later on they also killed 11 persons at village Dhamor at a place near Nayadighi pond. In the last part of October the Pak army killed 27 persons of village Duhapara of Taria union.
Marks of the War of Liberation Mass grave 2, twin grave 1, memorial monument 1.
Religious institutions Mosque 162, temple 62, church 4.
Literacy rate and educational institutions Average literacy 50.7%; male 59.6%, female 41.1%. Educational institutions: college 4, secondary school 51, primary school 102, Kinder Garten 3, madrasa 30. Noted educational institutions: Mirza Golam Hafiz Degree College (1988), Mirzapur High School (1876), Alowa Khowa Tafsili High School (1939), Atwari Pilot Boys High School (1965), Atwari Pilot Girls High School (1977), Taria Bilateral High School (1975), Satkhamar Senior Fazil Madrasa (1964).
Newspapers and periodicals Irregular: Uttaran, Ganajagaran, Prodakhep.
Cultural organizations Public library 1, club 25, cinema hall 1.
Main sources of income Agriculture 81.93%, non-agricultural labourer 2.20%, commerce 6.27%, transport and communication 3%, service 3.95%, construction 0.66%, religious service 0.07%, rent and remittance 0.21% and others 1.17%.
Ownership of agricultural land Landowner 69.65%, landless 30.35%; agricultural landowner: urban 68.65% and rural 69.75%.
Main crops Paddy, jute, wheat, potato, sugarcane.
Extinct or nearly extinct crops Barley, aush paddy, kaun.
Main fruits Mango, jackfruit, litchi, banana, watermelon.
Communication facilities Pucca road 58.70 km, mud road 521.13 km; railways 4 km.
Extinct or nearly extinct traditional transport Palanquin, bullock cart, buffalo cart.
Cottage industries Potteries, solar industries, jute work, weaving, bamboo work, wood work.
Noted hats, bazars and fairs Fakirganj, Taria, Baraghati, Gunjanmari, Dhamor, Dangirhat, Siktihari, Railbazar, Dhardharar Hat and Alowa Khowa Mela.
Main exports Paddy, jute, wheat, potato.
Access to electricity All the unions of the upazila are under rural electrification net-work. However 11.16% dwellings have access to electricity.
Sources of drinking water Tube-well 93.69%, pond 0.31%, tap 0.44% and others 5.57%.
Sanitation 29.55% (rural 28.23% and urban 43.74%) of dwelling households of the upazila use sanitary latrines and 7.45% (rural 7.88% and urban 2.86%) of dwelling houses use non-sanitary latrines; 63% of households do not have latrine facilities.
Natural resources Stone, sand.
Health centres Upazila health centre 1, family welfare centre 5, satellite clinic 7, islamic foundation hospital 1.
NGO asa, brac, proshika, rdrs, Disha. [Sherozzaman]
References Bangladesh Population Census 2001, Bangladesh Bureau of Statistics; Cultural survey report of Atwari Upazila 2007.