Babuganj Upazila (barisal district) area 164.88 sq km, located in between 22°44' and 22°56' north latitudes and in between 90°15' and 90°23' east longitudes. It is bounded by gaurnadi on the north, barisal sadar and jhalokati sadar upazilas on the south, muladi and Barisal Sadar upazilas on the east and wazirpur upazila on the west.
Population Total 146740; male 74008, female 72732; Muslim 139104, Hindu 7357, Buddhist 201, Christian 62 and others 16.
Water bodies Main rivers: arial khan, Kalijira, Barisal, Agarpul, Shikarpur;' Sugandha river, Amtali river, Sandha river, Dehergati beel and Rajarbar canal are notable.
Administration Babuganj Thana was established in 1906 and it was turned into an upazila in 1983.
Upazila
Municipality
Union
Mouza
Village
Population
Density (per sq km)
Literacy rate (%)
Urban
Rural
Urban
Rural

-

6

81

90

9144

137596

890

63.9

60.9
Upazila Town

Area (sq km)

Mouza

Population

Density
(per sq km)

Literacy rate (%)

7.30

5

9144

1253

63.87
Union
Name of union and GO code
Area (acre)
Population
Literacy rate (%)
Male
Female

Agarpur 13

7578

12417

12694

58.50

Kedarpur 54

7117

10402

10332

55.70

Chandpasha 27

6984

14061

13734

61.43

Dehergati 40

6515

10469

11071

63.33

Madhab Pasha 67

6777

13978

13266

65.45

Rahmatpur 81

5771

12681

11635

61.15
Source Bangladesh Population Census 2001, Bangladesh Bureau of Statistics.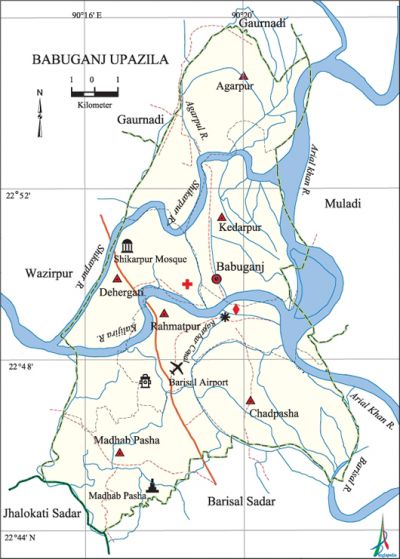 Archaeological heritage and relics Samadhi Mandir of Rammohan (Madhab Pasha), durgasagar Dighi.
History of the War of Liberation During the war of liberation the Pak army burnt the entire village Karikarnagar of Chandpasha union and killed 10 persons.
Religious institutions Mosque 380, temple 9, church 2. Noted religious institutions: Babuganj Jami Mosque, Khanpura Jami Mosque, Agarpur Jami Mosque, Shikarpur Jami Mosque.
Literacy rate and educational institutions Average literacy 61.1%; male 62.7%, female 59.5%. Noted educational institutions: Babuganj College (1966), Abul Kalam College (1970), Agarpur College (1995), Rahmatpur Secondary School (1898), Madhab Pasha Secondary School, RG Kalikapur Secondary School, Shaheed Captain Jahangir Birsresto Secondary School, Bhuterdia Secondary School.
Cultural organisations Library 22, club 27.
Main sources of income Agriculture 50.58%, non-agricultural labourer 3.58%, industry 1.11%, commerce 13.54%, transport and communication 2.81%, service 15.92%, construction 1.78%, religious service 0.29%, rent and remittance 4.01% and others 6.38%.
Ownership of agricultural land Landowner 77.99%, landless 22.01%; agricultural landowner: urban 64.94% and rural 78.88%.
Main crops Paddy, sugarcane, pulse, betel leaf, vegetables.
Extinct or nearly extinct crops Kaun, jute.
Main fruits Mango, jackfruit, banana, coconut, betel nut, blackberry, papaya.
Fisheries, dairies and poultries Fishery 630, poultry 136.
Communication facilities Pucca road 25 km, semi-pucca road 60 km, mud road 261 km; waterway 27 nautical miles.
Extinct or nearly extinct traditional transport Palanquin, horse carriage and bullock cart.
Noted manufactories Oil mill 2, flour mill 20, rice mill 62, ice factory 18, welding 15.
Cottage industries Goldsmith 175, wood work 400, bamboo work 210.
Hats, bazars and fairs Hats and bazars are 26, fairs 8; most noted of which are Babuganj, Mirganj, Clubganj, Khanpura, Rahmatpur, Agarpur, Mohanganj bazars and Durgasagar mela.
Main exports Paddy, coconut, betel nut, betel leaf, vegetables.
Access to electricity All the unions of the upazila are under rural electrification net-work. However 39.58% (urban 56.58% and rural 38.42%) of the dwelling households have access to electricity.
Sources of drinking water Tube-well 92.34%, pond 3.95%, tap 1.39% and others 2.32%. Presence of arsenic in shallow tube-well water of the upazila has been detected.
Sanitation 68.19% (urban 77.57% and rural 67.55%) of dwelling households of the upazila use sanitary latrines and 28.58% of dwelling households use non-sanitary latrines; 3.23% of households do not have latrine facilities.
Health centres Upazila health complex 1, family planning centre 4, satellite clinic 4.
Natural disaster Many high land of Babuganj upazila were transformed into depressions due to devastating earth quake in 1762. Many people of this upazila died as a result of cyclone in 1770 (BS. 1176), 1822, 1825, 1832 and 1855. A serious famine occurred due to flood causing damage to crops. Besides, cyclone and tidal bore of 1960, and 11 and 12 November of 1970 resulted in heavy loss of life and property of the upazila.
NGO activities Operationally important NGOs are CARE, brac, caritas, asa, proshika, etc. [Masud Parvez]
References Bangladesh Population Census 2001, Bangladesh Bureau of Statistics; Cultural survey report of Babuganj Upazila 2007.