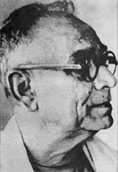 Bhaduri, Shishir Kumar (1889-1959) stage actor, theatre founder, was born on 2 October 1889 at Ramrajatala in Howrah district in west bengal. He passed the Entrance examination in 1905 from Bangabashi School, graduated in arts from Scottish Church College in 1910, and did his MA in English Literature in 1913. While a student, he acted in many Bangla and English plays. He got immense popularity by acting in Tagore's Baikunther Khata in 1912.
Shishir Kumar taught for some time at the Metropolitan Institute and Vidyasagar College. In 1921 he left the teaching profession to join Madan Theatre in Kolkata as an actor. He was applauded for his role as the hero in Alamgir. He left Madan Theatre over a disagreement with the management and started working in motion pictures, directing and acting in sharat chandra chattopadhyay's Andhare Alo and Chandranath.
In 1923 Shishir Kumar formed his own troupe and returned to the stage, acting the part of ramachandra in dwijendralal roy's play Sita in December that year. He gained renown for his roles of Raghupati and Jaysingh (Bisarjan, 1926), Yogesh (Prafulla, 1927), Jibananda (Sodashi, 1927), Nadir Shah (Digbijayi, 1928), Nimchand (Sadhabar Ekadashi, 1928) and Chandrababu (Chirakumar Sabha, 1929). In 1930, he joined Star Theatre.
In September 1930 Shishir Kumar toured the United States with his troupe. On 12 January 1931 he acted in Sita at New York's Vanderbilt Theatre. In 1942 he established Srirangam, which is now known as bishwarupa theatre. His well-known productions here were Michael (in which he acted the main role), Bipradas, Takhat-e-Taus, Bindur Chhele and Duhkhir Iman.
A highly educated actor, Shishir Kumar Bhaduri inspired many educated young people to become professional actors. He died on 30 June 1959. [Sambaru Chandra Mohanta]