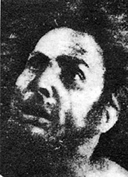 Bhattacharya, Bijan (1906-1978) dramatist and actor, was born at Khankhanapur in faridpur district, son of Kshirodbihari Bhattacharya, a school teacher. He studied briefly at Asutosh and Ripon colleges but due to his political activities was unable to complete his studies. He was arrested for his participation in the non-cooperation movement.
From 1931-32 he worked at the Anandabazar Patrika. He was also associated with Arani, a magazine of his maternal uncle, Satyendranath Majumder, and wrote on various subjects. In 1942 he became a member of the Communist Party. He played an important role in the quit india movement and in organising the Pragati Lekhak Sangha and the Indian People's Theatre Group.
Bhattacharya was one of the pioneers of the Nabyanatya Andolan (new drama movement) and became popular as a writer of plays depicting the struggles and sorrows of the people. Freeing the public theatre from the influences of Hindu mythology, he wrote plays about the working classes and downtrodden farmers. His first play, Jabanbandi, is an account of the lives of cultivators. Nabanna (1944) depicts the plight of farmers in the background of flood and famine. Both Kalanka and Mara Chand were written in 1946. Kalanka describes the lives of santals, while Mara Chand is the story of a blind singer. Abarodh (1947) is about the exploitation of workers by profiteering mill owners. Gotrantar (1960) is an account of the misfortunes of East Bengali refugees, displaced as a consequence of partition. In 1970 he founded Kabachkundal, a theatre institute.
He successfully acted in Bangla feature films as well, among them Badi Theke Paliye, Meghe Dhaka Tara, Subarnarekha, Padatik etc. He also wrote film scripts for Nagin, Sade Chuyattar, Basu Paribar, Trsna, Daktar Babu etc. From 1948 to 1950 he acted in Bombay films and wrote film scripts for the Bombay film industry. He was also a good singer and composer. He was married to the renowned fiction writer, Mahashweta Devi. He died in Calcutta on 19 January 1978.
For his contributions to drama, he was given awards by Kendriya Sangeet Natak Akademy, Pashchim-Banga Rajya Academy and Calcutta University. [Wahida Mallik]