Bheramara Upazila (kushtia district) area 153.72 sq km, located in between 23°59' and 24°07' north latitudes and in between 88°00' and 89°12' east longitudes. It is bounded by lalpur upazila on the north, mirpur (Kushtia) upazila on the south, ishwardi upazila on the east, daulatpur (Kushtia) upazila on the west.
Population Total 175677; male 90010, female 85667; Muslim 171386, Hindu 4206, Buddhist 36 and others 49.
Water bodies Main river: padma; Damodar Beel is notable.
Administration Bheramara Thana was formed in 1906 and it was turned into an upazila on 7 November 1983.
Upazila
Municipality
Union
Mouza
Village
Population
Density (per sq km)
Literacy rate (%)
Urban
Rural
Urban
Rural

1

6

47

78

27993

147684

1143

62.7

38.5
Municipality

Area
(sq km)

Ward

Mahalla

Population| Density
(per sq km)

Literacy rate
(%)

3.26

9

15

20402

6258

67.4
Upazila Town

Area
(sq km)

Mouza

Population

Density
(per sq km)

Literacy rate
(%)

6.10

3

7591

1244

49.9
Union
Name of union and GO code
Area (acre)
Population
Literacy rate (%)
Male
Female

Chandgram 40

2373

7784

7463

41.87

Juniadaha 67

7544

16110

15267

33.65

Dharampur 54

5056

16115

15321

36.88

Bahadurpur 13

2667

12483

11919

36.53

Bahir Char 27

5584

11301

10450

49.47

Mokarimpur 81

9250

15811

15251

40.23
Source Bangladesh Population Census 2001,Bangladesh Bureau of Statistics.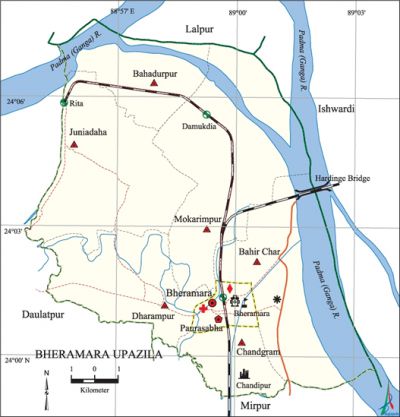 Archaeological heritage and relics Georgebari at village Chandipur (1889), Jagatjanani Mandir.
Historical events The peasants of the upazila participated in the indigo resistance movement at Shalghar Madhua in 1860. The people of the upazila also participated in the faraizi movement. During the war of liberation in 1971 the hardinge bridge of Bheramara was affected. Besides, the Pak army conducted mass killing and plundering in the area; they also set many houses on fire.
Marks of the War of Liberation Mass grave 1.
Religious institutions Mosque 620, temple 10, tomb 2, most noted of which is Satbaria Mosque.
Literacy rate and educational institutions Average literacy 42.5%; male 44.6%, female 40.3%. Educational institutions: college 5, secondary school 27, primary school 55, madrasa 8. Noted educational institutions: Bheramara Pilot High School, Juniadaha Secondary School (1872), Bahadurpur Secondary School, Bheramara Model Primary School (1869).
Newspapers and periodicals Daily: Kushtia Darpan; Weekly: Simanta Katha, Mukur, Oborudho Kantha; Monthly: Kakoli; Bimonthly: Ovijan.
Cultural organisations Library, club, press club, theatre group, women's organisation, literary and cultural group, music school, Silpakala Academy, cinema hall.
Important installations and Tourist spots Hardinge Bridge (1912), Bheramara Thermal Power Station, ganges-kobadak irrigation project, GK Pump House, Sulaiman Shah's Mazar.
Main sources of income Agriculture 46.57%, non-agricultural labourer 6.26%, industry 2.12%, commerce 17.62%, transport and communication 4.36%, service 9.25%, construction 1.91%, religious service 0.16%, rent and remittance 0.56% and others 11.19%.
Ownership of agricultural land Landowner 42.86%, landless 57.14%; agricultural landowner:' urban 38.31% and rural 43.68%.
Main crops Paddy, wheat, mustard, sweet potato, sunflower, betel leaf, tobacco, sugarcane, vegetables.'
Extinct or nearly extinct crops Sesame, kaun, linseed.
Main fruits Mango, banana, jackfruit, papaya, kamranga, plum, watermelon, blackberry.
Fisheries, dairies and poultries Fishery 80, dairy 5, poultry 59.
Extinct or nearly extinct traditional transport Palanquin, bullock cart and horse carriage.
Noted manufactories Salt factory, bidi factory, chemical industry, welding factory.
Cottage industries Weaving, 'potteries, embroidery, wood work, bamboo and cane work.
Hats, bazars and fairs Hats and bazars are 30, fairs 2, most noted of which are Satbaria, Juniadaha, Golapnagar, Kuchiamora, Bahadurpur, Arkandi hats and Ghora Shaha Mazar Mela.
Main exports Tobacco, betel leaf.
Access to electricity All the wards and unions of the upazila are under rural electrification net-work. However 32.42% of the dwelling households have access to electricity.
Sources of drinking water Tube-well 92.56%, tap 1.6%, pond 0.11% and others 5.73%.
Sanitation 33.99% (rural 29.01% and urban 61.33%) of dwelling households of the upazila use sanitary latrines and 51.85% (rural 55.24% and urban 33.23%) of dwelling households use non-sanitary latrines; 14.16% of households do not have latrine facilities.
Health centres Upazila health complex 1, clinic 1, family planning centre 8.
NGO activities Operationally important NGOs are brac, asa, Uddipan. [Arif Nisir]
References Bangladesh Population Census 2001, Bangladesh Bureau of Statistics; Cultural survey report of Bheramara Upazila 2007.