Bhurungamari Upazila (kurigram district) area 236 sq km, located in between 26°02' and 26°14' north latitudes and in between 89°36' and 89°48 east longitudes. It is bounded by west bengal (India) and assam (India) on the north, nageshwari upazila on the south, Assam on the east, West Bengal on the west. Bhurungamari upazila has 10 enclaves.
Population Total 197070; male 97775, female 99295; Muslim 193636, Hindu 3390, Buddhist 10 and others 34.
Water bodies Main rivers: dudhkumar, Phulkumar; Diadanga, Sarbajaya and Mara Sangkosh beels are notable.
Administration Bhurungamari Thana was formed in 1915 and it was turned into an upazila on 10 April 1983.
Upazila
Municipality
Union
Mouza
Village
Population
Density (per sq km)
Literacy rate (%)
Urban
Rural
Urban
Rural

-

10

70

125

22797

174273

835

45.18

27.48
Upazila Town

Area
(sq km)

Mouza

Population

Density
(per sq km)

Literacy rate
(%)

14.92

3

22797

1547

45.18
Union
Name of union and GO code
Area (acre)
Population
Literacy rate (%)
Male
Female

Andhari Jhar 09

6523

9582

9609

27.20

Char Bhurungamari 47

4602

6201

6320

24.01

Joymanirhat 57

4372

7842

7866

35.37

Tilai 95

4785

6805

7039

27.76

Paiker Chhara 66

6320

10940

10957

24.46

Pathardubi 76

6363

9702

9942

30.98

Bangasonahat 38

5331

7984

8288

21.39

Boldia 28

6126

10416

11017

25.77

Bhurungamari 19

7162

19169

18665

38.89

Shilkhuri 85

6732

9134

9592

28.81
Source Bangladesh Population Census 2001,Bangladesh Bureau of Statistics.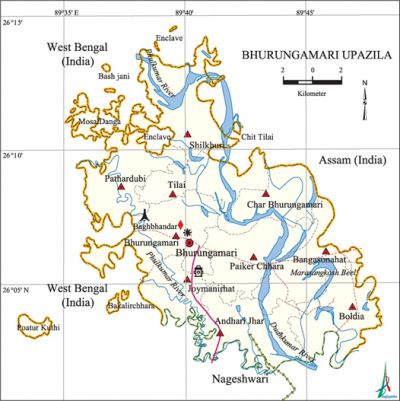 Archaeological heritage and relics Dewan Khamar Jami Mosque, remnants of an ancient mosque on the south-west of Pateshwari Bazar (Mughal period), Indraprasad Dev Temple, Zamindar Bari (house) at Joymoni.
History of the War of Liberation On 11 November 1971 while attempting to liberate Bhurungamari from the Pak army 59 members of the Indian allied force including Major Ram Singh and five freedom fighters were killed. On 20 November, a serious encounter was held to liberate Raiganj in which more than one hundred Pak soldiers were killed and so were freedom fighter Lt Abu Sayed Muhammad Ashfaqus Samad (Bir Uttam) and some of his compatriots. Besides, the freedom fighters destroyed Sonahat Bridge on 26 November in order to obstruct the entry of the Pak army into the upazila.
Marks of the War of Liberation Mass grave 1 (Behind the residence of TNO); Mass killing site 1 (backyard of the Hospital.); about 30-32 human skuls have been discovered from under ground at village Baghbhandar inBhurungamari union.
Religious institutions Mosque 520, temple 14.
Literacy rate and educational institutions Average literacy 29.6%; male 34.93%, female 24.43%. Educational institutions: college 5, secondary school 40, primary school 135, madrasa 27. Noted educational institutions: Bhurungamari Degree College (1967), Bhurungamari Mahila Degree College (1994), Bhurungamari Pilot High School (1925), Pateshwari Barkatia High School (1950), Thanaghat Multilateral High School (1961), Dhamerhat Government Primary School (1950), Bhurungamari Model Government Primary School, Baushmari Senior Madrasa (1938), Bhurungamari Senior Madrasa (1948).
Cultural organisations Library 2, club 15, cinema hall 3, playground 8.
Main sources of income Agriculture 75.2%, non-agricultural labourer 4.15%, industry 0.4%, commerce 8.06%, transport and communication 1.48%, service 2.99%, construction 0.44%, religious service 0.11%, rent and remittance 0.3% and others 6.87%.
Ownership of agricultural land Landowner 54.45%, landless 45.55%; agricultural landowner: urban 44.23% and rural 55.78%.
Main crops Paddy, jute, potato, wheat, sugarcane, bamboo, vegetables.'
Extinct or nearly extinct crops China, aus paddy and arahar.
Main fruits Mango, jackfruit, betel nut, kamranga, olive, papaya, blackberry, chalta, jamrul, natko, litchi.
Fisheries, dairies and poultries Dairy 5, poultry 32, nursery (fish).
Communication facilities Pucca road 42.56 km, mud road 335.41 km; waterway 3.24 nautical miles.
Extinct or nearly extinct traditional transport Palanquin, bullock and buffalo cart.
Noted manufactories Tea factory, incense factory, ball pen factory, biscuit factory, ice cream factory, welding, candle factory, fertiliser producing industry.
Cottage industries Goldsmith, blacksmith, potteries, jute industry, embroidery, bamboo work.
Hats, bazars and fairs Hats and bazars are 25, fairs 2; Joymanirhat, Sonahat, Shahi Bazar Hat, Bhurungamari Hat and Bharater Mela (Pateshwari) and Baruni Mela (Kalirhat) are notable.
Main exports Jute, betel nut, paddy, bamboo, chicken.
Access to electricity All the unions of the upazila are under rural electrification network. However 4.8% of the dwelling households have access to electricity.'
Sources of drinking water Tube-well 92.55%, pond 0.22%, tap 0.31% and others 6.92%.
Sanitation 41.26% (rural 38.75% and urban 60.55%) of dwelling households of the upazila use sanitary latrines and 22.99% (rural 23.77% and urban 17.02%) of dwelling households use non-sanitary latrines; 35.75% of households do not have latrine facilities.
Health centres Upazila health complex 1, Union health centre 4, family planning clinic 10, satellite clinic 42, private clinic 3, diagnostic centre 1.
Natural disasters 'The cyclone of 1957 and the flood of 1993 caused heavy damages to settlements and properties of the upazila.
NGO activities CARE, brac, rdrs, asa. [Md Kamal Hossain]
References' Bangladesh Population Census 2001, Bangladesh Bureau of Statistics; Cultural survey report of Bhurungamari Upazila 2007.