Bimanbandar Thana (Dhaka Metropolitan)
Bimanbandar Thana (Dhaka Metropolitan) area 8.02 sq. km, located between 23°49' and 23°51' north latitudes and between 90°23' and 90°25' east longitudes. It is bounded by pallabi, uttara and dakshinkhan thanas on the north, khilkhet and cantonment thanas on the south, Khilkhet and Dakshinkhan thanas on the east, Cantonment and Pallabi thanas on the west.
Population Total 5079; male 3016, female 2063. Muslim 4921, Hindu 137 and Others 21.
Administration Bimanbandar thana was formed' in 2001.
Thana
Ward and Union
Mahalla and Mouza
Population
Density (per sq km)
Literacy rate (%)
City
Village
City
Village
3 (Part)
5
4459
620
634
79.13
-
Ward and Union
Ward and Union
Area (sq km)
Population
Literacy rate (%)
Male
Female
Ward no 1 (Part)
0.15
949
866
85.26
Ward no 98 (restricted area part )
5.50
1491
1153
74.67
Dakkhinkhan (Part)
2.37
576
44
77.47
Source  Population census 2001, Bangladesh Bureau of Statistics.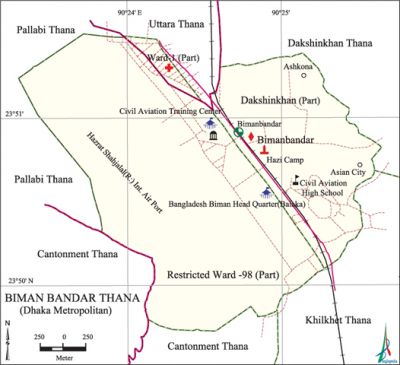 Noted religious institutions Sector 1 Jami Mosque, Babussalam Mosque and Civil aviation Mosque.
Literacy rate and educational institutions Average literacy 79.13%; male 82.50%, female 70.01%. Noted educational institutions: Scholastica School and College, Civil Aviation Staff School (Kawla), Mahila Medical College, Babussalam Madrasa and Civil Aviation Madrasa.
Cultural organisations Uttara Club, Uttara Ladies club and flying club.
Important installations/main attractions Hajrat Shahjalal International Airport, Biman Office Balaka, Radar Station Transmitter, Ashkona Hazi Camp, Civil Aviation Electricity Supply Station.
Main sources of income Agriculture 2.04%, non-agricultural labourer 3.88%, industry 2.04%, commerce21.46%, service 49.62%, construction 3.45%, religious service 0.10%, transport 1.29%, renting out 5.39% and other 10.73%.
Ownership of agricultural land landowner 75.29%, landless 24.71%.
Extinct or nearly extinct crops Jute, wheat.
Main fruits Mango, jackfruit, vegetables.
Communication facilities Total road 32.98 km.
Extinct or nearly extinct traditional transport Bullock cart and horse carriage.
Noted manufactories Ranudi Fashion Garments.
Noted markets Muktijoddha Market near Hazi camp and Three-S Shopping Mall.
Main exports Ready made garments.
Access to electricity All the wards and unions of the thana are under electrification net-work; however, 95.57% dwelling households have access to electricity.
Sources of drinking water Tube-well 3.99%, tap 91.26%, ponds 0.10% and others 4.65%.
Sanitation 94.49% of dwelling households of the thana use sanitary latrines and 3.03% of dwelling households use non-sanitary latrines; 2.48% of households do not have latrine facilities.
Health centers Fortune hospital, Central Hospital and Jahanara Clinic. [Shamima Akhter]
References Bangladesh Population Census 2001, Bangladesh Bureau of Statistics.