Pallabi Thana (Dhaka metropolitan) area 25.28 sq km, located in between 23°48' and 23°52' north latitudes and in between 90°20' and 90°23' east longitudes. It is bounded by turag and uttara thanas on the north, mirpur model and shah ali thanas on the south, bimanbandar, cantonment and kafrul thanas on the east, savar upazila on the west.
Population Total 412217; male 221411, female 190806; Muslim 406015, Hindu 5784, Buddhist 291, Christian 64 and others 63.
Water bodies Main river: turag.
Administration Pallabi Thana was formed on 15 March 1995.
Thana
Ward and Union
Mahalla and Mouza
Population
Density (per sq km)
Literacy rate (%)
Urban
Rural
Urban
Rural
2+4 (part)
38
406643
2129
16306
63.83
62.34
Ward and Union
Ward and Union
Area (sq km)
Population
Literacy rate (%)
Male
Female
Ward no. 2
3.55
67972
59879
65.29
Ward no. 3 (part)
1.66
27886
24860
58.58
Ward no. 5
2.19
46507
40608
56.18
Ward no. 6 (part)
4.74
70928
58127
71.10
Ward no. 15 (part)
4.78
5141
4741
68.01
Harirampur (part)
8.36
2977
259
62.34
Source Bangladesh Population Census 2001, Bangladesh Bureau of Statistics.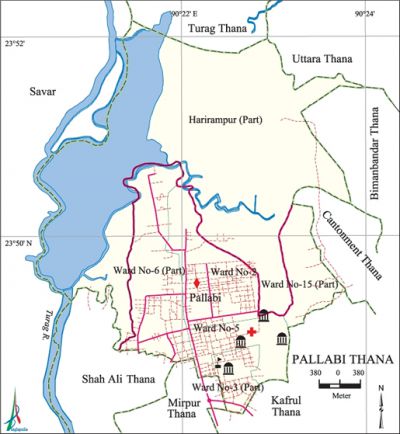 Marks of the War of Liberation Mass killing site 2 (Mirpur 12 cantonment area and Muslim Bazar); mass grave (near Nurani Mosque).
Religious institutions Bara Mosque, Lalmath Eidgah Mosque.
Literacy rate and educational institutions Average literacy 64.10%; male 69.22%, female 58.98%. Educational institutions: college 7, secondary school 18, primary school 36, madrasa 12. Noted educational institutions: Mirpur Girls' Ideal Laboratory Institute, Bangladesh University of Professionals, Defense Services Command & Staff College, Shaheed Zia Smriti Mohila College, Pallabi Model School & College, Shaheed Abu Taleb High School, Mirpur Bangla High School, Adarsha High School, MDC School, Green Field International School, Cherry Blossoms International School, Senpara Parbota Primary School, Rupnagar Government Primary School, Preparatory Grammar School.
Cultural organisations Club, literary organisation, community centre, cinema hall, playground.
Important installations Head office of Proshika.
Main sources of income 'Agriculture 1.44%, non-agricultural labourer 1.69%, industry 9.98%, commerce 22.54%, transport and communication 8.95%, service 35.46%, construction 3.64%, religious service 0.14%, rent and remittance 2.75% and others 13.41%.
Ownership of agricultural land 'Landowner 45.24%, landless 54.76%.
Main crops 'Paddy, vegetables.
Extinct or nearly extinct crops Jute, sugarcane, pulse.
Main fruits Mango, coconut.
Communication facilities Total roads: 84 km.
Extinct or nearly extinct traditional transport Palanquin, bullock cart, horse carriage.
Noted manufactories Textile mill, chemical factory, garments, dying factory.
Cottage industries Weaving (jamdani), potteries, handicraft, bamboo and cane work.
Market and shopping centres Mirpur Benarasi Palli, Purabi Super Market, City Corporation Market and Anik Plaza Bhaban.
Main exports Garments, jamdani and katan shari.
Access to electricity All the wards and union of the thana are under electrification net-work. However 97.77% of the dwelling households have access to electricity.
Sources of drinking water Tube-well 15.01%, pond 0.11%, tap 82.08% and others 2.80%.
Sanitation 84.28% of dwelling households of the upazila use sanitary latrines and 14.07% of dwelling households use non-sanitary latrines; 1.65% of households do not have latrine facilities.
Health centres Hospital 2, clinic 4.
NGO activities Operationally important NGOs are brac, proshika, asa. [Md. Tuhin Molla]
References Bangladesh Population Census 2001, Bangladesh Bureau of Statistics.