Dashmina Upazila (patuakhali district) area 351.74 sq km, located in between 22°08' and 22°22' north latitudes and in between 90°28' and 90°39' east longitudes. It is bounded by bauphal upazila on the north, galachipa upazila on the south, lalmohan and char fasson upazilas on the east, Galachipa upazila on the west.
Population Total 117037; male 58280, female 58757; Muslim 109088, Hindu 7939 and others 10.
Water bodies Main river: tentulia.
Administration Dashmina Thana was formed in 1979 and it was turned into an upazila in 1983.
Upazila
Municipality
Union
Mouza
Village
Population
Density (per sq km)
Literacy rate (%)
Urban
Rural
Urban
Rural

-

6

49

53

16781

100256

333

49.7

40.5
Upazila Town

Area
(sq km)

Mouza

Population

Density
(per sq km)

Literacy rate
(%)

19.99

2

16781

839

41.83
Union
Name of union and GO code
Area (acre)
Population
Literacy rate (%)
Male
Female

Alipur 10

8044

10180

9644




42.74




Dashmina 52




14414




12230




12336




41.65




Bahrampur 21




5991




7892




8257




35.78




Banshbaria 31




8028




8395




8588




46.16




Betagi Sankipura 42




7940




8786




9154




46.01




Rangopaldi 84




22156




10797

10778

38.81
Source Bangladesh Population Census 2001,Bangladesh Bureau of Statistics.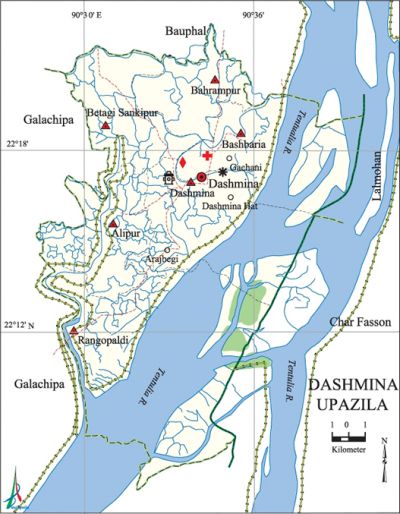 Religious institutions Mosque 468, temple11, tomb 2, most noted of which are Munshi Amirullah Mosque at Adampur-Baharampur, Sikdar Bari Mosque (Betagi Sankipura), Talukdar Bari Mosque (Dashmina).
Literacy rate and educational institutions Average literacy 41.8%; male 46.9%, female 36.9%. Educational institutions: college 2, secondary school 25, primary school 109, madrasa 19. Noted educational institutions: Abdur Rashid Talukdar Degree College (1977), Alipur College (1999), Dashmina Secondary School (1956), Gachhani Secondary School (1958), Chandpura ABC Secondary School (1960), Nehalganj Secondary School (1967), Dashmina Ideal Primary School (1954), Dashmina Islamia Senior Fazil Madrasa (1968), Adampur Islamia Senior Madrasa (1965), Char Hosnabad Senior Madrasa (1964).
Newspapers and periodicals Defunct: Dashmina Barta, Desh Katha.
Cultural organisations Library 2, club17, women's organisation 1, cinema hall 1.
Main sources of income Agriculture 64.86%, non-agricultural labourer 5.69%, industry 0.57%, commerce 10.25%, transport and communication 1.99%, service 5.88%, construction 1.48%, religious service 0.25%, rent and remittance 0.13% and others 8.90%.
Main crops Paddy, potato, pulse, chili, water melon, vegetables.
Extinct or nearly extinct crops Kaun.
Main fruits Banana, jackfruit, papaya, pineapple.
Fisheries, dairies and poultries This upazila has a number of fisheries and dairies.
Communication facilities Pucca road 39 km, semi-pucca road 13 km, mud road 632 km.
Extinct or nearly extinct traditional transport Palanquin.
Noted manufactories Rice mill, oil mill, ice cream factory, workshop.
Cottage industries Bamboo work, weaving, button work, coconut fiber work.
Hats, bazars and fairs Hats and bazars are 41, most noted of which are Dashmina Hat, Nalkhola Hat, Arajbegi Hat, Rangopaldi Hat and Gachhani Hat.
Main exports Hilsa fish.
Access to electricity All the unions of the upazila are under rural electrification net-work. However 4.54% (urban 14.61% and rural 2.92%) of the dwelling households have access to electricity.
Natural resources Fisheries and forest resources.
Sources of drinking water Tube-well 80.08%, pond 12.21%, tap 0.28% and others 7.43%.
Sanitation 12.62% (rural 9.69% and urban 30.84%) of dwelling households of the upazila use sanitary latrines and 77.93% (rural 80.37% and urban 62.75%) of dwelling households use non-sanitary latrines; 9.45% of households do not have latrine facilities.
Health centres Upazila health complex 1, satellite clinic 6, NGO operated health centre 1.
Natural disasters The devastating cyclones of 1584, 1822, 1960 and 1970 and the flood of 1876 caused huge loss of life and damages to settlements, livestock and other properties of the upazila.
NGO activities asa, brac, VOSD, BDS, PDO. [Gazi Shahidul Islam]
References Bangladesh Population Census 2001, Bangladesh Bureau of Statistics; Cultural survey report of Dashmina Upazila 2007.