Debendra College was established in 1942 as Manikganj College with the inspiration and cooperation of a local zamindar, Sri Siddheswari Prasad Roychowdhury. The founder principal of the college was Sri Himanghshu Bhushan Sarker. Subjects taught in the college at that time were Bangla, English, Sanskrit, Arabic, Parsian, Commercial Geography and Accounting.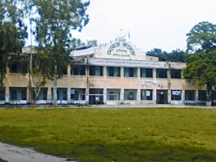 In 1944, the college was renamed Debendra College after the name of the father of Ranadaprasad Saha of mirzapur, tangail district. Degree courses were introduced in the college in 1947. It opened a science section in the higher secondary level in 1963 and commerce at the degree level in 1964. BSc courses were introduced in the college in 1970 and honours courses in Bangla Language and Literature in 1971. The college started courses in agricultural science at the intermediate level in 1976. It was nationalised on 1 March 1980, since then it is known as the Government Debendra College. Since 1989, the college has been offering Honours programmes in Political Science and Accounting and Masters programmes in Economics, Philosophy, History, Management, and Mathematics.
The total area of the college compound is 23.79 acres. Since the foundation of the college, it has a hostel. Reconstruction and expansion of the hostel were implemented in 1975 and 1988. The Political Science Building was constructed in 1993 after demolition of the old academic building. A new two-storied academic building was erected in the following year. Another three-storied academic building was constructed in 2001. Presently (2010), it has four academic buildings, three student dormitories, a playground and two ponds.
It now offers honours courses in 15 disciplines and postgraduate courses in 8 subjects. At present, the college has 10,000 students and 79 teachers including one for physical instruction. The college was selected as the best college of the country in 2000.
The students participate in various social and cultural activities including Games, Debate, Red crescent, BNCC, Rover and Girl-in-Rovering. The college administration started publishing a magazine called Urbashi in 1942 and it was published regularly till 1950. Later, a few more magazines were published on an irregular basis; two such magazines are Rupayan and Abahaman.
Shahid Rafique, a martyr in the language movement, was a student of this college. The grave of his mother lies in the college campus. Several students of this college Abul Kasem Khan, Golam Kibria Taju, Abdus Sattar, Abul Hossen, Ratan Chandra Biswas, Ansar Ali, Md. Kafil Uddin and Biman Bihari Saha participating in the war of liberation in 1971 embraced martyrdom. [Md Abu Bakar]