Dohar Upazila (dhaka district) area 161.49 sq km, located in between 23°31' and 23°41' north latitudes and in between 90°01' and 90°13' east longitudes. It is bounded by nawabganj (dhaka) upazila on the north, the padma river and sadarpur upazila on the south, sreenagar and Nawabganj (Dhaka) upazilas on the east, harirampur and char bhadrasan upazilas and the Padma river on the west.
Population Total 191423; male 94046, female 97377; Muslim 181441, Hindu 9485, Buddhist 479 and others 18.
Water bodies Main river: Padma.
Administration Dohar Thana was formed in 1926 and it was turned into an upazila in 1983.'
Upazila
Municipality
Union
Mouza
Village
Population
Density (per sq km)
Literacy rate (%)
Urban
Rural
Urban
Rural

1

7

91

109

61793

129630

1185

52.2

47.9
Municipality

Area
(sq km)

Ward

Mahalla

Population

Density
(per sq km)

Literacy rate (%)

20.31

9

44

61793

3042

50.92
Union
Name of union and GO code
Area (acre)
Population
Literacy rate (%)
Male
Female

Kushumhati 21

4401

8989

9874

56.52

Sutarpara 84

3952

4173

4148

38.76

Nayabari 63

3480

7240

7971

47.78

Narisha 52

4353

15372

16638

53.83

Mahmudpur 31

13710

10908

10922

32.35

Muksudpur 42

3212

9942

10494

45.93

Roypara 73

2372

6497

6462

54.09
Source Bangladesh Population Census 2001, Bangladesh Bureau of Statistics.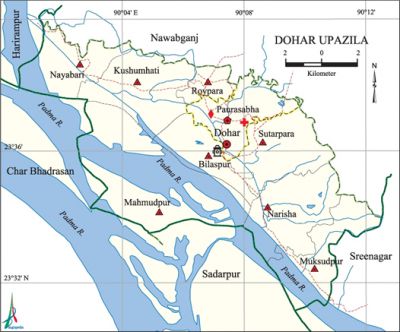 Historical events Extensive indigo plantation was at Joypara of the upazila in early British period. During the Non Cooperation Movement led by Mahatma Gandhi (1920-1922) 'Abhai Ashram' was established in this upazila. The All India Convention of Gandhi Seba Sangha was held at village Malikanda in 1940. On this occasion Mahatma Gandhi came to the upazila and stayed for two days.
Religious institutions Mosque 412, temple 60, pagoda 1, tomb 4. Noted religious institutions: Upazila Jami Mosque, Joypara Jami Mosque, Muksudpur Jami Mosque, Jagabandhu Sundar Ashram, Shiva Mandir (Roypara), Joypara Harisava.
Literacy rate and educational institutions Average literacy 49.3%; male 50.5%, female 48.2%. Educational institutions: college 4, vocational training institute 1, government teacher's training institute 1, secondary school 25, primary school 55, community primary school 6, madrasa 34. Noted educational institutions: Joypara College (1972), Purbachar Government Primary School (1925), Joypara Pilot High School (1902).
Cultural organisations Library 1, club 34, auditorium 1, cinema hall 2, literary society 2, playground 50.
Main sources of income Agriculture 23.94%, non-agricultural labourer 2.66%, industry 0.89%, commerce 14.81%, transport and communication 4.16%, service 14.01%, construction 2.06%, religious service 0.18%, rent & remittance 19.96% and others 17.33%.
Ownership of agricultural land Landowner 38.39%, landless 61.61%; agricultural landowner: urban 32.39% and rural 41.20%.
Main crops Paddy, wheat, pulse, jute, potato, vegetables.
Extinct or nearly extinct crops sesame, linseed, kaun, kusum phul, black cumin, sugarcane, garlic, methi, gram.
Main fruits Mango, jackfruit, banana, papaya, black berry, star apple, guava, wood apple, plum, tamarind.
Fisheries, dairies and poultries Fishery 4, dairy 150, poultry 122.'
Communication facilities Pucca road 192 km, semi-pucca road 48 km, mud road 200 km; waterway 17.27 nautical miles; culvert 205.
Extinct or nearly extinct traditional transport Palanquin, bullock cart, horse carriage.
Noted manufactories Cotton mill, saw mill, welding factory, bidi factory.
Cottage industries Goldsmith, blacksmith, weaving, potteries, embroidery, cane work, bamboo work, wood work.
Hats, bazars and fairs Hats and bazars are 31, fairs 13, most noted of which are Joypara Hat, Kartikpur Hat, Kacharighat Hat, Palamganj Hat, Dohar Hat, Medhula Hat, Narisha Hat, Nurullapur Bara Fakir Bari Mela, Katakhali Maulivi Bari Mela, Nagar Chowdhury Bari Mela, Roypara Ras Mela and Latakhola-Joypara Durga Puja Mela.
Main exports Weaving cloths, wheat, vegetables.
Access to electricity All the wards and unions of the upazila are under rural electrification net-work. However 45.90% of the dwellings have access to electricity.'
Sources of drinking water Tube-well 93.62%, pond 0.64%, tap 0.53% and others 5.22%. The presence of intolerable level of arsenic has been detected in the shallow tube-well water of the upazila.
Sanitation 45.26% (rural 39.54% and urban 57.53%) of dwelling households of the upazila use sanitary latrines and 49.21% (rural 54.49% and urban 37.91%) of dwelling households use non-sanitary latrines; 5.52% of households do not have latrine facilities.
Health centres Upazila health centre 1, family planning centre 8, satellite clinic 2, veterinary hospital 1, community clinic 8, clinic 5, diagnostic centre 4.
NGO activities proshika, asa, thengamara mahila sabuj sangha. [Md Moksed Ali]
References Bangladesh Population Census 2001, Bangladesh Bureau of Statistics; Cultural survey report of Dohar Upazila 2007.