Embroidery art of ornamental needlework. Embroidery can be of two types: folk and formal. nakshi kanthas are the most well-known form of folk embroidery. Skill in embroidery was once considered a qualification for marriageable girls. Embroidered items were given as gifts and as favours.
Traditional nakshi kanthas used various forms of the running stitch in a variety of patterns to create motifs and border designs. Jessore, Faridpur and Rajshahi were famous for nakshi kanthas. Rajshahi is also well known for nakshi kanthas using the cross stitch and sujnis or coverlets using the back stitch. Traditionally, rural women embroidered kanthas with thread drawn from sari borders. Since the mid-80s, with the commercialisation of the nakshi kantha, the artistic quality of the embroidery has diminished.
Another form of folk embroidery is the nakshi pakha (embroidered fan), made of cloth and embellished with embroidery. Embroidered handkerchiefs and pillow covers are still made by girls to give as gifts to the young men they love.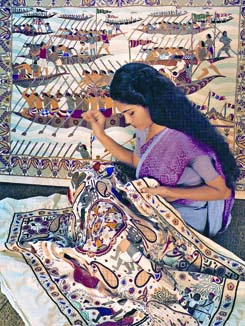 Refined embroidery is not indigenous, but has come from abroad and has developed on a commercial basis. Embroidered muslin and jamdani were popular in the Mughal court. They were also exported to Europe in the 18th and 19th centuries.
Kashida embroidery, using muga and tasar yarn on cotton and silk, was the most popular form of embroidery. Kasida embroidery is believed to have come from Basra in the 9th century. Karchob embroidery, for which Dhaka was famous, consists of gold and silver work done on tightly stretched cloth. Currently, this is called karchupi, adi and iri.
Depending on what yarn was used, the embroidery was given different names. There were a number of forms of karchob embroidery including zardozi, kalabatan or golabatan, karchika, and kamdani. Gold, silver and silk work on muslin and on shawls was called zardozi. Embroidery using zari, fine gold or silver threads, was known as kalabatan or golabatan. Gold or silver work on cotton muslin was known as kamdani. Relatively fine work of gold or silver zari was called karchika. White work on white muslin and nainsook, light cotton fabric, was called chikan, chikankari and chikandaji. Embroidery using coloured silk on cotton cloth was called fulkuri or fulbuti.
In Bangladesh, many of these forms of embroidery have been revived. Non-Bengali artisans of Mohammadpur and Mirpur still do karchob. Chikan embroidery on kurtas and kameezes is done in places like Mirpur, Kachukhet, Mohammadpur and Dayaganj. In addition to these traditional forms of embroidery, western embroidery stitches such as the satin stitch, the lazy-daisy, and the chain stitch are also used to embroider pillow covers, bedspreads, tablecloths, napkins, and kameezes, etc. Satin stitch embroidery is commonly used for badges. [Momen Chowdhury]